After years of claiming that American elections are rife with fraud, conservative election activists are preparing a new tool to take matters into their own hands.
Activists are currently testing a computer program called EagleAI NETwork, a database loaded with voter rolls and other records that promises to quickly churn through the data and find registrations that may be suspect based on other sources. The activists then personally evaluate the flagged voter registrations one by one — looking up home addresses on Google Maps, searching for obituaries online — and prepare lists of questionable registrations to report to local officials.
It's the latest in a growing trend of voter fraud vigilantism, as activists seek to insert themselves into routine election administration processes looking to uncover problems and find proof of voter fraud. And while a handful of individuals in Georgia and Texas have taken in recent years to filing mass voter challenges, EagleAI could turn that steady stream into a nationwide flood.
For several months, activists around the country, organized in part by influential Trump ally Cleta Mitchell and the Election Integrity Network she founded, have been learning to use the program in Zoom trainings and organizing into state-specific teams in preparation for its launch, according to recordings of software demonstrations and activist meetings seen by NBC News. Some Georgia users began testing the software this summer, the meetings reveal, while Florida, North Carolina, Nevada and Texas are slated to follow. Mitchell declined to speak with NBC News.
EagleAI, pronounced "eagle eye," is being pitched as an alternative to the Electronic Registration Information Center (ERIC), a bipartisan, interstate partnership that helps states share data to keep their voter rolls up-to-date and was recently targeted by election conspiracy theories. And while EagleAI has been shopped around to at least a handful of county and state election officials, according to interviews and public records requests, it has so far found more fertile ground among activists.
Election experts and voting rights advocates warn that an activist-led strategy risks overwhelming election workers with reports of problem registrations generated by amateurs using unreliable data. And those reports may, in turn, intimidate voters or require them to jump through hoops to maintain their voting rights.
This story is based on documents, emails, records requests and recordings of activist meetings and software demonstrations, some of which were obtained by the liberal investigative group Documented and shared with NBC News, as well as interviews with state and local election officials. The activist meetings took place between March and late July, illustrating the program's development, testing and preparations for a national rollout.
EagleAI's creator, retired physician Dr. John W. "Rick" Richards Jr., said that his company is in talks with people in at least 23 states. He said his program is nonpartisan and insisted it will help, not hurt, election workers and voters.
"EagleAI NETwork™ is a tool where citizens concerned with this issue can log in, see the data, easily review the data against publicly available data, and with a click, send the data to their local election officials," Richards said, adding that it would "vastly improve the public's trust."
'Potentially thousands' could face voter challenges
The program, which one explanatory document shared with activists described as akin to "Excel on steroids," is a database that plans to compare voter rolls with data sources such as business records, property tax data, and mail forwarding and address data from the U.S. Postal Service. The Atlanta Journal-Constitution wrote about the program on Monday.
EagleAI flags certain voter registrations for review, such as registrations tied to commercial addresses or those in which mail forwarding suggests an individual has moved. The program guides users to personally evaluate flagged voter registrations one by one using the data and online sources. When users think they've found a questionable voter registration, EagleAI helps users prepare the information — collating registration information and any supporting materials, like a newspaper obituary — so it can be sent to election administrators.
Richards stresses that EagleAI doesn't make determinations about voter eligibility. In an email to NBC News, he said it "simply points out voter registrations that need to be reviewed by the election officials."
But since the program facilitates voter challenges in states that allow it, voters may experience it quite differently.
In Georgia, for example, once election officials agree to consider a challenge, the voters are informed by mail that their eligibility to cast a ballot is being challenged and are invited to attend a hearing to defend their voting rights.
A 2021 law in the state encouraged voter challenges, by adding to the election code that individuals could file an unlimited number of challenges. Last year, at least 92,000 voters' eligibility was called into question. The majority were rejected by election officials at hearings, but it's unclear how election officials will view mass challenges in multiple states generated by EagleAI — and if voters will feel pressured to attend to preserve their voting rights.
Jason Frazier, a Fulton County resident who has challenged thousands of voter registrations in Georgia, helped with the development of EagleAI, according to Richards. Frazier, who participated on camera in one meeting seen by NBC News, did not respond to a request for comment.
The surge of challenges in 2022 drove Fulton County to hire a mapping firm to help them investigate voter addresses they couldn't verify, including those associated with commercial addresses; the vast majority of the registrations were validated, the Atlanta Journal-Constitution reported in June, highlighting the limitations of public data being used by amateur fraud hunters.
Richards said in his email to NBC News that his program — if purchased by the counties too — would make the challenge process easier for everyone involved. But some Georgia state officials who have seen the pitch remain skeptical.
 "EagleAI presentations that I have seen are confused and seem to steer counties towards improper list maintenance activities," Blake Evans, Georgia's elections director, said in a statement to NBC News. "EagleAI draws inaccurate conclusions and then presents them as if they are evidence of wrongdoing."
Richards, who said Evans' view was "not true," also told Georgia officials that he'd found error-riddled voter rolls, with more registrations than eligible voters. Evans said the company is misunderstanding — and misconstruing — how list maintenance works, and painting typos and formatting differences, like typing a voter registration in all caps, as problems.
"Eagle AI data offers zero additional value to Georgia's existing list maintenance procedures," Evans added.
Election experts warned that the kind of public data that Richards plans to use may lead to a high rate of false positives. ERIC, the coalition of states that share data to flag registration problems, uses personal, protected data like driver's license numbers to ensure accuracy when it's flagging voter registrations for problems. The EagleAI activists will be using public data, according to Richards, though he told NBC News he'd like to get more data by partnering with states.
"The results are going to vastly over-inflate potentially inaccurate voter registrations," said David Becker, an election expert who led the effort to create ERIC, which is run and financially supported by member states. 
And while he warned the election officials might get overwhelmed by reports, he's most worried about the voters.
"Imagine if you got a notice in the mail saying that your eligibility as a registered voter in the place where you live is being challenged for some uncertain reason. You have to actually physically present yourself … to prove you are who you are and that you're entitled to vote where you always voted," he said. "That could happen with not a handful of people, but with potentially thousands." 
Experts also warned that the program — or the individuals' use of it — might employ search techniques that could be discriminatory. 
In a March training, Richards said the program will flag registrations at "vulnerable community homes" like homeless shelters or nursing homes for review. In a July training, that module was still in development. 
"Not only is that discriminatory, but it seems to be based on pretty inaccurate premises — that these are questionable addresses for voter registration," said Alice Clapman, a lawyer at the Brennan Center for Justice at New York University School of Law.
Richards said that both types of residence should be monitored for election issues, such as "when an unhoused person registers to vote at temporary shelters, soup kitchens and jobs center, and ballots continue to be mailed to the center for years when the citizen has long since moved on," he said.
That's not true in states like Georgia, where Richards lives and the program has launched, but there are states where voters can request mail ballots for more than one election. If a ballot is mailed to the wrong address, there are other security measures to prevent it from being cast by an unauthorized individual.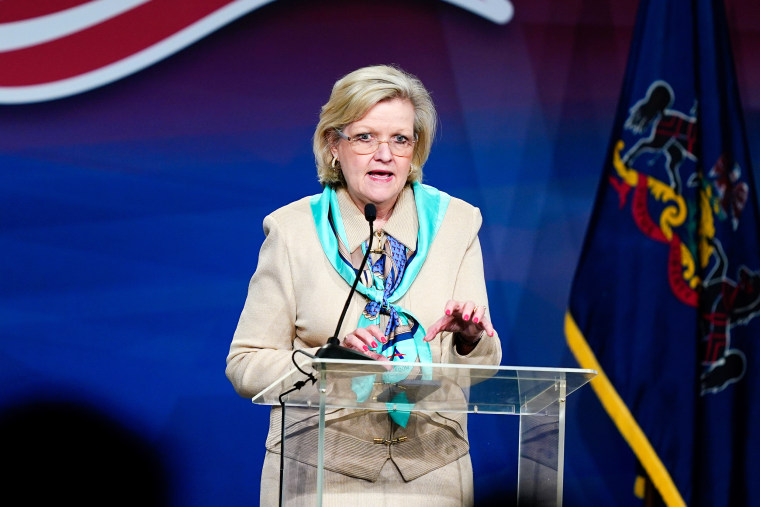 'The left will hate this'
EagleAI appears to have won the support of Mitchell, the influential Republican attorney, this spring.
Mitchell is perhaps best known for working with Trump in his efforts to overturn the results of the 2020 election. She was on the phone call with Georgia Secretary of State Brad Raffensperger when the former president said he wanted to "find" 11,780 votes to flip the state's presidential result. On Monday, Trump and 18 others were indicted on felony racketeering and other charges in connection with efforts to overturn the 2020 election in the state. (Mitchell was not among those indicted.)
"The left will hate this. They will hate it. But we love it," Mitchell said during a March demonstration of EagleAI, which was hosted by the North Carolina Election Integrity Team (NCEIT), a state group that works with her national coalition, the Election Integrity Network.
In the following months, she has appeared to be progressively more engaged in the program, as more activists got involved.
In late April, Jim Womack, a Mitchell ally who runs NCEIT, told activists in a meeting that Mitchell was working with Richards directly on the program's national rollout plan. By the end of the month, a law firm Mitchell is a beneficial owner in, Compass Legal Group, told the IRS they were representing Valid Vote, a 501(c)3 group established to support EagleAI. By the summer, she was guiding activists on their efforts to connect with election officials and prepare for the program's launch. In one meeting, a recording of which was viewed by NBC News, she remarked to Richards that he should move Nevada up the list for a quicker launch.
Mitchell has also been an influential opponent of ERIC, according to an investigation by NPR that included materials obtained by Documented. That report found that she helped organize and boosted the conspiracy-laden campaign against the interstate partnership, which has lost eight member states since 2022.
For Brendan Fischer, deputy executive director of Documented, the two efforts are inextricable.
"For over a year Cleta Mitchell and her Election Integrity Network played a central role in coordinating attacks on ERIC, and are now secretly backing an effort to fill the list maintenance void that they created with a project designed for MAGA activists to generate mass voter challenges," he said.
Richards said he's talked with "thousands" of people about EagleAI. In meetings — some of which included more than 100 attendees — activists appear eager to dive in.
"You don't have a contact in the state of Minnesota?" a woman asked on a late July call, inquiring about the qualifications needed to be a state-based point person on the program. "I certainly don't want to miss out on this."