One year after the Supreme Court overturned the national right to end a pregnancy, Democrats are brimming with confidence that the issue will help them win the House in 2024. But the makeup of the battlefield could complicate that strategy. 
Democrats blanketed the airwaves with abortion ads in the final weeks of last year's midterm elections, stemming the tide of an expected red wave. But a red wave did emerge in New York and California, two traditionally Democratic states. Campaign strategists in both parties believe voters there were not as focused on abortion, since abortion rights had strong protections at the state level. And that's where the battle for the House will largely be fought next year. 
Democrats' top targets, as they seek a net gain of five seats to flip the House, include 18 Republicans who represent districts President Joe Biden carried in 2020. Eleven of those Republicans hail from New York and California. Still, Democrats believe focusing on abortion helped change the 2022 election — and is a winning strategy for 2024. 
"This extremism across the country on reproductive freedoms will cost Republicans the House majority," Democratic Congressional Campaign Committee Chairwoman Suzan DelBene told NBC News in an interview.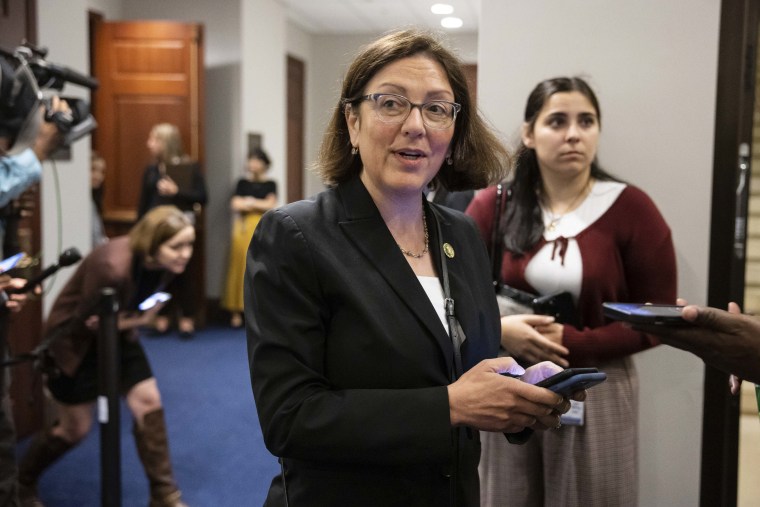 "I do think that right after the [Supreme Court] decision, some folks, especially in Democratic states, felt like their rights were going to be protected," said DelBene, D-Wash. "And now they've seen, over and over, Republicans move towards a nationwide abortion ban." 
It's far too early in the 2024 election cycle for heavy TV advertising, but on Thursday, the DCCC sent an early message of intent with digital ads in all 31 of its targeted seats, featuring an image of Speaker Kevin McCarthy with text saying that the targeted GOP lawmaker and "extreme House Republicans want to restrict your reproductive freedoms," pointing to early votes on two anti-abortion bills.
Most of the 18 Republicans in Biden districts also faced Democratic attacks on abortion last year and still prevailed. But Democrats believe this election cycle will be different. 
DelBene and other Democratic strategists noted that voters will continue to hear more stories of women who suffer because they cannot access abortion care, as Republican-led states move to restrict abortion access. And Republican presidential candidates have voiced support for federal abortion bans as they compete in their primary.
"This is an issue that is now real and visceral. It's no longer theoretical," said Democratic Rep. Pat Ryan, who won a special election in New York after the Supreme Court's decision last year. 
Ryan also pointed out that abortion will be on the ballot in New York next year, as voters weigh a proposal to enshrine abortion rights in the state constitution. (Abortion is currently legal under regular state law in New York.) And Ryan noted that New Yorkers would be affected by GOP proposals to institute a federal ban or limit access to pills used in medication abortions. 
It does appear that voters are paying attention to abortion policies in other states. 
In a new NBC News national poll, 57% of voters in the West and 55% in the Northeast, where abortion is largely legal, say that their own states have "struck the right balance" on abortion access. But similar shares of those voters — 58% in the Northeast and 59% in the West — say access to abortion across the country is "too difficult."
As Democrats prepare to go on offense, Republicans are grappling with how to address abortion after largely ignoring it in the midterms. There was a stark difference in the parties' closing arguments in the 2022 midterms: Just 1% of GOP ads in House races mentioned abortion in October of last year, while 41% of Democratic ads mentioned the issue, according to an analysis from the ad tracking firm AdImpact. 
"The worst thing that Republicans can do on this issue is to ignore it and act like it can go away. It is not going away," said one GOP strategist granted anonymity to discuss strategy. 
"We have to come to terms with that," the strategist added. "We have to have well thought-out, rationalized positions. And we have to get comfortable with talking about it now."
Republicans are already forecasting that they plan to paint Democrats as extreme on the other end of the abortion issue, arguing that Democrats do not support any limits on abortion. 
"Republicans support empathetic and humane policies that value life. The 'safe, legal, and rare' Democratic Party is dead," National Republican Congressional Committee spokeswoman Savannah Viar said in a statement to NBC News. "It has been overrun with abortion-on-demand extremists who oppose limiting abortion after babies feel pain, ending late-term abortion, or even providing medical care to babies born alive after a failed abortion."
Asked how she would advise candidates who face GOP attacks painting the Democratic abortion position on extreme, DelBene said Democrats "stand for the rights folks have had, the protections that were there under Roe." 
She was referring to the Supreme Court precedent that had protected the right to an abortion until a fetus is considered viable, which is estimated to be around 24 weeks of pregnancy.
Ryan's advice was similar — if more blunt.
"Call it out," Ryan said, using an expletive. "That's not what we're for. We're for protecting reproductive rights. They're for taking them away. That's it. It's crystal clear."