WASHINGTON — Former House Speaker Nancy Pelosi will be the special guest at a fundraiser for Democratic Rep. Ruben Gallego as he campaigns for the Arizona Senate seat held by Sen. Kyrsten Sinema, according to an invitation obtained by NBC News.
Pelosi's presence at the fundraiser, which will be held virtually on Thursday evening, is notable; Pelosi, a California Democrat, has not formally endorsed Gallego and rarely involves herself in Democrat-on-Democrat matchups.
But Sinema left the Democratic Party and officially registered as an independent late last year, just days after Democrats reached a slim 51-49 majority in the Senate. Sinema has not said whether she will run for re-election in 2024.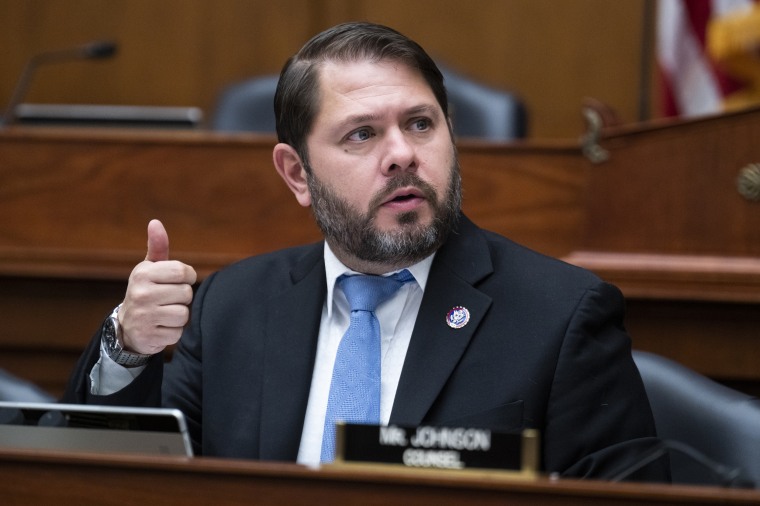 Gallego, a four-term congressman and retired Marine, has been highly critical of Sinema and announced a bid for her seat in January. His office did not respond to a request for comment on the fundraiser with Pelosi.
Pelosi has not weighed in on many 2024 races so far. In an unusual move, she endorsed Rep. Adam Schiff in California's wide-open Democratic primary in February to succeed the retiring Sen. Dianne Feinstein. 
Pelosi's office did not return a request for comment on Thursday's fundraiser.
The Arizona Senate race is one of several that will determine which party controls the Senate in 2024. Majority Leader Chuck Schumer, D-N.Y., and the Democratic Senatorial Campaign Committee, which traditionally backs incumbents, have yet to make an endorsement in a race they see as essential to keeping control of the chamber.
If Sinema opts to run again, it could become a three-way race with Republicans likely to put up a candidate, worrying some Democrats that Sinema and Gallego will end up fracturing the party's base.
As both a House member and a senator, Sinema has repeatedly clashed with Democratic leadership. She voted twice against keeping Pelosi as the party's leader in the House in 2015 and 2016, though Gallego joined her in opposing Pelosi in 2016.
Sinema has repeatedly clashed with Democratic leadership in the Senate, as well, breaking with the party on key elements of its agenda, including opposing raising tax rates on corporations and individuals in the Build Back Better infrastructure plan, her opposition to weakening the Senate's 60-vote rule to pass a federal voting rights law and her vote against raising the minimum wage.
Gallego has not held back on his criticism of Sinema's record while touting his progressive credentials over the years, accusing her in his campaign launch of breaking promises and fighting "for the interests of Big Pharma and Wall Street at our expense."
Sinema has acted as a negotiator on recent bipartisan legislation, including the debt ceiling deal that passed both houses of Congress this month.
"Kyrsten is focused on delivering real solutions, not campaign politics," a Sinema spokesperson said.