Former Arkansas Gov. Asa Hutchinson formally announced his 2024 presidential campaign Wednesday with a series of criticisms of the Biden administration as he outlined his policy plans, saying he would get the "economy back on track" if he is elected.
"The Biden administration has turned its back on the American worker," Hutchinson, a Republican, said in Bentonville, Arkansas. "To turn our economy around we have to stop the 'break-the-bank' federal spending that has led to high inflation and rising interest rates.
"Every hard-working American family gets a double hit from the Biden economy," he added. "Their paycheck doesn't go as far, and they are paying more on car loans and credit card debt because of the high interest rates. That is not acceptable."
Hutchinson said the Biden administration's decision to withdraw U.S. troops from Afghanistan in 2021 was a "disastrous" move that "left our friends abandoned and our allies confused."
"America looked weak, and that weakness was seen as an opportunity for Russia to invade Ukraine and then for China to threaten and be aggressive toward Taiwan," he said. "Let me assure you that as president, I will bring out the best of America. ... We will stand with our allies and friends. We will not abandon our friends in times of need."
Hutchinson argued that the Biden administration has not been tough enough on crime, accusing it of "a flagrant disrespect for human dignity and the rule of law."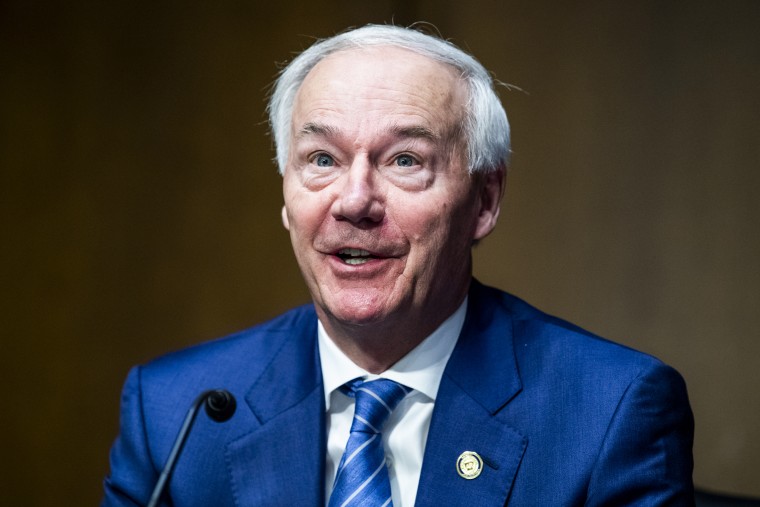 Although he did not appear to refer to former President Donald Trump, who announced his 2024 presidential bid late last year, Hutchinson seemed to eschew the isolationist approach Trump took to foreign policy.
"There are some who want the U.S. to disengage from the world and to isolate ourselves," he said. "Isolationism only leads to weakness, and weakness leads to war. Americans want peace, and the best way to secure and preserve peace is to have the most prepared military in the world."
Hutchinson also appeared to take aim at Republican governors Ron DeSantis of Florida, who is expected to launch a bid for the GOP presidential nomination, and Greg Abbott of Texas.
"When I had pressure from Washington and the national media to shelter in place, I said 'no,'" Hutchinson said, referring to Covid-19 restrictions, which DeSantis and Abbott also pushed back against. "And the result was that our businesses survived and we had more days of in-classroom instruction during the pandemic than almost any other state. Yes, that's right ... we beat Florida and Texas!"
Hutchinson, 72, left office in January after eight years as governor. He has emerged as a vocal critic of Trump in recent months, decrying another Trump presidential nomination as the "worst scenario" for Republicans that would be likely to benefit President Joe Biden's chances of winning re-election next year.
Hutchinson has been a prominent figure in Arkansas politics since the 1980s, when the state was predominantly Democratic. When he was in Congress, he was one of the House managers prosecuting the impeachment case against President Bill Clinton.
Hutchinson also served in the administration of President George W. Bush as head of the Drug Enforcement Administration and an undersecretary of homeland security.
Throughout his speech, Hutchinson touted his leadership record as he positioned himself as a Republican who has "continued to fight the establishment." He noted a time when he assisted an FBI hostage rescue team in negotiating the surrender of an armed terrorist group, his support of law enforcement and opposition to defunding it, and his commitment to ensuring the stability of Social Security and Medicare.
Hutchinson said on ABC's "This Week" this month that he would run for president. Shortly after he left office, he told NBC News he was "absolutely" considering it.
Hutchinson enters a growing field for the GOP presidential nomination that includes Trump; former South Carolina Gov. Nikki Haley, who was the U.S. ambassador to the United Nations in the Trump administration; entrepreneur Vivek Ramaswamy; and conservative talk radio host Larry Elder.