Wisconsin Republican Rep. Mike Gallagher said Friday he will not challenge Sen. Tammy Baldwin, D-Wis., in the 2024, dealing a blow to state and national Republicans who had signaled that the Green Bay congressman was their strongest recruit to help them take back the Senate majority.
In recent weeks, with pressure quietly mounting from party insiders, Gallagher had repeatedly said he wanted to maintain his focus as chairman of the House Select Committee on China — and in announcing his decision to not run, he said he would do just that.
"As the representative of Northeast Wisconsin and Chairman of the Select Committee on the Chinese Community Party, I have a rare, bipartisan opportunity in the 118th Congress to help restore American strength, prevent war in the Pacific, and defend our basic freedoms from community aggression," Gallagher said in a statement. "Accomplishing this mission and serving Wisconsin's 8th District deserve my undivided attention. Therefore, I will not run for the Senate in 2024 and will pursue re-election to the House."
Many national Republicans had viewed Gallagher, a 39-year-old former U.S. Marine, as a promising up-and-comer who represented the best shot at taking on Baldwin, a two-term incumbent and a prolific fundraiser. Recruiting a strong candidate to run against Baldwin would help Republicans in their quest to win back the majority in the Senate.
In recent weeks, Sen. Steve Daines, R-Mont., the chairman of the National Republican Senatorial Committee — the group that runs GOP Senate campaign efforts — made no secret of his desire for Gallagher to run, telling the Milwaukee Journal Sentinel that he would be "a very strong candidate."
In addition, an NRSC-commissioned poll showed Gallagher in a tight race with Baldwin in a hypothetical matchup.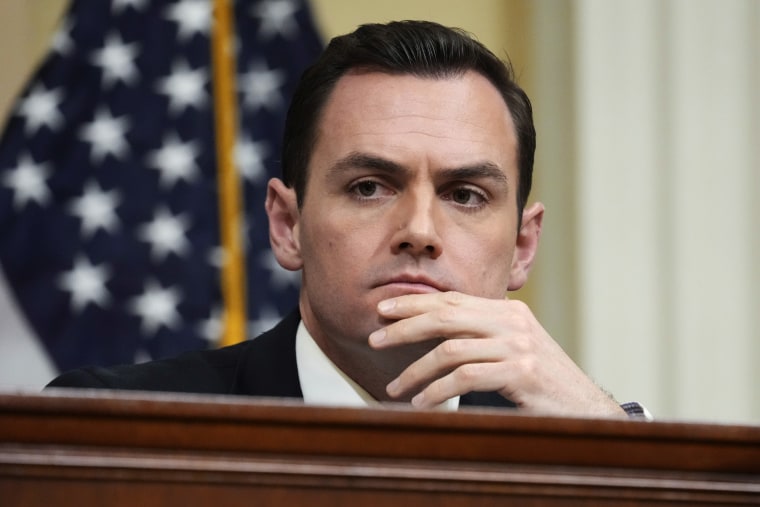 In a statement Friday, committee spokesman Tate Mitchell said Gallagher's decision to not run was "obviously disappointing."
"But it would have been political malpractice not to try to recruit" him, Mitchell said, adding, "We will have a strong candidate in Wisconsin."
No Republican candidate has yet announced a challenge to Baldwin.
But with Gallagher, a noted critic of former President Donald Trump, no longer in the running, attention will now turn to Rep. Tom Tiffany, R-Wis., and businessmen Eric Hovde and Scott Mayer. All three have said they're considering campaigns. Former Milwaukee County Sheriff David Clarke has also not ruled out a bid.
GOP strategists interview by NBC News said Republicans need to find, and unite around, a candidate quickly if they are to have a shot at defeating Baldwin.
"Wisconsin Republicans need to find a candidate that can compete politically and financially and do so soon," said Ben Voelkel, a Milwaukee-based Republican strategist not currently working for any of the prospective candidates.
Tiffany, who represents a rural district in northern Wisconsin, said in an interview this week that he'd been in regular touch with Gallagher and other prospective candidates to gauge the likelihood of their bids, and signaled he'd announce his own decision over the summer.
"I'll make my decision independent of what anyone else does, though I am interested in what the others do," Tiffany said.
Republicans will see a favorable Senate map in 2024: Democrats must defend 23 seats next year (that includes three held by independents who caucus with Democrats), while Republicans will have to defend just 10.
While Wisconsin is among one of the strongest pickup opportunities for Republicans, defeating Baldwin is likely to remain a battle, even in a presidential year with a vulnerable incumbent president. A strong fundraiser, Baldwin consistently polls higher than Biden, who narrowly won Wisconsin in 2020, in the state. The nonpartisan Cook Political Report rates the race as "Lean Democratic."
Democrats, however, say they won't take anything for granted.
"This is Wisconsin, where both sides start with 48%," Ben Wikler, the chairman of the Democratic Party of Wisconsin, said in an interview. "Republicans are going to target it to get their Senate Majority, especially given the overwhelming focus of the GOP in winning Wisconsin to grab the presidency."