WASHINGTON — Minutes before a gunman standing along the third-base line opened fire on GOP lawmakers at a baseball practice in 2017, Ron DeSantis was shagging ground balls right at third base.
But DeSantis, then a House member from Florida, decided to leave practice early that morning to beat the Washington traffic — and missed the bloody mass shooting entirely.
"God's in charge," Rep. Roger Williams, R-Texas, who was injured after he dived into the dugout, said of DeSantis' timing that day.
That stroke of luck and good timing has defined DeSantis' surprising meteoric rise in politics — from unremarkable House backbencher to popular Florida governor and national conservative hero. And, Republican allies say, it will guide his decision as he inches toward a presidential run in 2024.
"He had no friends. He was a backbencher. He was not a backslapping politician," said a House colleague who spent time with DeSantis at a recent speech. 
But the lawmaker added: "Timing in politics is huge. I'm not saying the timing is gonna be right for him, but it could be."
In interviews with more than a dozen House Republicans, not one said they thought DeSantis, 44, was someone who would have been at the center of the presidential conversation back when they served with him on Capitol Hill from 2013 to 2018.
They said DeSantis was quiet and mostly kept to himself; he came off to many as standoffish and aloof. He didn't ask about colleagues' families or try to work with them on legislation. And he didn't seem to enjoy the social nature of the often rambunctious House, where lawmakers need to nurture relationships and build coalitions and support to get things done.
"He was not a very effective member of Congress," a House GOP committee chairman asked.
"He was a bit of a loner," another said.
That lawmaker said he would see DeSantis working out in the House gym every morning. But DeSantis was often on his cellphone and barely acknowledged his colleague's presence.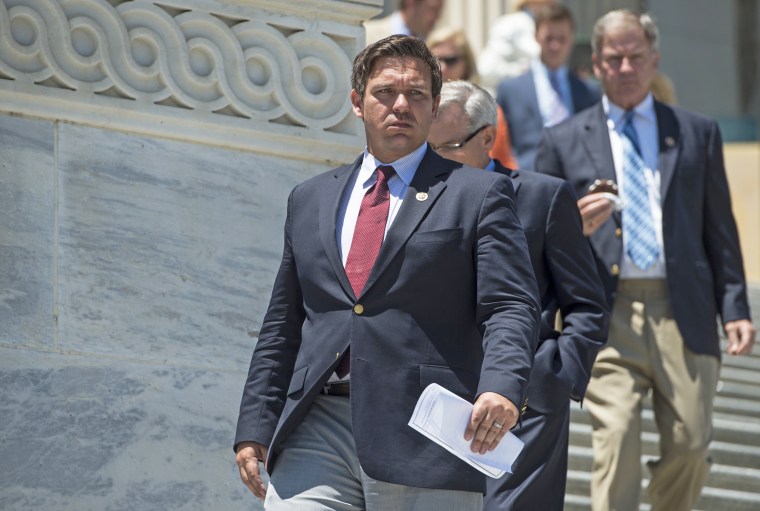 "He wasn't a friendly guy. He was a personal-agenda-driven guy," the lawmaker said. "I was with him in the gym every morning and could hardly get him to say hello. He didn't seem like he liked being here."
Another GOP lawmaker was even more critical: "Who's somebody you'd want to have a cup of coffee or a glass of wine or a beer? His wife. Never Ron. He is not very collegial. Let me just say he is in the right branch of government, which is the executive."
A DeSantis campaign spokesperson had no comment for this article.
'His time is now'
Still, nearly all of the House Republicans interviewed for this article praised DeSantis for how he has led Florida, from quickly reopening the state after Covid restrictions to fighting the liberal "woke" agenda in schools and businesses and highlighting border security issues by flying migrants to liberal Martha's Vineyard, Massachusetts.
Many are encouraging him to run for president in 2024. 
"I think he's done a hell of a job as governor of Florida," said Rep. Pete Sessions, R-Texas, who was the House GOP campaign chief when DeSantis first won election to Congress in 2012.
"I think that his ability to express himself in a national dialogue has been exceptional," Sessions said, adding that many Republicans in Texas would support him.
While Sessions hasn't endorsed anyone for president yet, other House Republicans are openly urging DeSantis — who made his first visit to Iowa over the weekend — to jump into the race against former President Donald Trump. The lawmaker who recently spent time with DeSantis said it's a foregone conclusion that he's running in 2024.
"Hell yeah, he's running," the lawmaker said.
Moderate Rep. Don Bacon, R-Neb., a retired Air Force veteran, called DeSantis — a former Navy judge advocate general who was a legal adviser to a SEAL team in the Iraq war — a "good listener," adding that many of his best bosses in the military were "introverts" like DeSantis.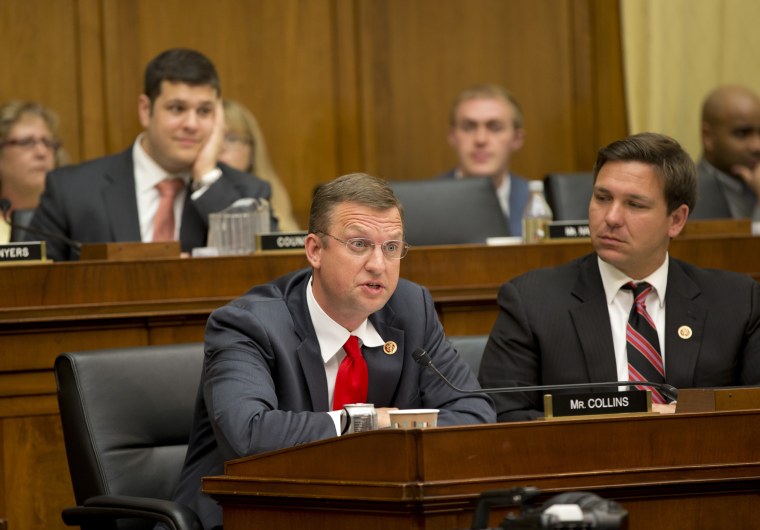 "I haven't endorsed anybody, but I would like him to run. I think he should. He's done a great job down in Florida," Bacon said, noting that DeSantis won re-election last fall by nearly 20 percentage points in once-purple Florida.
"So he's winning swing voters, Democrat voters. That's what we need at the top, because that's what it takes to win the presidency," he continued. "And we've got to have someone who can win suburbs and vie for the middle."
A CNN poll out Tuesday showed DeSantis surging in popularity among likely Republican voters and Republican-leaning independents; 36% said they backed DeSantis, while 40% supported Trump.
"I can't see him waiting for four years any more than a junior Heisman winner playing more college football before entering the NFL draft," Sen. Kevin Cramer, R-N.D., who served with DeSantis in the House, said in an interview. "He continues to impress as governor, but we all know how quickly that can change due to circumstances within and beyond his control.
"His time is now for sure, later maybe."
Chain of events
DeSantis' path to the Governor's Mansion wasn't a straight line. Along with Mark Meadows, Jim Jordan and Mick Mulvaney, he was one of the nine founding members of the far-right House Freedom Caucus, which pushed Speaker John Boehner, R-Ohio, into early retirement in 2015 and then blocked Kevin McCarthy, R-Calif., from succeeding him as speaker.
DeSantis launched a bid for the Senate the same year after Sen. Marco Rubio, R-Fla., jumped into the presidential race. But when Rubio lost his home state to Trump and sought re-election instead, DeSantis decided he would stay put in the House.
The chain of events was fortuitous, setting DeSantis on a course two years later toward the governor's office, an executive seat that former colleagues say suits him much better. DeSantis had been trailing the GOP establishment candidate, Agriculture Commissioner Adam Putnam, for much of the 2018 race, but he surged in the polls after Trump gave his full-throated endorsement. DeSantis squeaked by Democrat Andrew Gillum by 0.4 percentage points in the general election. 
With DeSantis now threatening to challenge Trump for the party nomination, Trump is painting him as disloyal and says he "might" regret his past endorsement. "He was dead as a dog. He was a dead politician," Trump told reporters on a flight to Iowa this week.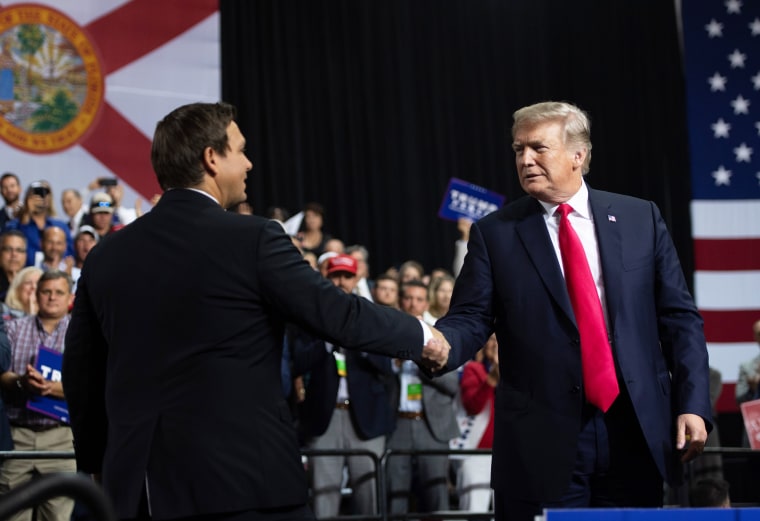 'Where woke goes to die'
Former colleagues said that DeSantis seemed to come alive in the governor's office and that they were shocked by some of the changes they've seen in him. He put forth a bold, brash and polarizing "anti-woke" agenda that captured national headlines, including his takeover of Disney's special governing district after Disney opposed his bill to ban classroom instruction about sexual orientation or gender identity until after the third grade. 
"We will never, ever surrender to the woke mob. Our state is where woke goes to die," DeSantis said in his Iowa debut last week.
Rarely engaging with reporters in the Capitol, he seemed to relish the sparring with the media in Tallahassee and around the state (although his avoidance of national media has returned as he considers a presidential run).
"He was quieter when he was in Congress, at least in my opinion. He wasn't as outgoing as he seems as governor. I can't explain it. He just seems so much different as governor than he did here," said Rep. Scott DesJarlais, R-Tenn., who served with DeSantis in the Freedom Caucus and on the Oversight Committee. "I wouldn't use the word 'unapproachable,' but it was like he always seemed busy, so I didn't have a lot of idle chitchat with him."
DesJarlais added, "I think he's done a great job as governor of Florida, and if he runs for president, gets our nomination, I'll gladly support him."
Rep. Robert Aderholt, R-Ala., who said he thinks DeSantis will run, applauded DeSantis for standing up to the "woke culture" in America. 
"He wasn't all just about lowering taxes. He wasn't just about squashing down governmental interference in the free market. He said this is something we have to pay attention to: We can't let this woke culture get the best of us," said Aderholt, who hasn't endorsed in the presidential primaries.
When DeSantis arrived on the Hill in 2013, he landed a spot as a junior member of the Oversight Committee, which had launched numerous investigations into the Obama administration. The panel's chairman at the time, Darrell Issa, R-Calif., said he immediately recognized that the Ivy League-educated DeSantis was smart, well-prepared and a disciplined messenger.
"He was focused, and he was very aware of what the talking points that he wanted to get out from hearings were, and he was good at delivering it," Issa said.
The Republican lawmaker who saw DeSantis in the gym said he couldn't have imagined DeSantis' running for president four years ago. Today, it's a much different story.
"He didn't seem like he liked being here [in the House]. I think it's proven that when he got to a place where he had levers of power, he loves what he's doing now. And he's amazed all of us," the lawmaker said just off the House floor.
"Everything about this place really didn't excite him, because he couldn't control it and he was just one."