WASHINGTON — Kerry Kennedy, a sister of Democratic presidential candidate Robert F. Kennedy Jr., lambasted her brother in a brief statement Monday after a report quoted him as saying that Covid-19 was "targeted to attack Caucasians and Black people" and that Jewish people are most immune.
"I strongly condemn my brother's deplorable and untruthful remarks last week about Covid being engineered for ethnic targeting," Kerry Kennedy said in a statement released by the nonprofit group Robert F. Kennedy Human Rights, where she is president.
"His statements do not represent what I believe or what Robert F. Kennedy Human Rights stand for, with our 50+-year track record of protecting rights and standing against racism and all forms of discrimination," she added.
On Saturday, the New York Post published an article that included a video that appeared to show Robert Kennedy speaking at a dinner in Manhattan about bioweapons and "ethnically targeted microbes" in which he claimed that "Covid-19 attacks certain races disproportionately."
"Covid-19 is targeted to attack Caucasians and Black people. The people who are most immune are Ashkenazi Jews and Chinese," he said, according to the video published by the Post. "We don't know whether it was deliberately targeted that or not." An overwhelming proportion of American Jews are Ashkenazi Jews, who are descended from Jews who lived in Central and Eastern Europe.
NBC News has not verified the video. In a statement on Twitter later in the day, Kennedy defended his remarks, saying they were not antisemitic.
Former Rep. Joe Kennedy III, D-Mass., also weighed in Monday, tweeting that he condemns his uncle's remarks.
Robert Kennedy has been repeatedly criticized for pushing conspiracy theories, some about vaccines.
Kerry Kennedy, 63, his sister, also blasted her brother, 69, when he launched his presidential bid in April.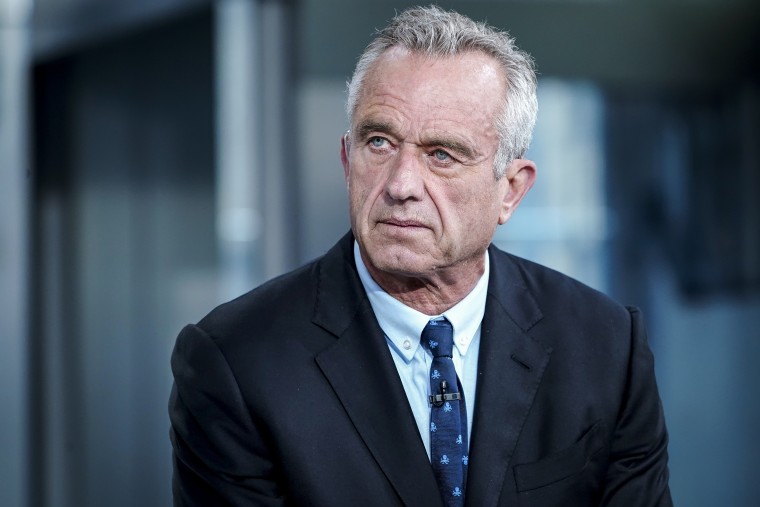 "I love my brother Bobby, but I do not share or endorse his opinions on many issues, including the COVID pandemic, vaccinations, and the role of social media platforms in policing false information," she said at the time. "It is also important to note that Bobby's views are not reflected in or influence the mission or work of our organization."
Other members of their family have also rebuked him over the conspiracy theories about vaccines and misinformation he has spread for years.
At the White House, press secretary Karine Jean-Pierre denounced the remarks Monday.
"The claims made on that tape is false. It is vile," she said at the daily briefing. "They put our fellow Americans in danger if you think about the racist and antisemitic conspiracy theories that come out of saying those types of things. It's an attack on our fellow citizens, our fellow Americans. So it's important that we speak out."