Republican presidential hopefuls hitting the trail in Iowa are being peppered with questions about abortion, social issues and government spending — and also carbon dioxide pipelines and eminent domain.
The questions stem from efforts by three companies — Summit Carbon Solutions, Navigator CO₂ Ventures and Wolf Carbon Solutions — that propose a series of underground pipelines to move carbon dioxide emitted from ethanol and other industrial plants in Iowa to either North Dakota or Illinois. But many landowners are not interested in the idea, which has led Navigator to seek permission in Iowa to use eminent domain, which allows the government to seize private land for public projects, The Gazette newspaper of Cedar Rapids reported in March.
It has residents in small Iowa towns like Nevada and Glenwood in an uproar — and it has become the latest local political issue in one of the influential early-voting states to turn into a venue for presidential politics. 
Ahead of 2024, the pipeline issue is forcing GOP candidates to strike a delicate balance among protecting landowners' rights, supporting the ethanol industry and demonstrating an understanding of the critical role agriculture plays statewide. 
In Council Bluffs, Iowa, in July, former President Donald Trump quickly talked his way past a question about how he could help Iowans save their farmland from CO₂ pipelines. "Well, you know, we're working on that," Trump told the woman who asked. "And you know, we had a plan to totally — it's such a ridiculous situation, isn't it? But we had a plan, and we would have instituted that plan, and it was all ready, but we will get it — if we win, that's going to be taken care of. That will be one of the easy things we do."
Florida Gov. Ron DeSantis faced a similar question about the scope of eminent domain at a stop in Algona, Iowa, late last month. 
"I believe it's narrow," DeSantis said. "I believe it's for public purposes, and I think when you have some of these projects, you need to negotiate with the property owners rather than use coercive power of the state. Negotiate."
And North Dakota Gov. Doug Burgum had a tense exchange with crowd members at an event in Nevada, Iowa, on Sept. 9 over using eminent domain to install carbon capture pipelines.
A man accused Burgum of being a "huge supporter" of eminent domain and said: "What's going on with the pipeline is you're taking private property rights away from our landowners that don't want this. But eminent domain is meant to take private property for public use. There is no public value in here." 
Burgum said: "You stated that I was a huge supporter of eminent domain, and that's just completely false. I'm a farm owner, rancher. I support private property rights." He added later, "You made a blatantly false statement about me, and I have to just tell you that that's not true."
Burgum said that he thinks there is a demand to kill liquid fuels but that carbon sequestration can help make the fossil fuel industry more sustainable. "We have to figure out a way like we're doing in North Dakota, to use CO₂ to reduce or have a net-negative gas in your car or diesel. Then everybody can keep driving your pickup trucks like the one that I've got," he said.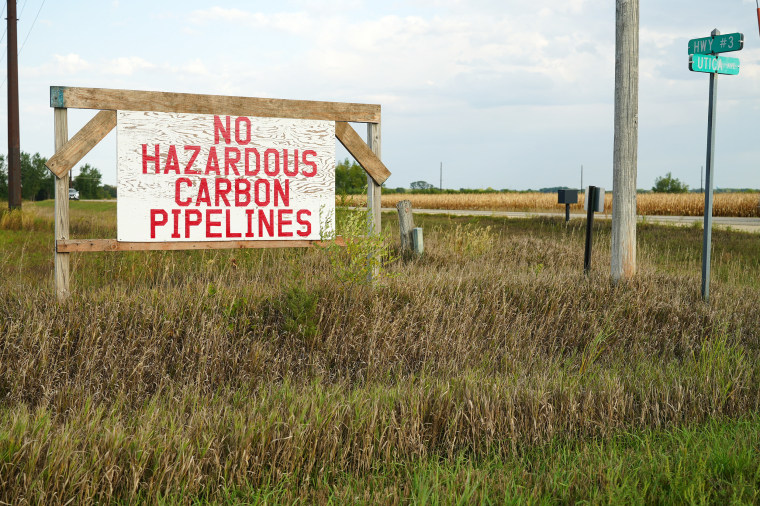 Karen, a family farmer who lives in Iowa but has a farm in Hamilton County, Nebraska, spoke to NBC News about the pipelines but asked to withhold her last name because her family is concerned about upsetting neighbors. She said she is prioritizing 2024 presidential candidates who support individual property rights. 
"We've kind of been burned by wind companies, solar companies, all making these big promises, and 'Oh, all these tax dollars that will be going to your little counties,'" Karen said. "This is just like the third strike."
Her family turned down a proposed lease agreement to build under their corn and bean farm, but they are now worried that Summit may be granted permission to use eminent domain to install the pipeline on their property anyway.
"It's not like you get a rental agreement where you're going to get paid every year or anything. There's not hardly any negotiations to this. We talked to people about trying to move the pipeline, and they say no," Karen said. "It's all put on the shoulders of the landowner, big or small, as far as how to negotiate and what to do to protect your property and your property rights."
Summit Carbon Solutions is still negotiating with about 460 landowners in Iowa, said Sabrina Zenor, the company's marketing and communications director. The proposed pipeline route currently shown on Summit's website does not appear to run through Hamilton County, Nebraska, where Karen's farm is located.
Karen said the fear going forward is whether the pipeline companies are "going to make things harder on us."
"Are they going to offer us less money for this same thing being forced upon us?" she asked. "It really leaves you vulnerable."
Chris Boshart, the CEO of Corn LP, one of more than 30 ethanol plants partnering with Summit, said he sees the pipelines as a way to make the ethanol industry, which many Iowa farmers rely on, cleaner and more sustainable. 
"We would view this as a pathway for greener energy that we've been on for a long time. And really, that's where ethanol has always found a placeholder, in, in liquid fuels, because we are a renewable source of energy," Boshart said. "We feel like for the next 20 years, carbon capture is a way to really put ethanol on a permanent placeholder in the renewable energy future."
And not all of the pipeline companies are interested in using eminent domain.
"The Wolf development team has never used eminent domain in its collective careers in building long-haul pipelines and it doesn't intend to start now," Nick Noppinger, Wolf Carbon Solutions' vice president for corporate development, told The Gazette in February.
Apart from using private land to build the pipelines, some environmental experts take issue with ethanol, which is often used in gasoline, and say using carbon capture and sequestration to reduce its environmental impact may not have as many long-term advantages as switching entirely to renewable energy, instead. 
"Carbon capture is just a scheme that's been developed by the fossil fuel industry to keep themselves going," said Mark Jacobson, the director of Stanford University's Atmosphere/Energy Program. Jacobson published a study in the journal Energy and Environmental Science that suggests carbon capture harms the environment. "It has no benefit to anybody. It just raises prices for all consumers," he said.
"When you're trying to address climate and air pollution and energy security, there's always a trade-off," Jacobson said. "Even in the best case, where you use renewable electricity to power carbon capture equipment … using wind to power carbon capture increases carbon dioxide compared to using the same wind to just replace the coal plant that the carbon capture was designed for."