Marianne Williamson, the self-help author and spiritual adviser, launched her 2024 presidential campaign Saturday in an unlikely space: Union Station, the Washington, D.C., transportation hub where commuters catch Amtrak and metro trains.
"It is our job to create a vision of justice and love that is so powerful that it will override the forces of hatred and injustice and fear," Williamson told a crowd gathered in the station's East Hall. "I, as of today, am a candidate for the office of President of the United States."
Throughout much of her announcement speech, Williamson railed against economic inequality and the U.S. governing system, which she called "intrinsically corrupt." "I'm not saying one person can fix it, I'm not saying even one president can fix it. But let me tell you something, a president who lays it down and says it like it is would do a lot of good," she said.
Williamson also ran as a Democratic presidential candidate in 2020. While she had some viral moments during the campaign, she did not gain any real traction as a candidate.
She also faced scrutiny for her past comments on antidepressants, and for referring to vaccine mandates as "Orwellian" and "draconian."
So far, Williamson, 70, is the first candidate to enter the race for the 2024 Democratic nomination, launching a campaign ahead of even President Joe Biden, 80, who has strongly hinted he will run again.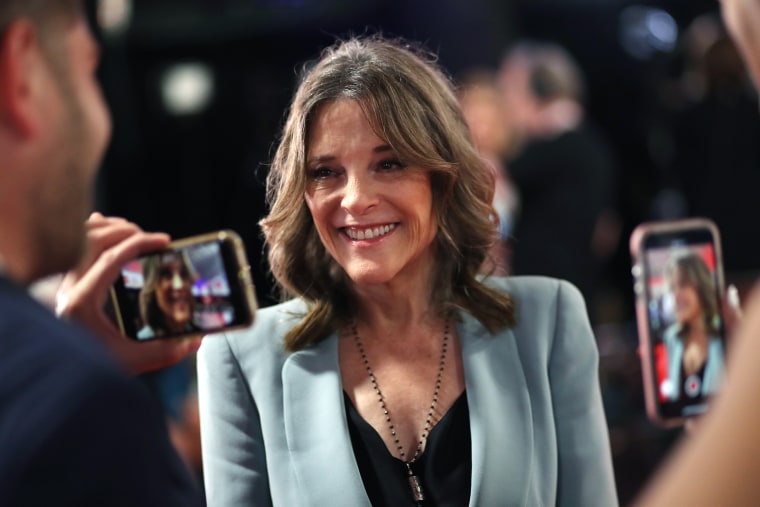 In an interview with NBC News Friday, before her launch, Williamson said she believes she can defeat Biden in the Democratic primary — even though she did not come close in 2020 — and then go on to beat former president Donald Trump or Florida Gov. Ron DeSantis in the general election.
"I'm painted as a longshot candidate by those whose power and position are tied to keeping the status quo," Williamson said. "The problem is that the status quo is inadequate to the task of facing the challenges in front of us today. And the status quo will not disrupt itself. It's time for the people to step in.
"I'm not challenging Joe Biden. I'm challenging the system."
Williamson also said she is planning to campaign in New Hampshire and South Carolina this month, and will also visit East Palestine, Ohio, where a train derailment has fueled political tensions between the two parties.
In the last presidential election cycle, she barely registered in national polls and ended her unlikely bid in January 2020.
Prior to her political career, Williamson was known as a best-selling author of spiritual self-help guides.