WASHINGTON — Presidential candidate Nikki Haley on Wednesday took aim at transgender influence Dylan Mulvaney during an event in New Hampshire.
"Anybody know about Dylan Mulvaney, the Bud Light person?" Haley asked the crowd. "Make no mistake. That is a guy dressed up like a girl, mocking women. Women don't act like that, yet you have companies glorifying him," Haley continued, misgendering Mulvaney.
Mulvaney rose to fame as she chronicled her gender transition in her "Days of Girlhood" series on TikTok, where she now has 10.8 million followers. She partnered with Bud Light in an April Instagram post, prompting a right-wing backlash and plummeting sales.
This isn't the first time Haley targeted the influencer. At an April town hall at New England College, Haley repeated the line: "Make no mistake: That is a guy dressed up like a girl making fun of women. Women don't act like that."
Mulvaney did not immediately respond to a request for comment.
The comments come as Republican-led efforts to restrict transgender health care and sports participation continue across the country.
Last month, the GOP-controlled House passed a bill on a party-line vote that would ban transgender women and girls from competing in female school athletics.
"It is a winning issue across America, standing up for the future women and girls," said GOP Conference Chair Elise Stefanik of the legislation in an April press conference.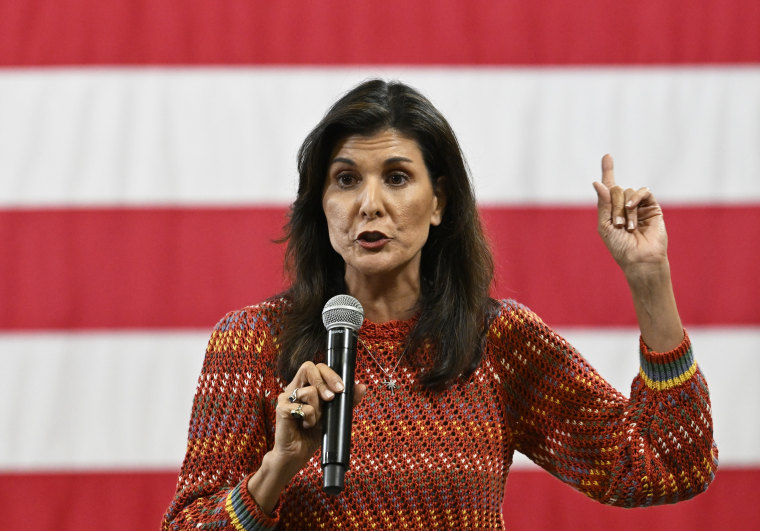 Over a dozen states passed policies banning gender-affirming care for minors, according to the Human Rights Campaign. An estimate found that 30.5% of transgender youth ages 13-17 live in states that passed bans on gender-affirming care, according to the organization, which aims to end discrimination against LGBTQ+ people.
Just this week, Gov. Jim Pillen, R- Neb., signed a bill restricting gender-affirming health care for people under 19 years old.
Gov. Ron DeSantis, R-Fla., last week signed a bill banning transition-related care for minors and a bill barring transgender people from using restrooms that align with their gender identities.
DeSantis entered the presidential race Wednesday. Other GOP 2024 contenders have also taken up anti-transgender sentiments.
In an interview with NBC News earlier this week, presidential candidate Sen. Tim Scott, R-S.C., said he would support "making sure that women compete against women and men compete against men," when asked whether he would support federal legislation banning transgender athletes.
Former President Donald Trump said in January that if he is reelected, he would "revoke" gender-affirming care for minors and limit protections for all transgender people.
"I will sign a new executive order instructing every federal agency to cease all programs that promote the concept of sex and gender transition at any age," Trump said in a January video.
Haley announced her 2024 campaign in February. She previously served as South Carolina's governor and ambassador to the United Nations during the Trump administration.