CLEVELAND — Ohio Secretary of State Frank LaRose launched a long-anticipated Senate bid Monday, becoming the third prominent Republican to run in an already fractious primary field that will determine who takes on Democratic incumbent Sherrod Brown in 2024.
"I, for one, believe that the country is heading in a dangerous direction," LaRose said in an interview. "If we don't turn the tide and put things back on track, then we're going to have a real mess on our hands."
The race figures to be one of the most competitive in the country next year. Brown's seat, in a state former President Donald Trump twice won by comfortable margins, is among the GOP's prized pickup opportunities, alongside contests in Arizona, Montana and West Virginia.
LaRose, 44, will aim to straddle two distinct lanes in a GOP race that features two rivals with substantial self-funding capabilities. Bernie Moreno — a businessman running with Trump's encouragement but for now without an official endorsement — is running as a loyalist of the former president. State Sen. Matt Dolan — a more policy-oriented conservative whose family owns Cleveland's Major League Baseball franchise, the Guardians — is running as an antidote to Trump's inflammatory politics.
In his launch video, LaRose emphasized his Army service, saying he is "a Green Beret, a conservative, a man of faith — and I'm not afraid of a fight."
LaRose has championed a ballot initiative that would require a 60% vote — as opposed to a simple majority — to amend the Ohio Constitution. If the measure passes in an August special election, the higher threshold would be in place for an amendment to protect abortion rights that is expected to be on the November ballot.
Moreno's campaign welcomed LaRose to the race by accusing him of shifting his focus away from a special election in which early voting is underway.
"Like a true career politician, Frank LaRose has spent the last 13 years of his life constantly running for higher office," Moreno spokesperson Conor McGuinness said. "With the all-important Issue 1 vote coming up in August, he should instead focus on the job he has."
LaRose, a former state senator, fired back: "Has he suspended his campaign to campaign exclusively for Issue 1? If he had, maybe I would take that seriously."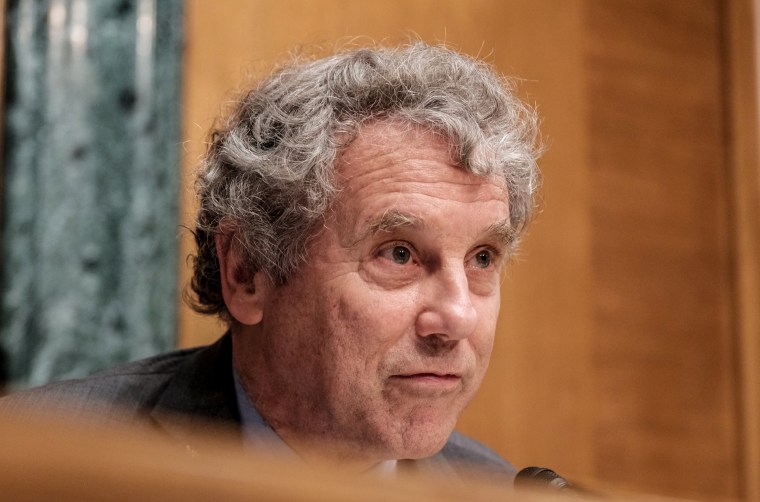 Democrats are watching with glee.
"The Republican 'slugfest' for Ohio's Senate seat is shaping up to be another long, contentious battle that will leave whoever emerges damaged in the eyes of Ohio voters," Ohio Democratic Party spokesperson Reeves Oyster said in a statement in response to LaRose's campaign launch. "In the days ahead, the people of Ohio should ask themselves: what is Frank LaRose really doing for us?"
LaRose enters the primary as the Republican most familiar to voters. He has won two statewide races, including re-election last year as secretary of state. A recent poll by East Carolina University showed him essentially tied in the teens with Dolan, who finished third in the Senate primary last year, with 58% of GOP voters undecided at this early stage. Moreno, a well-known former car dealer in the Cleveland area who dropped out of the 2022 contest months before the primary, was chosen by 7% of the poll's Republican respondents.
But LaRose also enters the race as the most meagerly funded of the three. Unlike Moreno and Dolan, he lacks vast personal wealth to draw from and has spent recent months urging donors to support a nonprofit group his political allies started to keep him on competitive footing. Dolan, by contrast, has already begun airing TV ads. And Moreno is off to a strong fund-raising start.
LaRose said in Monday's interview that in recent months, he has helped raise more than $1 million into an aligned super PAC that he has since departed because he is now a declared candidate and cannot coordinate with the group.
"I'm the only one in the race that isn't a millionaire," LaRose said. "So I'm going to do this the old-fashioned way, the entrepreneurial way. ... We're going to have the resources to win this race, because nobody will outwork me."
Trump endorsed LaRose's re-election bid for secretary of state last year — a fact that LaRose emphasizes. LaRose also said Monday that he has been in touch with Trump advisers and would welcome an endorsement. But he also said he has not decided whom to endorse in next year's Republican presidential primaries.
At a private event this year, LaRose downplayed the sway Trump holds over GOP voters, according to audio leaked to Politico and NBC News. LaRose, unlike other Republican candidates for secretary of state last year, also has said he does not believe the 2020 election was stolen from Trump.
More recently, LaRose put distance between himself and Trump after Trump was indicted over his handling of classified documents. A spokesperson at the time offered a statement that gently rebuked Trump — though not by name — and included criticism of how the Justice Department is handling the case. Moreno, on the other hand, attended Trump's defiant speech at his New Jersey golf club the evening after his arraignment.
But LaRose also has made overtures to GOP activists who made false or exaggerated claims about voter fraud. His office launched a public integrity unit, and he appeared on a panel with election deniers during this year's Conservative Political Action Conference outside Washington, D.C.
In the news release announcing his candidacy, LaRose dismissed Dolan and Moreno as insufficiently conservative. And in Monday's interview, LaRose boasted of a new agency within the secretary of state's office that will analyze election data — an effort he described as a Trump-friendly policy.
The funding for agency, which LaRose pushed for, comes from the recently passed state budget, which Dolan, as chair of the Ohio Senate's Finance Committee, had a major role in passing. Chris Maloney, a Dolan strategist, noted that LaRose praised his soon-to-be rival after the budget was signed into law.
"Now, as a candidate for U.S. Senate, Frank is attacking him," Maloney said. "It just reinforces the fact that on any given day, it's unclear which version of Frank LaRose is actually going to show up for work."