The local governing board that oversees much of Walt Disney World voted Monday to sue the company as part of an ongoing political feud fueled by Gov. Ron DeSantis.
The five-person Central Florida Tourism Oversight Board voted unanimously to sue Disney in state court less than a week after the company filed its own lawsuit against both DeSantis and the board, among a handful of other officials. 
The company sued after the board voted to invalidate an agreement the previous board passed allowing it to keep control of much of its operations just as DeSantis and his Republican allies were preparing to pass legislation allowing him to appoint a new board.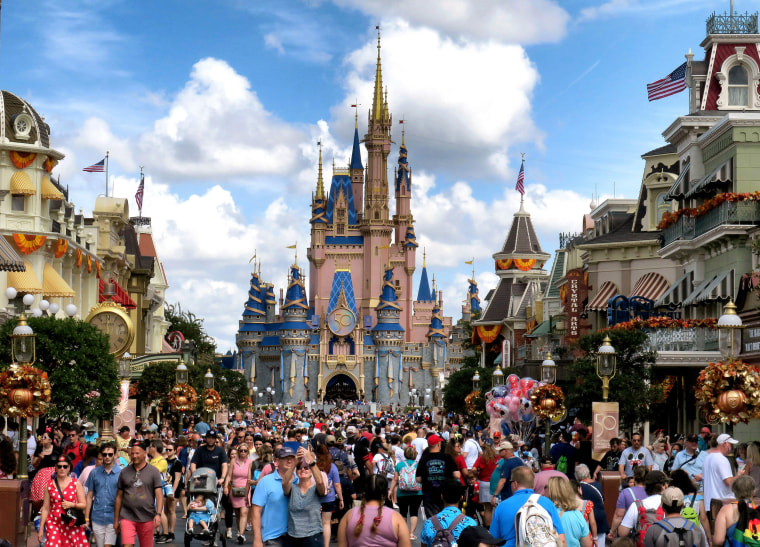 "When I explain the idea that this board is trying to bring new and better ideas to the district, it makes all the sense to all my friends on the right and left," board chairman Martin Garcia said.
A Disney spokesperson did not return a request for comment.
The fight, which has been going on for more than a year, stems from then-Disney CEO Bob Chapek issuing a statement last March opposing DeSantis-championed legislation banning the discussion of gender identity and sexual orientation in classrooms up until the third grade. Opponents branded the bill "Don't Say Gay."
The company's opposition prompted DeSantis to eventually get the GOP-dominated Legislature to pass a bill giving him the power to appoint a new board, which he has since stocked with political supporters.
Disney sued DeSantis in a Tallahassee-based federal court after the DeSantis-appointed board voted to nullify a development agreement the previous board had agreed to. It was passed with the aim of keeping company operations in the hands of Disney rather than the DeSantis-appointed board, out of fear the new board would be hostile toward its interests.
Garcia noted that the board's lawsuit, which is not yet filed, will be in state court in central Florida, which he said is in "our backyard," a reference to the company filing its lawsuit in Tallahassee.
Board member Ron Peri said he does not like that the board has been portrayed as a political weapon used by DeSantis, or how individual board members have been covered publicly. He specifically referred to a story with an old quote from him that implied he thought drinking tap water could make people gay.
The former pastor, who is the CEO of a Christian ministry focused on outreach to men, was referring to a CNN article in March that reported on a since-deleted YouTube video in which Peri seemed to make the connection between the two.
"So why are there homosexuals today? There are any number of reasons, you know, that are given. Some would say the increase in estrogen in our societies. You know, there's estrogen in the water from birth control pills. They can't get it out," Peri said last January, according to CNN. "The level of testosterone in men broadly in America has declined by 50 points in the past 10 years. You know, and so, maybe that's a part of it."