Transportation Secretary Pete Buttigieg took aim Sunday at Florida Gov. Ron DeSantis for a video attacking former President Donald Trump over LGBTQ rights.
DeSantis' presidential campaign reposted a video to Twitter last week showing overtures to the LGBTQ community by Trump over the years, including video of him saying he would "do everything in my power to protect our LGBTQ citizens" in a speech at the Republican National Convention in 2016. Trump issued the remarks in the wake of the deadly mass shooting at the Pulse Nightclub, a gay nightclub in Orlando, Florida.
The second part of the video shifts to focus on DeSantis, appearing to try to portray him as the paragon of masculinity. Thumping background music is accompanied by images of DeSantis, shirtless, muscular men and headlines about the anti-LGBTQ policies DeSantis signed into law.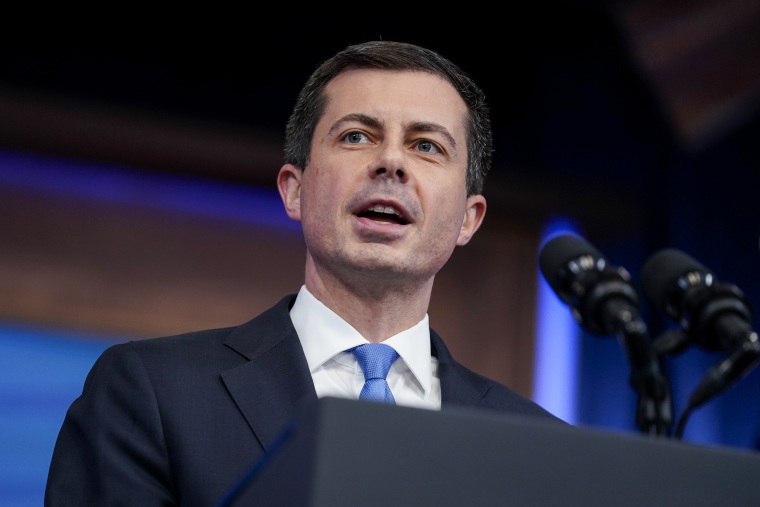 "I'm going to choose my words carefully, partly because I'm appearing as secretary, so I can't talk about campaigns," Buttigieg, the first openly gay Cabinet member to be confirmed by the Senate, said in an interview on CNN's "State of the Union."
"I'm going to leave aside the strangeness of trying to prove your manhood by putting up a video that splices images of you in between oiled-up, shirtless bodybuilders," he added. "And just get to the bigger issue that is on my mind whenever I see this stuff in the policy space, which is, again: Who are you trying to help? Who are you trying to make better off? And what public policy problems do you get up in the morning thinking about how to solve?"
After he noted his recent travels to places around the country that are using funds from the Bipartisan Infrastructure Law that President Joe Biden signed in 2021, Buttigieg said: "I just don't understand the mentality of somebody who gets up in the morning thinking that he's going to prove his worth by competing over who can make life hardest for a hard-hit community that is already so vulnerable in America."
DeSantis' campaign did not immediately respond to a request for comment.
Christina Pushaw, the DeSantis campaign's rapid response director, brushed off backlash in a tweet Friday night: "Opposing the federal recognition of 'Pride Month' isn't 'homophobic.' We wouldn't support a month to celebrate straight people for sexual orientation, either... It's unnecessary, divisive, pandering."
The video has drawn criticism from both Democrats and some Republicans.
Buttigieg's husband, Chasten Buttigieg, snarked Friday on Twitter: "This is actually very gay."
Log Cabin Republicans, a group that represents LGBTQ conservatives, tweeted that the video "ventured into homophobic territory."
"Desantis' rhetoric will lose hard-fought gains in critical races across the nation. This old playbook has been tried in the past and has failed - repeatedly," the group added in a follow-up tweet, also calling his policy positions "dangerous and politically stupid."
Former New Jersey Gov. Chris Christie, another Republican presidential candidate, also took issue with the video.
"I'm not comfortable with it, and I'm not comfortable with the way both Gov. DeSantis and Donald Trump are moving our debate in this country," Christie said Sunday morning on CNN's "State of the Union," adding that "they're trying to divide us further" by avoiding "big issues" such as inflation.
"And this type of video does nothing to address those issues. And it is a teenage food fight between Ron DeSantis and Donald Trump," he said. "And I don't think that's what leaders should be doing."
DeSantis signed a series of bills restricting LGBTQ rights this year, including a measure that expands what critics have called Florida's "Don't Say Gay" law and another that will ban transition-related care for minors.
DeSantis and the state Board of Education have also been sued by LGBTQ students and parents, who said the Parental Rights in Education bill would "stigmatize, silence, and erase LGBTQ people in Florida's public schools."
During his presidency, Trump took heat from LGBTQ rights advocates for some of his policies, including banning transgender people from the military, withdrawing Title IX protections for transgender students and reversing plans to count LGBTQ people in the census.