Vivek Ramaswamy didn't attract all that much attention when he launched his presidential bid in February. 
A 37-year-old multimillionaire who made his fortune working at a hedge fund and then as a biotechnology entrepreneur, Ramaswamy had never served in government and was new to politics. He began making a name for himself as an "anti-woke" crusader, but it wasn't a name that most Republican voters had heard about. 
But that's changing. Ramaswamy has blanketed the early-state trail as well as both conservative and mainstream media, embracing a strategy that has him omnipresent in the Republican presidential primary.
That strategy seems to be working. 
On Monday, Ramaswamy stood at third place nationally in the primary field in the FiveThirtyEight polling aggregate, albeit still a healthy distance from Florida Gov. Ron DeSantis, who himself trails former President Donald Trump significantly. A number of national surveys have recently shown Ramaswamy surging.
If the polling movement has come as a surprise to some, don't count the candidate among them.
"Maybe it happened a tad earlier than we expected," he told NBC News in an interview. "But at the time we started this race, I believed I was running to be the next president of the United States and lead a national revival."
"We're just getting warmed up," he added.
Tune in for a live exclusive interview with Ramaswamy on "Hallie Jackson NOW" at 5 p.m. ET on Tuesday, July 25, on NBC News NOW.
For months, voters have frequently brought up Ramaswamy to NBC News in interviews on the campaign trail as someone they wanted to learn more about or were particularly interested in — even if it was not ultimately to be president.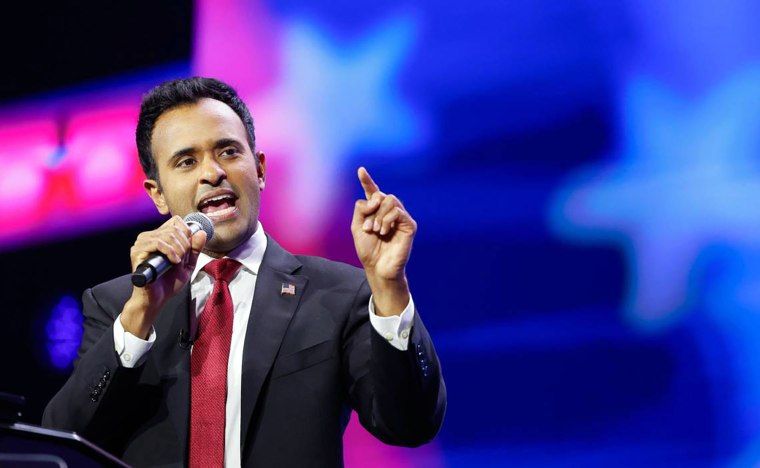 "I think that Vivek has a really good shot — he is an underdog, but he is highly intelligent," Madison Kirshner, a voter from Pittsburgh who is backing Trump, said at the conservative group Turning Point Action's conference this month. "I like listening to him speak. I think that he has a very good shot and would be in a great position for Trump's VP."
Though much of Ramaswamy's messaging is centered on criticizing left-wing positions on social issues and condemning identity politics, his identity was appealing to voters in Iowa and New Hampshire who expressed a desire for a nonwhite Republican millennial to ascend in the party. 
Add in a communications strategy that includes talking to any outlet across the spectrum and doing as much media as his campaign can handle, and Ramaswamy can come across as the Republican answer to Transportation Secretary Pete Buttigieg, who himself rose out of relative obscurity as an Ivy League-educated small-town mayor in the 2020 Democratic primary field before dropping out and backing President Joe Biden.
"Vivek was a pleasant surprise," Lynn Proudfoot, a conservative activist in Iowa, said after the Faith and Freedom Coalition spring kickoff earlier this year. "He's young, he's ethnic, he's a Bible-believing Christian. Just everything that I think would appeal to a cross section of our people, others. He's a sharp guy. And I definitely want to find out more about him and follow him more closely."
(Ramaswamy is actually Hindu.)
Ramaswamy, who says he has qualified for the first presidential debate, has been quick to pledge to pardon Trump if elected, released a list of potential picks for the Supreme Court, and has outlined plans to shut down the FBI and Education Department. He's gone viral for a recent interaction with an abortion-rights protester at one of his events and unveiled an eyebrow-raising fundraising strategy that will give donors 10% of the total amount of cash they raise for him.
It's not all rainbows and sunshine for Ramaswamy at the moment, though. His poll numbers are somewhat less impressive in the crucial early states. Though he raised $7.74 million last quarter, $5 million was from the candidate himself, with the remaining haul trailing rivals like Trump; DeSantis; Sen. Tim Scott, R-S.C.; and former U.S. Ambassador to the United Nations Nikki Haley. 
What's more, some rivals still do not see the millennial candidate as much of a threat. 
"He's not a real candidate," an operative with a rival campaign, granted anonymity to speak candidly on the matter, said. "His campaign is built on Twitter. He's everything to everybody always. We don't really think about him. And at no point are we going to engage with him."
As it stands, Ramaswamy's campaign is seen by some as not a bid for the presidency, but a bid for greater relevance in the party — perhaps a slot as a Cabinet official or a more lucrative pundit gig. But the candidate insists he's in the race for one purpose: to win.
"I don't do well in a No. 2 position," Ramaswamy said. "I got to where I am by being a leader. There's a lot of talent in the Republican Party, and a lot of other people who could do a great job in Cabinet posts or otherwise. That's not why I'm in this. It's to win."
Terry Sullivan, the campaign manager for Sen. Marco Rubio's 2016 presidential bid, said Ramaswamy follows a long line of long shots "who catch lightning in a bottle in a presidential race with strong messaging and great personalities."
"The question is can they turn that into a winning campaign? Traditionally, the answer is no. But the guy's got a compelling message," he added. "The reality is, though, you've got to go out and win somewhere first. And, second, the fact is, say what you will about Ron DeSantis, but Vivek is not getting the same level of scrutiny as Ron DeSantis."
At what point in time are they going to sit back and say, 'Holy cow, he's got a chance'?
Iowa state Sen. Scott Webster
Rivals say that could soon change for Ramaswamy, who they agree has benefited from little time under the microscope.
"He's not going to survive scrutiny," said an operative aligned with a second campaign, granted anonymity to speak candidly on the matter. "And he deserves a little scrutiny."
A Trump campaign official echoed the assessment, saying Ramaswamy has been able to come across as authentic on the trail in no small part "because he hasn't had to take a position on anything before."
"So it's easy to be authentic when somebody's not pointing out the differences that you said X amount of times ago," this person added, noting the candidate has crossed the former president's radar as "a really good speaker."
Ramaswamy pushed back on the idea that he hasn't been subject to more intense scrutiny, saying he has been willing to engage with media outlets across the spectrum on a host of issues. He said it was "unbecoming" for GOP candidates not to engage with more press. 
"I think facing scrutiny is going to be a lot harder from candidates who have been hiding from it, rather than from candidates like me, who have been openly embracing 360-degree open discourse with people who disagree with us," he said. 
More recently, Ramaswamy has started to receive some more critical coverage. Semafor recently reported that the investment firm he founded to push back on ESG — environmental, social and governance — investing policies widely ridiculed by conservatives is now dialing back its "anti-woke" rhetoric in hopes of courting more investors. (Ramaswamy stepped down as CEO to run for president.)
And ABC News last week highlighted Ramaswamy's staunch condemnation of Trump's actions related to the Jan. 6, 2021 attack on the Capitol that the candidate issued in the immediate aftermath of the riot — even though Ramaswamy recently told conservative pundit Tucker Carlson that the cause of the Capitol riot was "pervasive censorship."
Ramaswamy said his answer was not a contradiction, noting that the tweet condemning Trump was in response to a reply to a Wall Street Journal op-ed he wrote in which he warned that further "suppression of dissent" by tech companies could lead to outbreaks of violence worse than the "disgraceful" riot.
"And my point was, 'No, I'm not [condoning Trump's behavior],'" he said. "Actually, I would have made very different judgments from him. And yet, I still think that he was not the cause of what happened on Jan. 6."
Ramaswamy stands out on the campaign trail for his defense of Trump — at times tightly hugging and praising the man he wants to succeed atop the Republican Party while many of his rivals seek a middle ground, though he has recently started to put more space between himself and his leading rival.
As is the case for many of the contenders seeking to overtake Trump atop the primary field, the first presidential debate next month is going to be a big test for whether Ramaswamy can build on his momentum or stall out. But Ramaswamy isn't worried about whether or not Trump himself shows up. In fact, he expects him not to and compared his likely absence to a sports team earning a bye in the playoffs.
"I don't think whether he shows up at the first debate matters much one way or another," Ramaswamy said. "At some point in this process, I think he absolutely should participate in debates. … I'll look forward to being on that debate stage in an unshackled manner regardless of whether he shows up."
For now, Ramaswamy says to expect his campaign to do more policy rollouts in the coming weeks, like his recent outline of his administrative reform plan in New Hampshire. He also says he's been able to gain "a greater sense of [what] the campaign is actually about" in recent weeks.
One of Ramaswamy's notable early endorsers is Iowa state Sen. Scott Webster, who flipped from backing DeSantis in part because of DeSantis' ongoing battle with Disney — one that unsettled Webster. The Iowa Republican said voters and leaders should take Ramaswamy's chances seriously.
"I realize that when people first see him, and you're polling at 1 or 2%, they're like, 'Ah, he's running for this [or that].' But now he's at 10%," Webster said. "At what point in time are they going to sit back and say, 'Holy cow, he's got a chance'?"