ROCHESTER, N.H. — For $1, New Hampshire voters were invited to drink beer with Florida Gov. Ron DeSantis on Saturday in Concord.
But barely more than two dozen people showed up at the New Hampshire Home Builders Association, which slashed the ticket price for the general public from $50 late in the week in order to build the crowd.
By the time the event started, an hour late, there were just 30 people in the room.
For a campaign that promised allies a new approach while shedding staff amid a cash crunch and declining poll numbers, the meet-and-greet with homebuilders was just one of a string of events in Iowa and New Hampshire in recent days that were distinctive less for any change in DeSantis' tack than for the appearance of waning interest in his candidacy.
At least at the outset, DeSantis has reset in name only.
"When you're not gaining traction in the polls, they've got to do something," said Jim Tobin, who attended DeSantis' economic policy speech in Rochester on Monday, and is leaning toward voting for the governor. "If he was even in the polls, they wouldn't be doing anything."
In campaign memos and conversations with donors, DeSantis advisers have talked of a path forward by making the governor more approachable through retail politicking — diners and barbecues — and town-hall forums that emphasize his policy ideas (the economy and foreign policy in August) and military service. DeSantis' economic policy speech to a crowd of about 100 people here Monday, along with appearances at restaurants, a house party and former Massachusetts Sen. Scott Brown's barbecue, followed that plan.
His campaign says he's hitting his marks.
"The media will continue their obsession with endless clickbait stories that do nothing to inform voters, and Ron DeSantis will keep sharing his plans to declare American's economic independence and restore sanity in our country as the next president," campaign spokesman Andrew Romeo said.
"While some candidates think they are entitled to the nomination," Romeo added, "the governor will not be outworked and will fight for every vote, one day at a time."
While his four-day swing through the Granite State and a bus tour of Iowa last week bore some of the trappings of a candidate trying to make a sharp turn, DeSantis often reverted to his norm, both in substance and style.
He remains committed to the basic message that, as president, he can export his agenda from Florida to the rest of the country and, despite beefing up his stump speech with broadsides against President Joe Biden and a handful of policy promises, he still emphasizes the culture-war issues that dominated the early days of his campaign.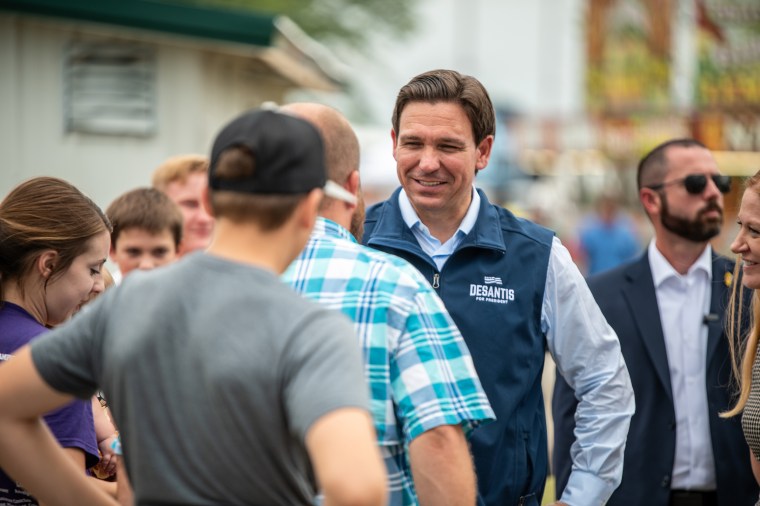 At a coffee shop in Oskaloosa, Iowa, on Friday, he began his remarks with some sharp zingers against Biden and a tight section on economic conditions. But he then spoke at length about destroying "woke" culture and defended the Florida Board of Education's decision to approve a Black history curriculum that said middle school students should learn about the "personal benefit" slaves received from learning trades.
And there were signs that the campaign's focus on retail politics — on showing that DeSantis can connect with people outside his bubble — eluded the candidate at times.
A 15-year-old at the Oskaloosa coffee shop asked about military service restrictions on people with mental health disorders — a topic right in line with the DeSantis campaign's desire to highlight his military expertise.
"I can't legally vote," the teen said, "but I struggle with major depressive disorder."
DeSantis interrupted the teen with a rejoinder: "It's never stopped the other party from not letting you vote."
After letting the youngster finish, DeSantis swung back around to acknowledge that he wasn't sure what restrictions might be in place and stressing that such rules are made with "whatever is best for the unit" in mind.
It wasn't the only moment on the two-state trip in which the governor's attempts to project intimacy by making small talk seemed to backfire.
"Oh, what is that? An Icee?" a puzzled-looking DeSantis asked one kid during his Thursday visit to the Wayne County Fair in Corydon. "That's probably a lot of sugar, huh?"
Later that evening, in Osceola, an 82-year-old farmer told DeSantis that he tends fewer acres since his wife died of cancer five years ago, and asked about the candidate's thoughts on ethanol, a corn-based renewable fuel used in cars.
DeSantis passed up an opportunity to offer sympathy, launching into a stump-speech promise to "turn back this rush to electric vehicles."
Agreeing with DeSantis' view on electric vehicles, the farmer said he couldn't afford to transition his tractors and other equipment. In that case, it seemed, the voter found a way to connect with DeSantis rather than the other way around.
DeSantis defended his personal touch in an interview with NBC News last week, arguing that critics are off-base when they say he has difficulty connecting. 
"That hasn't been the truth," he said during the Iowa tour. "The truth here on this trip, we've gone to all these counties, people coming up to me saying, 'I'm so glad that you showed up. You know, you're the first guy to actually show up here where people are signing up committing to caucus for us and really significant numbers in terms of the percentages of people that are showing up.'"
DeSantis said that's a sign that his campaign is moving in the right direction.
"So we're making big, big progress," he said, pointing to his visits to smaller counties. "I'm going to say I have been in your community. We've listened to your concerns, and we're going to deliver results for you."
DeSantis' cash-strapped campaign has turned to his super PAC, Never Back Down, to defray costs by sponsoring events that DeSantis attends. Ostensibly, part of his new strategy is to get closer contact with voters at slimmed-down meetings. That has the obvious benefit of portraying sparse attendance as a virtue.
There were some bright spots on DeSantis' most recent campaign swing, which was due to wrap up Tuesday with a town hall-style event televised by WMUR in New Hampshire.
After his Lincoln Dinner speech to the Iowa GOP Friday night, DeSantis hung out with supporters at an after-party sponsored by his super PAC, beer in hand. The speech itself, part of a cattle call of candidates delivering remarks to a crowd of more than 1,000 Iowa Republicans, drew applause and praise from attendees.
"DeSantis was in danger of being written off by many Iowa Republican Party leaders and activists," said Will Rogers, a former chairman of the Polk County, Iowa, GOP who has not endorsed a candidate. "His performance at Friday night's dinner clearly shows that he has a lot of life left in his campaign, and this might have been the start of his comeback."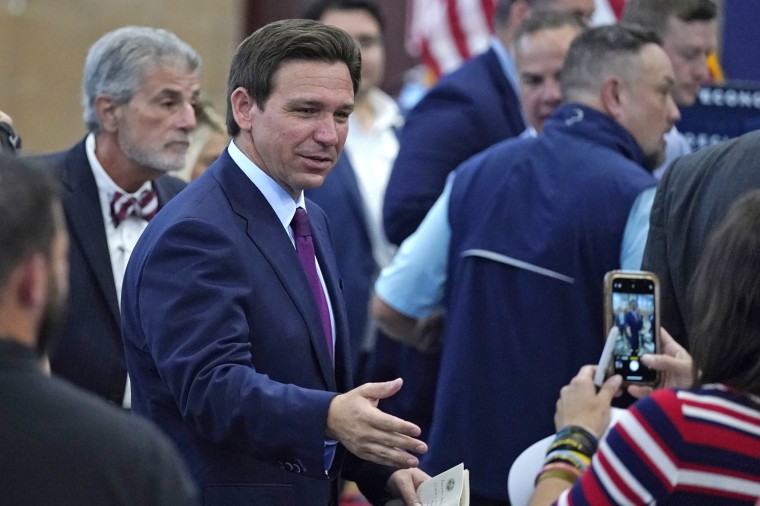 On Sunday, at Brown's barbecue, DeSantis spoke to an energized crowd of well more than 100 people — more than at the homebuilders event but still short of the audiences that flocked to see him in Iowa during his pre-campaign book tour.
Despite out-raising the field, earning enough media coverage to make himself a household name in political circles and securing second place in polling, DeSantis' campaign looks more like the operation of a second-tier candidate now than the juggernaut it was expected to be.
This month, DeSantis fired more than 40 percent of his campaign staff after a filing with the Federal Election Commission showed that he had tapped out top donors and burned through cash. Out of $20.1 million raised in his first six weeks as a candidate, he had spent $7.8 million. Under federal election law, roughly $3 million of the remainder can't be used in the primary because it is reserved for the general election.
At the same time, DeSantis' poll numbers have sagged. A New York Times/Siena College survey released Monday showed former President Donald Trump at 54 percent and DeSantis at 17 percent. The remaining candidates in the crowded field were all below 4 percent.
DeSantis donors and allies have long been concerned about his campaign. Some expressed optimism about his chances of resetting his trajectory after the staff layoffs. But other Republicans say the campaign is still falling well short of expectations.
"I think he's got a very good team in Iowa and I think he's heavily focused," said a GOP lawmaker who has not endorsed in the race yet. "But am I disappointed overall? Yeah. I think people thought the rollout was going to be better. I think they thought there would be a more robust campaign, that they'd be making more progress. And so, yeah, I think it's been disappointing over the last six weeks."
The attendance at Saturday's "Beers With Builders" event was measurably smaller than the crowds DeSantis drew at several stops on his first trip to the state as a candidate this year.
Originally, organizers had made the event free to members of the homebuilders' association and charged $50 per ticket for nonmembers. But in an effort to pack the room, the association dropped the price to $1 for nonmembers — a nominal fee designed to prevent tickets from being reserved by malicious actors.
"I charged a token $1 because the 'bots' fill up events with bad emails," association executive director Matt Mayberry said in a text exchange with NBC News.
But a cheap ticket and free beer could only do so much.
Allan Smith and Emma Barnett reported from New Hampshire, Henry J. Gomez from Iowa, and Jonathan Allen from Washington, D.C.