DES MOINES, Iowa — Florida Gov. Ron DeSantis enters the first crucible of the 2024 GOP presidential primary campaign Friday, with Donald Trump looming right over his shoulder.
Trump and DeSantis, first and second in national polling of the Republican presidential primary race, will nearly cross paths in Davenport, on the edge of the Mississippi River: DeSantis in his first trip to the first-in-the-nation caucus state as a prospective candidate on Friday, and Trump, on Monday, in his first visit since he announced his campaign last year. 
The split screen of the two heavyweights signals the unofficial start of the Iowa caucuses.
"It's in full force now," McNulty said of what DeSantis and Trump's events, both in her county, signal for Iowa's primary season.
"People are really excited and energized," she added. "And most folks I talked to are going to both events. They're not picking and choosing."
While the former president faces a test of whether his dominance of the Republican Party has faded to the point where he is truly vulnerable, the stakes are inherently higher for DeSantis. He is an intriguing but not-yet-familiar figure here, and Trump's team is signaling a desire to put the screws to DeSantis on issues where his record puts him crosswise with GOP voters in the state.
"This is where candidates start to get out of their comfort zone and voters get a sense of whether candidates are up for it," said longtime Trump adviser Jason Miller. "I would imagine that DeSantis' efforts to cut ethanol, to cut Medicare, to cut Social Security — and his pro-interventionist postures on the global stage — are likely to get a lot of attention from the reporters covering him on Friday."
As a congressman, DeSantis cast a series of votes that would have reduced or terminated federal aid programs for farmers. Those could prove relevant in a state covered in farmland. In 2018, for example, he was one of 34 House members to vote for a failed amendment to a farm bill that would have phased out federal crop insurance premium subsidies — a significant source of support for many Iowa farmers — over a decade. 
A spokesman for DeSantis did not respond to a request for comment on the amendment or DeSantis' aims for his trip to Iowa.
DeSantis, who is also scheduled to make an appearance in Des Moines on Friday, has not yet said whether he will run for president. He has largely avoided responding to Trump's increasingly frequent public barbs, which include a mix of derisive nicknames and attacks on substantive policy matters. But if the governor hopes to win the Iowa caucuses and the Republican nomination, he will have to explain his positions to famously scrupulous Iowa voters.
Rep. Zach Nunn, R-Iowa, said he's keeping an eye out during both DeSantis and Trump's addresses for how the crowds react to their key messages and whether they are offering a "vision for the future" or "a rehash of the past."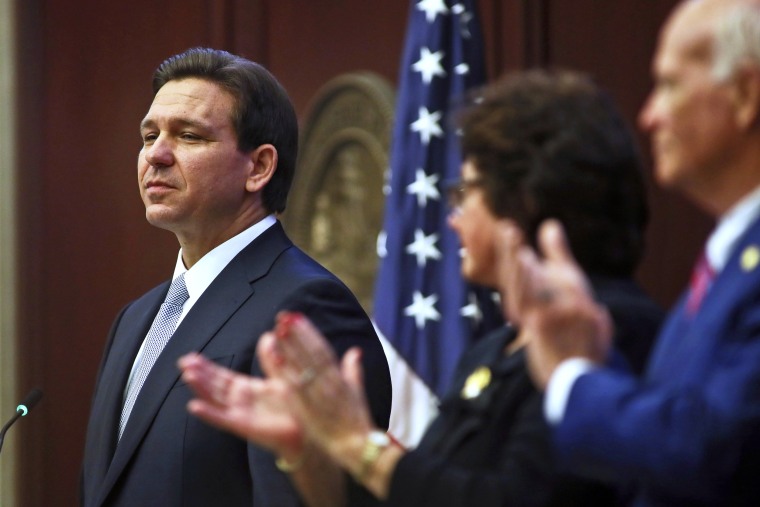 "We've seen far too many candidates come to Iowa who were the next big thing," Nunn said. "And after a few weeks on the ground going to Pizza Ranches, everybody realized, 'Well, that's a great speech, but you don't have the human touch.' And that was the nail in the coffin."
Trump has taken time to meet with voters in small groups during recent campaign trips, and he could repeat that retail approach outside of his speech in Davenport on Monday. Iowans expect candidates to spend time shaking hands and answering questions, not just standing behind a lectern or sitting on a stage to communicate.
"Look, it's unprecedented having a former president running for president again in the state," Nunn said. "Iowans have a high expectation that they're going to talk to you about issues that are relevant to them today. Not what was the issue six years ago."
"I mean, I'm a member of Congress, and if I don't actually show up on somebody's doorstep, and have a conversation with them, they'll tell me, 'Well, you know, what, Nikki Haley was here last week and sat down with me and had a cup of coffee," he said, referring to the former South Carolina governor and ambassador to the U.N. who announced her presidential campaign last month. "It's a pretty high bar that local electeds are required to do."
Trump's remarks have been billed as the rollout of the education plank of his platform, the latest in a series of policy proposals that lay out his vision for the future of the country. But Miller described the speech as a mix.
"It's a bit of policy," he said. "It's a bit of politics."
Trump is also expected to announce his campaign's leadership team for eastern Iowa. When he first ran for president in 2016, Trump flipped the eastern edge of Iowa into the Republican column and began to secure a heavy GOP advantage in what was once a swing state. But Trump narrowly lost Scott County in the 2016 caucuses, coming in a close second to Sen. Marco Rubio, R-Fla., and just edging out Sen. Ted Cruz, R-Texas. In the state overall, Cruz won the caucuses, with Trump in second.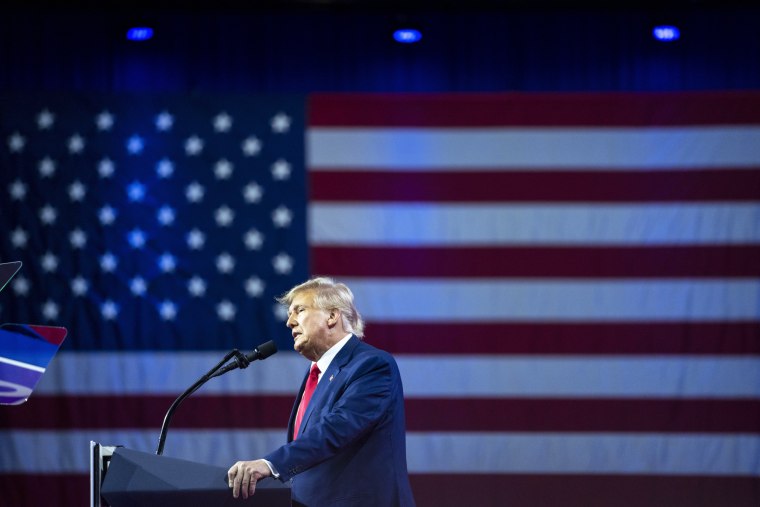 "There's a certain segment that is wedded to Trump, but then I think there's a whole other pretty good sized group that wants to kick the tires and look things over," Steve Scheffler, an RNC committeeman from Iowa and president of the Iowa Faith and Freedom Coalition, said, adding that he believes even those beyond Trump and DeSantis still have "a shot" to carry the state's caucuses in February. "Anything's possible in Iowa."
Scheffler's group is set to host a major event on the primary calendar next month, where at least 20 Republican leaders, including potential and announced presidential contenders, are invited to speak at the Faith and Freedom Coalition's Spring Kick-Off. Scheffler said the list of those committing to speak is still being finalized.
Additionally, the two political powerhouses are visiting around the same time of the release of an always anticipated poll, set to be published Friday in The Des Moines Register, that will gauge potential GOP presidential contenders.
But with less than 11 months before the caucus vote, the campaign is forming at a more leisurely pace than some here had expected.
"It's been a little slower this time around because there is a kind of quasi-incumbent, at least in the eyes of Republicans," said Dennis Goldford, a political science professor at Drake University in Des Moines, adding that some of the lower-tier candidates may be waiting to see how Trump fares before they decide on running themselves. "I think that you would say at this point that Trump is still the man to beat. I wouldn't go so far as saying he's the prohibitive favorite."
While DeSantis and Trump are just now making their initial forays into Iowa, other candidates and potential candidates have been eyeing the state. Former Secretary of State Mike Pompeo, former Vice President Mike Pence and Sen. Tim Scott, R-S.C., have all ventured to the state in recent weeks. (Scott held meetings with local pastors between events last month.)
"You can expect to see him in Iowa again in the near future," said a person familiar with Scott's plans, adding that a decision on whether he runs is not "imminent."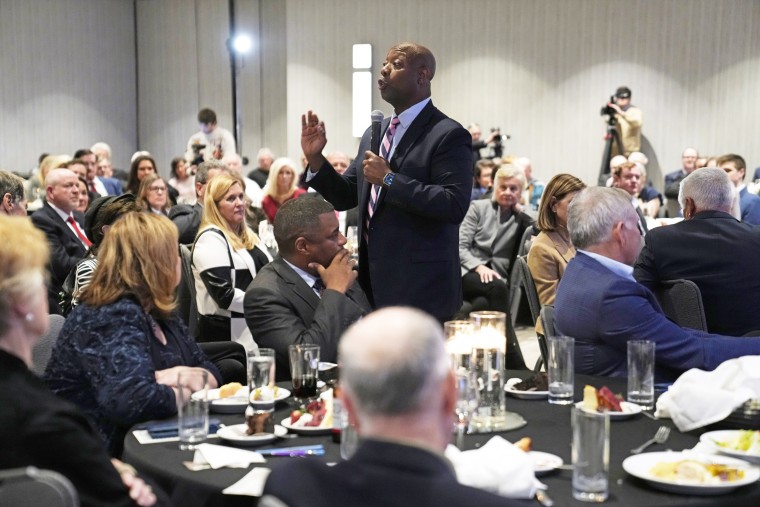 No one has made his or her presence felt more than Haley, who is on her second tour of the state since she announced her campaign on Feb. 14. At the start of a three-stop tour Wednesday, Haley sought to differentiate herself from other contenders by noting she went to Clemson University, an Atlantic Coast Conference school.
"I'm not an Ivy Leaguer like some of the other guys you're going to see in this race," she told a crowd in Council Bluffs.
DeSantis graduated from Yale and Trump from Penn.
Haley is "certainly doing what you need to do," Scott County Republican Chair Jeanita McNulty said. "She's spending a lot of time here. ... She's working hard, and that's half the battle."
Nunn said both Haley and Scott have had their personal stories resonate with Iowa voters, adding that Pompeo has worked toward building a necessary coalition.
"They've all approached it in different ways," he said. "But what is a determining factor is not just what you're talking about, and what your personality is, but what kind of a ground game are you building in early states like Iowa to be successful in getting into that coveted top-three bracket, versus being somebody who falls flat."
The state's top Republicans, like Sen. Chuck Grassley, have so far remained neutral in the primary. That hasn't stopped Gov. Kim Reynolds from appearing with several candidates as they have come through the state, and Sen. Joni Ernst is set to appear Friday at an event with Haley.
Nunn, who has not endorsed, said he's willing to offer his backing to a candidate "who's willing to come to Iowa and actually talk to Iowans."
"They need to spend time talking to real people about real issues," he said.