SALIX, Iowa — Ron DeSantis was making a four-stop blitz through Iowa during his first full day of presidential campaigning on Wednesday, aiming for a personal connection with voters while intensifying his criticism of former President Donald Trump.
The Florida governor's first stop was the floor of Port Neal Welding in Salix, a rural town near Sioux City, in the heart of the most Republican-heavy part of the state. Lining the highway outside the welding shop were metal structures including a towering Jesus, a version of the Statue of Liberty and the Minions.
DeSantis talked up his efforts to push his state farther to the right. But he often barreled through his 30-minute speech in workmanlike fashion, left few pauses for applause from the audience of a bit more than 100 people, some wearing caps bearing seed company logos.
Trying to position himself as the most formidable alternative to Trump in the crowded Republican White House primary field, DeSantis didn't mention the former president by name in Salix. But he said the Bible emphasized the importance of being humble, adding that the country needed leaders who knew how to show humility.
"The tired dogmas of the past are inadequate for a vibrant future. We have to look forward," DeSantis said. "We can't look backwards. We must have the courage to lead and we must have the strength to win."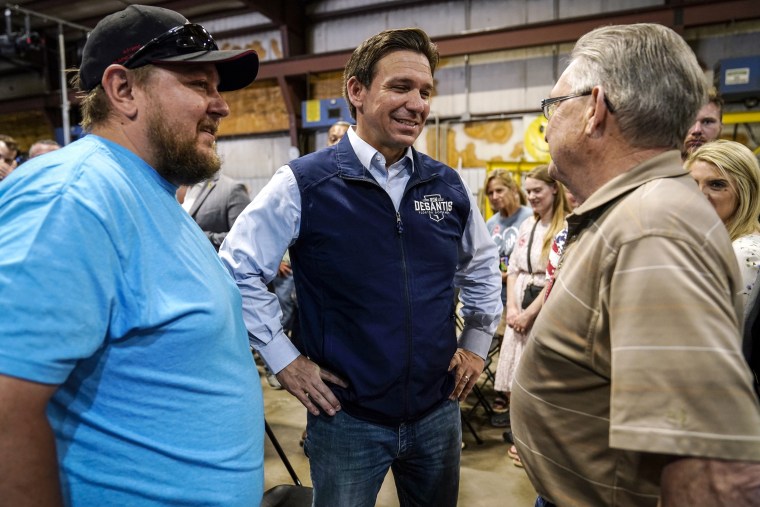 He later sat with his wife, Casey, among hydraulic lifts and long welding tables arrayed with assorted metal engine parts. The pair took no questions but offered stories of their favorite drive-thru chicken restaurant and their kids — including an incident involving permanent marker drawings on the bathroom walls of the governor's mansion.
"They just seem very down to earth," said Bev Lessman, a 70-year-old retired teacher from Sioux City. After speaking, DeSantis walked through the audience and Lessman wrapped her arms around DeSantis' neck and told the governor she could feel what seemed to her to be the governor's Christian devotion.
"I told him we can't make others live it, but I appreciated how he expressed his faith," she said later. He replied, "But we can model it," she said.
"There was a connection," Lessman added.
Displaying a personal touch that resonates with voters is vital to succeeding in states like Iowa. That's a departure from Florida and its large, expensive media markets where television advertising is often more important than on-the-ground campaigning given just how much ground there is to cover.
DeSantis has subsequent Wednesday appearances in Council Bluffs, Pella and Cedar Rapids as he holds a string of early events in the state where caucuses kick off the Republican presidential primary voting. From there, he will head to New Hampshire on Thursday and South Carolina on Friday — two other states that vote early on the GOP primary calendar and where face-to-face interactions with voters are important.
After months of speculation, DeSantis launched his campaign with a glitch-filled online kickoff last week and held his first official Iowa event Tuesday night before an energetic crowd of roughly 500 gathered inside a suburban Des Moines church. He didn't mention Trump during his remarks, but speaking to reporters afterward, he pushed back against the former president in a way he had not before on the national stage.
DeSantis accused Trump of essentially abandoning "America First" principles on immigration, supporting coronavirus pandemic-related lockdowns and generally having "moved left" on key issues. And DeSantis laughed off any criticism the former president had lobbed his way over his leadership in Florida, particularly on the state's response to Covid-19.
"Hell, his whole family moved to Florida under my governorship," DeSantis said. "Are you kidding me?"
The governor is opening his campaign looking up at Trump in the polls. He's also for months been dogged by criticism that, while he's comfortable on stage and in official settings, he can seem halting and awkward when interacting with regular Americans.
Kate Romano, 60, of Indianola, Iowa, said she was more impressed by DeSantis than she expected during his Tuesday night appearance, calling him energetic and fun to hear. She voted reluctantly for Trump in 2016 and 2020, and she's interested in hearing from other candidates.
"I liked to hear that he'll stand up to Trump," Romano said.
Kim Riesberg, 59, said she, too, voted twice for Trump but is not necessarily committed to him this time.
DeSantis is a "little softer," Riesberg, of Dallas Center, Iowa, said Tuesday night. And "more appealing to the masses."
Trump and his allies have unleashed a fresh round of anti-DeSantis attacks, sharing new polls finding the former president is the heavy favorite in the GOP race and taking aim at DeSantis' leadership during the pandemic. A pro-Trump super PAC is also running ads on Iowa television accusing DeSantis of wanting to raise taxes, which the governor denies.
The feud will have an opportunity to play in public as the week progresses.
Trump, who was already scheduled to be in Iowa on Thursday, added stops in the state to his schedule for Wednesday, ensuring he would overlap with DeSantis for a time. Trump will tape a radio appearance in Des Moines before attending a GOP legislative dinner.
DeSantis, meanwhile, will be back in Iowa on Saturday for an event for 2024 GOP hopefuls hosted by Sen. Joni Ernst. They will be joined by declared candidates including Sen. Tim Scott, R-S.C., and former United Nations Ambassador Nikki Haley, along with former Vice President Mike Pence, who is expected to launch a campaign soon.
All the travel will give DeSantis a lot of unscripted moments with voters — and he got a taste of that as he moved through the audience at the end of the Salix event. Some people approached the governor with specific points, as did Mark Choquette, who questioned DeSantis about his argument that it would take two terms for a president to reform the federal bureaucracy.
"If he don't bust ass and tear up D.C. in the first term, he may not get a second term and then where he be?" asked Choquette, a 76-year-old retired U.S. Marine and Vietnam War veteran. "That's one reason I like Trump. He doesn't have to worry about getting reelected."