TALLAHASSEE, Fla. — Florida Gov. Ron DeSantis is shaking up his campaign leadership, bringing in James Uthmeier, his longtime chief of staff, as his new presidential campaign manager, the latest move in a reset that is now almost a month in the making.
Out is Generra Peck, who was DeSantis' campaign manager through his 2022 re-election and during the tumultuous first three months of his presidential campaign. DeSantis trails Donald Trump in most public polling, and he has already laid off 40% of his initial campaign staff in an attempt to cut costs.
"Gov. DeSantis has to change the dynamics. That much is clear," DeSantis donor Dan Eberhart said. "This is a realignment rather than a reset because both folks were already senior advisers."
Peck, whose exit was first reported by The Messenger, will stay on as a senior adviser. NBC News first reported that top DeSantis allies were pushing for a change at the top of the campaign as his launch did not go as well as expected.
Uthmeier, the chief of staff in DeSantis' formal office, will become campaign manager at a key moment. Top aides see the first debate, scheduled for Aug. 23 in Milwaukee, as a key moment for DeSantis to regain some momentum and try to close the gap with Trump.
"James Uthmeier has been one of Governor DeSantis' top advisers for years and he is needed where it matters most: working hand in hand with Generra Peck and the rest of the team to put the governor in the best possible position to win this primary and defeat Joe Biden," Andrew Romeo, the campaign's communications director, said in a statement.
He said that David Polyansky, a longtime Iowa GOP operative, will be deputy campaign manager. Iowa is increasingly seen as a make-or-break state for DeSantis, who would struggle to maintain any momentum if he does too poorly in the first-in-the-nation nominating contest.
"I still think it is all about Iowa," a DeSantis adviser said. "And in truth the campaign in the early states is in good shape."
Part of the shakeup comes amid dwindling morale within the DeSantis campaign, which at one point had front-runner-type momentum but has spent its first few months facing a barrage of negative headlines and shrinking poll numbers.
"I think the governor had been mulling over changes since he learned about some of the financial problems with the campaign," a Republican consultant familiar with the decision said. "And as time went on, while the financial issues have been fixed, there was still just a feeling the campaign really needed a shakeup to boost morale."
"Sometimes you just need a fresh face," the person added.
Uthmeier was first hired as DeSantis' chief of staff in September 2021, and he has been seen as more in line with DeSantis politically than his first two chiefs of staff, who were veterans of Florida politics and the legislative process and seen more as political operators than culture war crusaders. 
Uthmeier received his law degree from Georgetown University and is well connected in conservative legal circles, including being a member of the Federalist Society.
One DeSantis-aligned operative said it is a "smart move to get [Peck] out" but questioned whether Utheimer would be the best replacement, given that his experience is more on the policy side rather than campaigning.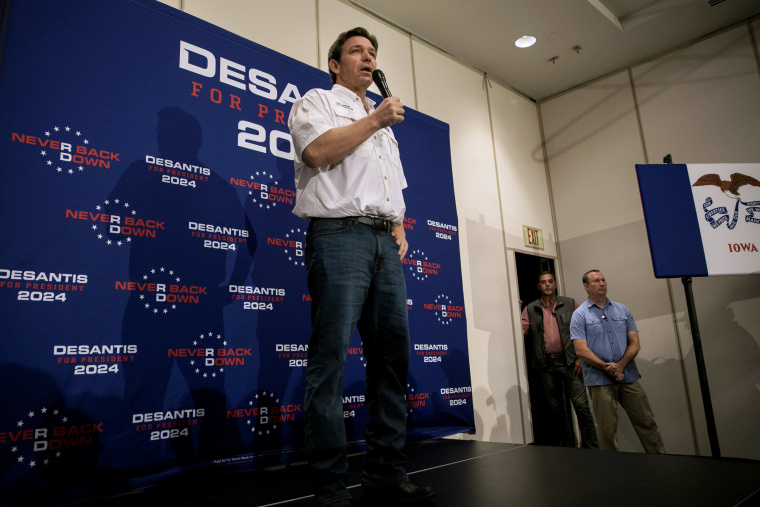 Hiring leadership with more campaign experience "is really what we need at this point," this person added.
A Republican familiar with the decision said Utheimer's inexperience directly working for political campaigns was "not a concern" for DeSantis or his wife, Casey, who also has a big role in helping steer the campaign.
"They trust his ability to manage big organizations," the person said.
Peck's ouster is the latest in a weekslong shake-up of DeSantis' campaign personnel and strategy.
An adviser to a rival GOP campaign, noting the many "reboot" storylines in recent weeks, reacted to the news Tuesday with a mocking text message.
"#threeboot," the adviser wrote.
Matt Dixon reported from Tallahassee, Florida, and Jonathan Allen from Washington, D.C.