Gov. Ron DeSantis quietly signed legislation Thursday that would ban most abortions after six weeks in Florida, a move that will weigh on his likely 2024 presidential bid.
DeSantis said as far back as last month that he would sign the measure shepherded through the GOP-dominated Legislature, even as most public polling indicates a ban on abortions at six weeks of pregnancy is unpopular in both political parties.
The Florida law bans abortions at six weeks but creates new exemptions for rape and incest up to 15 weeks of pregnancy. It does not change existing exemptions for life and the health of the mother up to 15 weeks.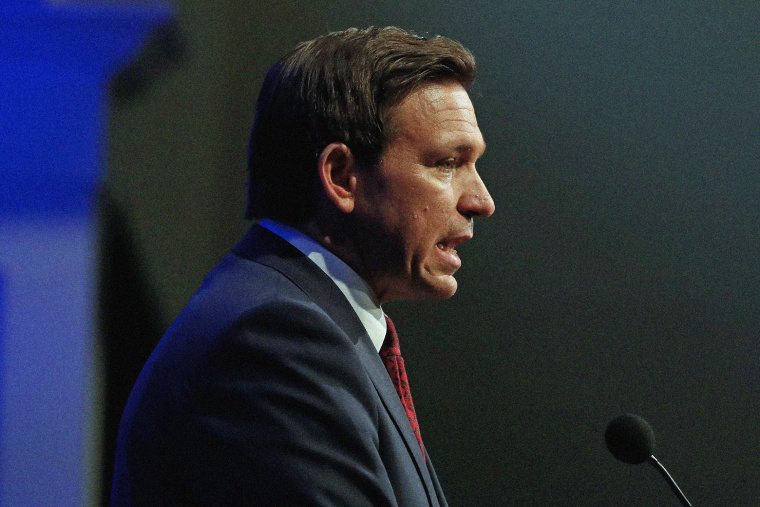 DeSantis signed the measure just hours after the Legislature passed it Thursday afternoon. But he didn't announce publicly that he did so until after 11 p.m.
"We are proud to support life and family in the state of Florida," the governor said in a statement. "I applaud the Legislature for passing the Heartbeat Protection Act that expands pro-life protections and provides additional resources for young mothers and families."
The lack of fanfare around the legislation underscores how tricky abortion politics are for Republicans after the 2022 midterm elections — when Democrats hammered the GOP on the issue nationally — and specifically for DeSantis as he weighs seeking the GOP nomination for president.
The latest polling on the proposal by the University of North Florida in late February found that 75% of state residents either somewhat or strongly opposed the six-week ban, including 61% of Republicans. 
It's the latest step by Republicans reducing access to abortion in Florida. Last year, DeSantis signed a 15-week abortion ban passed by the GOP-controlled Legislature that is currently before the Florida Supreme Court. The six-week ban will be on hold until the court rules on that proposal. 
After the U.S. Supreme Court ruled in June that there was no constitutional right to an abortion, Florida has become a place people throughout the Southeast come to for abortions as other states in the region banned them.
The number of women seeking abortions in Florida from other states increased from 3,988 in 2020 to 6,708 in 2022, according to Florida's Agency for Health Care Administration.
The abortion fight will no doubt take center stage as the Republican presidential primary contenders try to wade through the issue's murky political waters. Being anti-abortion is a must for any candidate trying to win a Republican presidential primary, but being seen as going too far can be toxic in a general election.
Florida's proposed six-week ban quickly attracted the attention of the White House, a clear signal President Joe Biden sees it as a useful political grist against DeSantis, whom he has been publicly feuding with for months.
"The President and Vice President believe women should be able to make healthcare decisions with their doctors and families — free from political interference," White House press secretary Karine Jean-Pierre said in a statement when the bill was filed in March. "They are committed to protecting access to reproductive care, and continue to call on Congress to restore the protections of Roe v. Wade in federal law."
Just two of 28 Republicans in the Florida Senate voted against it. Both "no" votes were by freshmen lawmakers who flipped legislative swing seats Biden carried in 2020.
"I am not supporting this bill today, but I believe it will pass and it will become the law of this state," said Republican state Sen. Alexis Calatyud, whose Miami-based seat Biden won with 54% of the vote in 2020. "And I believe it will go a long way to help change the hearts and minds influenced by a decade of anti-life culture."
Former President Donald Trump's supporters see some ability to try to hang what they see as an unpopular bill around the neck of DeSantis, who is not expected to announce his candidacy until May or June if he runs.
"Ron DeSantis has tried to create an image of never backing down," said a former Trump adviser, invoking the name of a pro-DeSantis super PAC called "Never Back Down," which has so far reported having raised $30 million. "Well, he's definitely pregnant with this bill, and it's well past six weeks — so maybe ironically he's also going to live by the consequences of his actions."
Trump has largely been quiet about the issue of abortion since he announced he was again running for president. Shortly after a midterm election cycle in which several of his hand-picked U.S. Senate candidates got beat in key races, Trump did blame them for mishandling the "abortion issue."
"It wasn't my fault Republicans did not live up to expectations in the MidTerms," Trump posted on Truth Social in early January. "It was the 'abortion issue,' poorly handled by many Republicans, especially those that firmly insisted on No Exceptions, even in the case of Rape, Incest or Life of the Mother, that lost large numbers of Voters."
Since then, however, Trump has avoided the issue, even after a series of sweeping abortion restrictions in his four years in the White House, including a ban on federal family planning program providers' referring patients for abortions. That was part of his stated effort to "defund" Planned Parenthood. 
So far this year, however, he has brushed off questions about the issue from reporters and generally tried to focus on other issues popular with Republican primary voters.
Other 2024 GOP contenders have taken various approaches to navigate questions about their abortion positions. 
Trump's former vice president, Mike Pence, who is likely to be a 2024 candidate, is among the party's most fervent anti-abortion politicians. He supports a federal abortion ban.
Trump administration U.N. Ambassador Nikki Haley, who announced her candidacy in February, said on NBC's "TODAY" show that she would not support a "full-out federal ban" but would support a federal 15-week abortion ban.
Sen. Tim Scott of South Carolina, who announced a 2024 exploratory committee this week, has ignored questions about his position on a federal abortion ban; he has co-sponsored anti-abortion legislation in the Senate, including a proposed 20-week ban sponsored by fellow South Carolina Sen. Lindsey Graham.