MOUNT AYR, Iowa — When Florida Gov. Ron DeSantis disembarks from the navy and red campaign bus shuttling him around the early states, the fingerprints of his candidacy are everywhere — "DeSantis 2024" emblazoned across one side of the bus in bold white letters, with one of the governor's signature phrases on the opposite end: "Never Back Down."
But the bus doesn't belong to DeSantis or his campaign. It's DeSantis' supportive super PAC, Never Back Down, bringing DeSantis around the early states on 11 bus tours, including eight in Iowa alone. Since DeSantis launched his bid in May, the super PAC has taken an outsize role in supporting his presidential aspirations on the ground — saving precious cash on the campaign side for the final push toward the Iowa caucuses on Jan. 15.
The DeSantis campaign entered October with just $5 million available to spend in the Republican primary, and it recently announced a $2 million ad buy in Iowa set to rev up between mid-November and caucus night.
This is the moment when presidential campaigns feel the biggest squeeze on their resources. With three months to go until the first contest of the Republican nominating race, DeSantis continues to lean heavily on Never Back Down for support across the early states, and his most recent campaign finance report demonstrates how the super PAC has helped cover costs that otherwise might have drained DeSantis' own campaign treasury.
An NBC News analysis of all of the DeSantis campaign's expenditures including the keyword "event" shows a sharp drop in spending on that category over the course of the campaign. That's because while DeSantis has made at least 82 public appearances in Iowa alone, at least 61 were hosted by Never Back Down, according to an analysis of his campaign's and super PAC's announcements of public events and private events with press access.
The campaign's spending on events dropped significantly from June to July, from about $413,000 to just over $100,000, according to its spending reports. Spending reported on a particular day does not necessarily map exactly to events happening at that time, but the downward spending trend follows an uptick in super PAC-run events compared to campaign events for DeSantis.
In June, DeSantis held at least 20 total appearances as a candidate and joined Never Back Down for six appearances, including one stand-alone event: a rally in Tulsa where he received Oklahoma Gov. Kevin Stitt's endorsement. By July, DeSantis made a total of 25 campaign trail appearances, at least eight of which were sponsored by the PAC.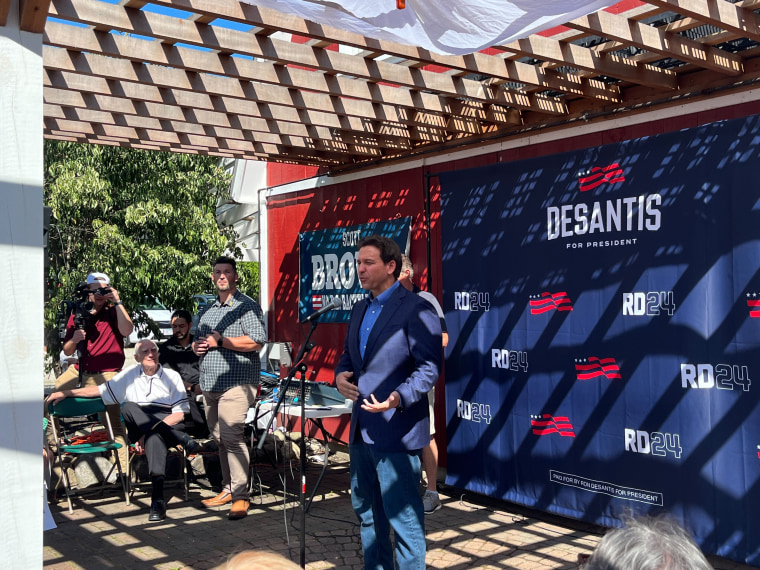 But in August, Never Back Down's activity skyrocketed.
Over the course of August, Never Back Down hosted a whopping 35 of DeSantis' 44 total appearances that press was invited to attend, the vast majority of which took place in Iowa.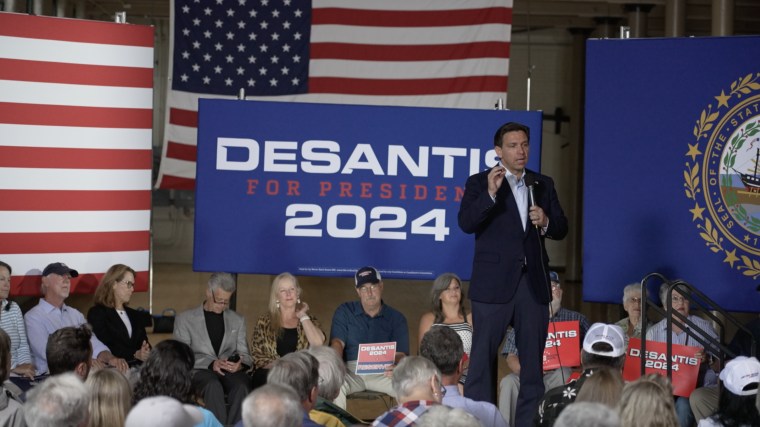 But the pace of the campaign trail slowed in September. While DeSantis for President spent about $267,000 on items including "events" in August, the campaign's spending on that category in September dropped to less than $8,000.
DeSantis' time on the campaign trail got shortened that month, as he responded to Hurricane Idalia's aftermath in Florida and prepared for the second Republican primary debate in Simi Valley, California, but Never Back Down hosted six of his 14 total appearances across the country.
Beyond playing an extensive role in the governor's campaign schedule and travel, the super PAC is also responsible for a sizable door-knocking operation in Iowa and running a slew of voter coalitions supporting DeSantis. Super PAC operatives can often be found soliciting voters to fill out "commit to caucus" cards outside events — a way the pro-DeSantis effort can connect with and mobilize potential supporters as the caucuses approach. 
But the super PAC and the campaign are banned from directly coordinating with each other on certain things, according to federal law, and Never Back Down cannot donate directly to the governor's campaign coffers. 
Instead, DeSantis joins these tours as a "special guest" invited to attend Never Back Down-sponsored events. 
Never Back Down's footprint is particularly evident in Iowa, where DeSantis has pledged to complete a "Full Grassley" tour of all 99 counties — a nod to state's senior senator, Chuck Grassley, who popularized the comprehensive tour over his decadeslong career.
And a big summertime gap between official campaign-hosted events illustrates the broad pickup of DeSantis' on-the-ground campaign functions by Never Back Down.
The DeSantis campaign put together an economic policy rollout in Rochester, New Hampshire, on July 31. The next event to be exclusively hosted by the campaign did not happen until nearly two months later: a Sept. 20 DeSantis energy policy rollout in Midland, Texas. (The campaign was slated to hold an Aug. 28 town hall in Kershaw, South Carolina, but ultimately canceled the stop as DeSantis returned to Florida to prepare for Hurricane Idalia.)
In the period between those policy rollout events, Never Back Down hosted 40 separate appearances for DeSantis, including 14 town hall-style events where DeSantis delivered prepared remarks followed by a question-and-answer period with the audience. 
Despite the super PAC's heavy lifting, the campaign says the frequency of its own events will start ramping up in the coming weeks across early states, after having moved a third of its staff to Iowa to place a particular focus on the nation's first nominating contest.
Though there are legal barriers separating the super PAC and the campaign, the two entities often tiptoe around each other in the same spaces as well as in public communication about event planning.
At an official DeSantis for President campaign event at a golf club in Tega Cay, South Carolina, staff from Never Back Down handed out hats and "DeSantis 2024" signs in the parking lot as attendees waited for the event doors to open. Inside the event itself, the campaign and its staff ran the show.
The delineation likely makes little difference to voters, especially as the two entities work toward the same goal of electing DeSantis president.
After addressing Iowa caucusgoers at a PAC-sponsored event in a Grinnell restaurant in early August, DeSantis began calling on attendees to answer questions. Speaking from a seat toward the front of the room, one man instead offered DeSantis a comment: "I like your slogan 'Never Back Down.'"