WASHINGTON — Sen. Joe Manchin, D-W.Va., inched closer Wednesday to confirming that he could run for president.
"I will do anything I can to help my country, and you're saying, 'Does that mean you would consider it?' Absolutely," Manchin said in an interview with NBC's "Meet the Press" moderator Kristen Welker.
"Every American should consider it if they're in a position to help save the country," he added.
Manchin said he first has to explore whether there's an appetite among voters for a moderate candidate like him.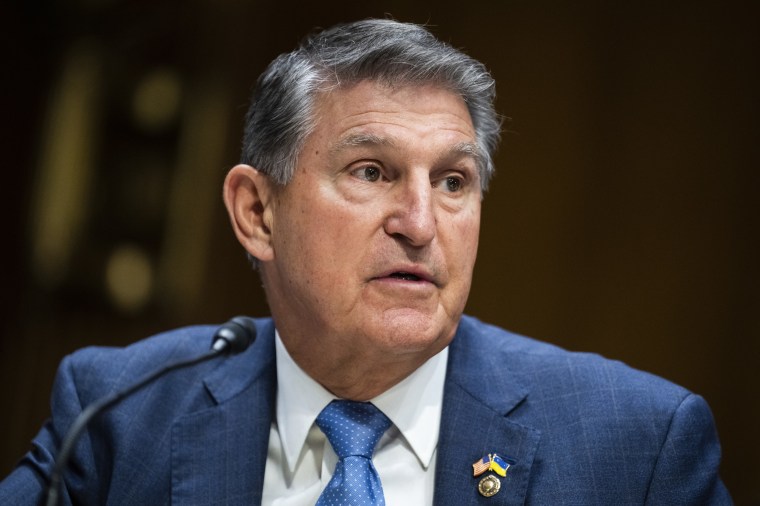 "I'm going to do everything in my power to make sure, to mobilize that moderate, sensible, commonsense middle," he said.
Manchin suggested that if he can "reinvigorate" the middle-of-the-road constituency, that would play a major role in whether he would launch a White House bid.
"I'm totally, absolutely scared to death that Donald Trump would become president again," he said. "I think we will lose democracy as we know it."
The news comes after Manchin announced last week that he would not seek re-election to the Senate, which will make it difficult for his party to hold the seat in the deep-red state and reshape the battle for Senate control in 2024.
Manchin said he doesn't think there's a deadline for him to make a decision about a presidential run, but mentioned he would figure that out around Super Tuesday, scheduled for March 5, if he has a following. 
The senator dodged questions about whether he would only run as a third-party candidate, just saying, "The bottom line is, I'm as independent as it becomes." 
Manchin seemed to reject the notion that an independent bid could hurt President Joe Biden's re-election chances. "I've never been a spoiler in my life of anything, and I would never be a spoiler now," he said. 
He said he doesn't think Biden and Vice President Kamala Harris are the strongest ticket to defeat Trump, arguing that they don't cater to centrists. He said that Biden has moved "too far left" in his policies, especially on energy, and criticized the migrant situation at the U.S.-Mexico border.
Although he said he is dissatisfied with the Biden administration, Manchin spoke highly about the president's stamina.
"When I've met with Biden, we've always had a very active engagement," he said, dismissing concerns about the effects of the president's age on his physical and mental health. 
Manchin repeated that he's worried about the prospect of another Trump presidency, especially as the former president has threatened using executive power to take revenge on his opponents and prosecutors who have investigated and charged him with crimes.