State election officers have a near-unified message about the possibility of challenges to Donald Trump's eligibility for the ballot in 2024: We want nothing to do with this.
"I don't think it's the role of the secretary of state to make a judicial determination," Missouri Secretary of State Jay Ashcroft, a Republican, told NBC News. "My job is to create the process and the environment in the state of Missouri where candidates can run and the voters of the state of Missouri have the accessibility, the elections have security and credibility, so that the people of the state can make a decision."
At issue is a rarely used provision of the U.S. Constitution — Section 3 of the 14th Amendment — which bars any person who took an "oath" to uphold the Constitution from holding public office if they have "engaged in insurrection or rebellion against" the nation. Some critics of the former president have said that Trump should be disqualified from appearing on the presidential ballot because of this provision.
Secretaries of state in New Hampshire, Arizona, Michigan and Colorado have faced, or are preparing to face, legal challenges to Trump's eligibility as they prepare state ballots for the upcoming Republican presidential primaries.
NBC News reached out to chief election officers in all 50 states and Washington, D.C. Most are choosing not to weigh in on whether the insurrection clause in the 14th Amendment applies here.
Georgia Secretary of State Brad Raffensperger, a Republican, wrote an opinion piece in The Wall Street Journal decrying the challenges and potential challenges as "merely the newest way of attempting to short-circuit the ballot box."
Raffensperger's office was at the center of Trump's failed effort to overturn Georgia's election results in 2020. A phone call between Trump and Raffensperger, during which the former president asked the secretary of state to find the number of votes he needed to overcome Joe Biden's lead in the state, was among the evidence cited by Georgia prosecutors ahead of Trump's indictment there.
"For a secretary of state to remove a candidate would only reinforce the grievances of those who see the system as rigged and corrupt. Denying voters the opportunity to choose is fundamentally un-American," Raffensperger wrote.
Most other secretaries are declining to get into specifics, and some are also making it clear that their offices might not be the right venues for final decisions on the matter.
"At this time, we're going to decline to comment on this matter," said Alicia D'Alessandro, a spokesperson for New Jersey's Democratic secretary of state, Tahesha Way. 
A spokesperson for the North Carolina State Board of Elections Patrick Gannon said the board "generally does not comment on legal matters that may or may not come before it."
And Rachel Soulek, elections director for South Dakota Secretary of State Monae Johnson, a Republican appointee, said the office is "aware of the situation" — and has no further comment. 
Some are consulting legal experts for advice on the near-unprecedented issue that many assume will be decided by the courts.
"The process for challenging a candidate's qualifications may only begin after the candidate files for office and is adjudicated by the court, not this Office," said Cecilia Heston, a public information officer for Nevada Democratic Secretary of State Cisco Aguilar.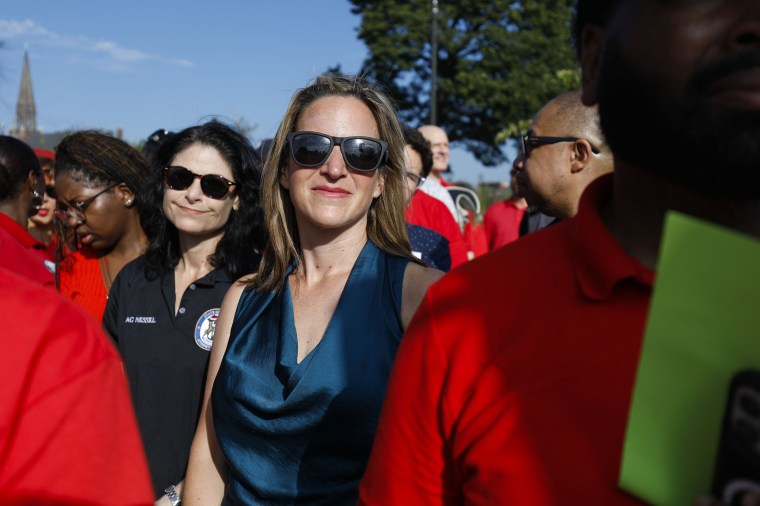 Michigan Secretary of State Jocelyn Benson, a Democrat, told NBC News' Ali Velshi that "the arguments for disqualification are quite strong but we also have to recognize we are in uncharted territory here. … Courts have a critical role to play here, certainly the U.S. Supreme Court."
Colorado Secretary of State Jena Griswold, another Democrat, has the issue before her most immediately. A group of Republican and unaffiliated voters in the state filed a lawsuit last week against her, seeking to "challenge the listing of Respondent Donald J. Trump as a candidate on the 2024 Republican presidential primary election ballot and any future election ballot," citing the 14th Amendment.
Griswold embraced the prospect of courts handling the issue.
"I look forward to the Colorado Court's substantive resolution of the issues, and am hopeful that this case will provide guidance to election officials on Trump's eligibility as a candidate for office," she said in a statement.
Trump has started to weigh in on the challenges, calling them "nonsense" and "election interference."
"This is like a banana republic," Trump said in an interview with conservative radio host Dan Bongino last week. "And what they're doing is, it's called election interference. ... Now the 14th Amendment is just a continuation of that. It's nonsense."
Other election chiefs say state law restricts their ability to disqualify a candidate from the ballot, even if the candidate's eligibility is in question. In Washington State, any effort to remove a candidate would have to begin with a petition from a voter.
"Washington state law provides that any registered voter can go to court to challenge a candidate's placement on a ballot and ask a judge to remove a name on grounds of ineligibility," said Derrick Nunnally, a spokesperson for Washington Secretary of State Steve Hobbs, a Democrat. 
Bryan Mills, the chief of staff for Vermont Democratic Secretary of State Sarah Copeland Hanzas, shared a similar sentiment. "While we continue to investigate, we believe the clearest reading of Vermont Law is that the office of the Secretary of State does not have statutory authority to deny access to the ballot, except in cases where a candidate fails to submit the required number of valid signatures," he said.
Other elections officers feel discussions regarding the 14th Amendment are premature.
Debra O'Malley, the communications director for Massachusetts Secretary of State William Galvin, a Democrat, said that the office will not be making "any determination this early," given the state's final list of candidates will not be finalized until December.
Irrespective of when and how they choose to tackle the 14th Amendment debate, several election chiefs said their offices have faced an influx of messages from constituents regarding the issue.
In New Hampshire, the secretary of state's office was flooded with hundreds of calls this month from Trump supporters seeking reassurance that the former president is going to be on the ballot next year, after conservative talk show host Charlie Kirk falsely told listeners the state is trying to sideline Trump.
Meanwhile, in South Carolina, election officials said they have received "numerous" questions from citizens. In North Carolina, Gannon said the state election board has "received a high volume of emails and several phone calls regarding the 14th Amendment over the past couple of weeks."