ANKENY, Iowa — Florida Gov. Ron DeSantis is facing criticism from the majority of the Black Republicans serving in Congress for new public school standards that teach that some Black people benefited from slavery because it taught them useful skills.
Reps. John James of Michigan and Wesley Hunt of Texas became the latest to speak out on Friday. James tweeted his disapproval, saying that "nothing" about slavery was a "net benefit" to his ancestors.
James and Hunt are two of the five Black Republican lawmakers in the House and Senate, and they are both backing one of DeSantis' rivals, former President Donald Trump, in the 2024 presidential race.
"As the direct descendent of a slave, I have a hard time understanding Governor DeSantis' position that transferrable skills learned in bondage are somehow a net benefit," tweeted Hunt.
Sen. Tim Scott of South Carolina, the only Black Republican in the Senate, also rebuked DeSantis on Thursday.
"As a country founded upon freedom, the greatest deprivation of freedom was slavery. There is no silver lining … in slavery," Scott — like DeSantis, a GOP presidential candidate — said here in response to a reporter's question after a forum with Iowa Gov. Kim Reynolds.
"What slavery was really about was separating families, about mutilating humans and even raping their wives. It was just devastating," Scott said. "So I would hope that every person in our country — and certainly running for president — would appreciate that. People have bad days. Sometimes they regret what they say. And we should ask them again to clarify their positions."
And Rep. Byron Donalds, a Republican from Florida who has also endorsed Trump, earlier this week called on the state Education Department to "correct" the new standards.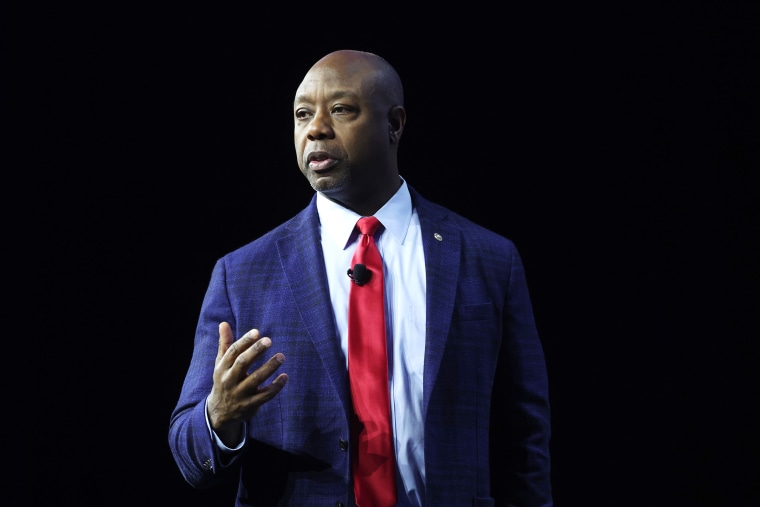 Rep. Burgess Owens of Utah is the only Black House member who has not endorsed Trump — and has not weighed in on the Florida Black history standards. NBC News has reached out to him for comment.
The Florida State Board of Education's new standards include language asserting that "slaves developed skills which, in some instances, could be applied for their personal benefit," according to a 216-page document posted by the state.
The language has sparked widespread backlash, some of it from Vice President Kamala Harris, a Democrat, who criticized the standards last week in a visit to Florida. Harris said the changes aim to "replace history with lies."
In an interview with NBC News in Iowa Friday, DeSantis denied that he was "picking a fight" with Black Republicans, saying they were "siding" with Harris and "putting out information that's totally false."
"Standing up for the truth if somebody is siding with Kamala Harris to launder a lie about work that these Black history scholars did in Florida for our state Department of Education, just to try to score political points against me — that's not standing for the truth," DeSantis said. "That's not doing what's right."
"I would also note some of those congressmen are putting out information that's totally false in terms of what they're quoting," he added. "They haven't read any of this stuff. They're being told to do those talking points, and they're making a decision they're going to side with Kamala, they're gonna side with people who are lying in the media and they're going to try to attack the state of Florida."
Members of the Florida work group that helped develop the new Black history standards told NBC News that most of the 13 individuals in the group did not want the controversial language added; it was pushed for by just two members.
Speaking earlier with reporters on Friday, DeSantis responded to Scott's comments by criticizing "D.C. Republicans" for promoting a similar argument as Harris.
"I think part of the reason our country has struggled is because D.C. Republicans all too often accept false narratives, accept lies that are perpetrated by the left and accept the lie that Kamala Harris has been perpetrating, even when that has been debunked," he said.
DeSantis has deflected blame to the state education board, which he appoints, while also defending the changes and trying to reframe them as a political fight between him and Harris.
"At the end of the day, you got to choose: Are you going to side with Kamala Harris and liberal media outlets, or are you going to side with the state of Florida?" DeSantis told reporters at an earlier stop in Iowa. "I think it's very clear that these guys did a good job on those standards. It wasn't anything politically motivated."
Other Republicans have been critical, too. Former New Jersey Gov. Chris Christie, another GOP presidential contender, has mocked DeSantis for deflecting blame.
DeSantis staffers lashed out at Donalds on Wednesday. Christina Pushaw, the campaign's rapid response director, wrote in reply to a Donalds tweet: "Did Kamala Harris write this tweet?"