Florida Gov. Ron DeSantis has zeroed in on a potential vulnerability for Donald Trump in his quest to defeat him for the GOP presidential nomination — the fact that the former president can serve just one term if he is elected.
At campaign stops in Iowa and New Hampshire this week, DeSantis repeatedly highlighted that he, unlike Trump, could serve two consecutive terms and therefore would be better positioned to enact longer-lasting change.
Trump, meanwhile, has hit back by suggesting he could accomplish a similar set of goals much more quickly. He has countered that if DeSantis is talking about needing eight full years, "you don't want him as your president."
Trump's GOP detractors have seen the emerging battlefield as an opening to take him on for months now, as NBC News reported this year. Trump is limited to only one additional term if he wins, because the Constitution prohibits a person from being elected president more than twice.
Speaking Thursday in New Hampshire about needing to upend the federal bureaucracy, DeSantis said, "You really need to ensure that we have a two-term president to be able to see this to a conclusion.
"I mean, you do one term, and they reverse it when they come in," he added. "You can't have it be reversed. We can't let the bureaucracy just wait us out."
The comments echoed his remarks Wednesday in Iowa in his pitch about dramatically changing the federal workforce.
"There have been many people that have talked about doing something about it," he said of the "administrative state." "No one's really been able to make much of a difference. And I think part of the reason is you really need a very disciplined, energetic president willing to spit nails and fight the needed battles every single day for eight years.
"Just to be clear, this is not something you can just flip a switch on," he added. "If it was, it would be so easy, right? Some people could tell you, 'I'll fix it all in the first day.' That's not the way it works. This is really, really significant, day after day. And it really requires two terms to be able to finish the job. I think we could bring George Washington back, and I don't think he could do it in just one four-year term."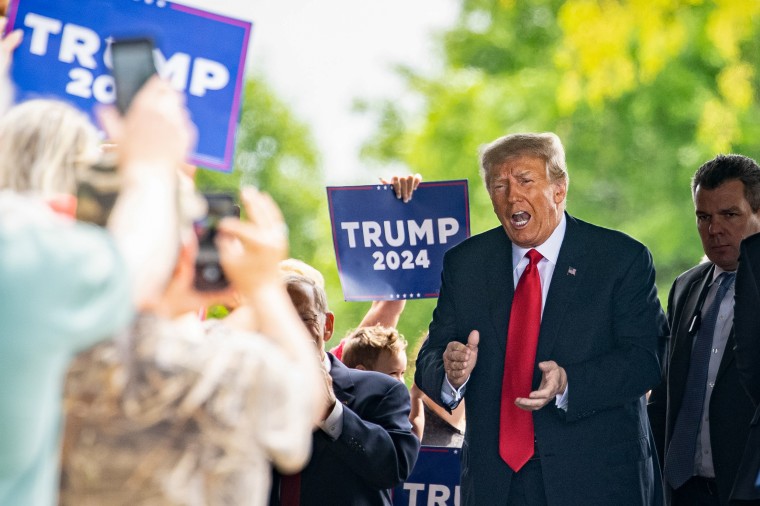 Trump has taken notice of DeSantis' swipes. Speaking Thursday in Iowa, he promised he could get done "within six months" what would take DeSantis two terms.
"When he says eight years, every time I hear it I winced," Trump said, "because they say if it takes eight years to turn this around — you don't want him as your president."
And in a radio interview with the Iowa-based conservative radio host Simon Conway, Trump emphasized: "I don't need eight years."
"I can turn this around so fast, getting inflation down, getting interest rates down, getting the economy back. This is going to take six months," he said. "When I hear him saying he needs eight years — if he needs eight years to turn it around, you don't want him as your president. I can tell you that."
While few Republicans think Trump's term-limited candidacy will be the primary case rivals can use to bolster their bids, some think it will be helpful. Ahead of his launch last month, DeSantis' team signaled it would highlight Trump's inability to serve two terms as part of its messaging.
"It may give folks who are inclined to sort of move away from Trump anyway cover with their pro-Trump friends — you know, 'I'd vote for Trump in a second if I thought he could serve eight years, but four is just not enough,'" Mick Mulvaney, who was Trump's acting White House chief of staff, said this year.
Trump allies, meanwhile, have echoed his recent comments about the matter by saying he could do more in four years than someone else could do in eight.
"I think people are into one-terming. I think we're just an impatient country," an adviser close to Trump said this year. "I think that Trump won't say 'only one term.' I think what he'll say is 'I want to complete the unfinished business.'"
DeSantis clearly doesn't see it that way. Pressed Thursday by NBC News' Gabe Gutierrez about Trump's claims he can — within six months — deliver on similar promises DeSantis says will take longer to fully achieve, DeSantis fired back: "Then why didn't he do it his first four years?"