On March 3, Steve Bannon, a staunch ally of Donald Trump, told a gathering of conservative activists it was time to go to war with Fox News. He fired off a warning: "Old man Murdoch … no more softball interviews for the guys running against" the former president.
Bannon, a rival right-wing media personality, lit into the conservative network for the ways it "disrespected Donald J. Trump," citing explosive revelations from Dominion Voting Systems' $1.6 billion defamation lawsuit against Fox News. They included Fox Corp. CEO Rupert Murdoch's, prime-time host Tucker Carlson's and other top figures' privately denigrating Trump — whom they said they hoped to soon be able to ignore — and criticizing "crazy" and "insane" voter fraud claims that were aired with little pushback.
Bannon's warning was ignored. Just nine days later, Fox News host Brian Kilmeade played catch with Florida Gov. Ron DeSantis, Trump's chief potential rival for the GOP presidential nomination, while interviewing him on a baseball field.
The episode was telling. It wasn't just that Fox News so overtly thumbed its nose at the former president and his allies. It was that the likely GOP presidential contender happily obliged. 
DeSantis is not alone. In conversations with voters, strategists and advisers to GOP presidential candidates and potential candidates, NBC News found that the details to emerge from Dominion's lawsuit against the network have so far failed to put a dent in its dominance over the 2024 GOP field.
"The Fox primary is just as competitive this year as its ever been," Alex Conant, communications director for Sen. Marco Rubio's 2016 presidential campaign, said. "You watch Fox prime time, and every candidate is trying really hard to get on as much as they can."
Even Trump, who has not appeared on a weekday program since September and criticized the network's leaders after their internal communications were made public, is open to returning soon, a top adviser said. Trump also participated in Carlson's recent survey of GOP primary contenders' positions on Ukraine. 
But it's no secret the former president and the cable network are not as close as they once were. The rift began as Trump lost the presidency and promoted dubious claims of voter fraud in the run-up to the Jan. 6, 2021, attack on the Capitol and widened in its aftermath, as the Dominion filings showed.
Their release has led Trump to troll the network regularly on his Truth Social platform. Fox, meanwhile, has not given him as much time in front of its audience, even though he's leading the 2024 GOP primary field. 
Yet Trump's team views the situation as actually an improvement over 2016 and doesn't believe the network has picked favorites.
"They were openly hostile to him in 2016. They're not as openly hostile" now, the top adviser, who was not authorized to speak on the record and asked not to be named, said. "We're not looking for a substitute or trying to make amends or anything. We're taking it as it comes."
Ignoring Trump, the adviser added, would come at the network's own peril. 
"If you don't like him one little bit, you can't take away the ratings that he gets," this person said.
A Republican operative made a similar point, noting Fox News had decided to show much of Trump's speech to the Conservative Political Action Conference this month. 
"I wouldn't be surprised to see a detente out of this eventually between [Fox News] and Trump as we get further along," this person said, "because he's good for business for everyone."
One Fox host seeking peace? Carlson. A day after exhibits in the Dominion lawsuit revealed his stunning text messages from Jan. 4, 2021 — in which he called the Trump years a "disaster" and said of Trump, "I hate him passionately" — Carlson dedicated a segment of his show to highlighting Trump's recent policy proposals. Trump, for his part, posted to Truth Social on Sunday that Carlson "doesn't hate me, or at least, not anymore!"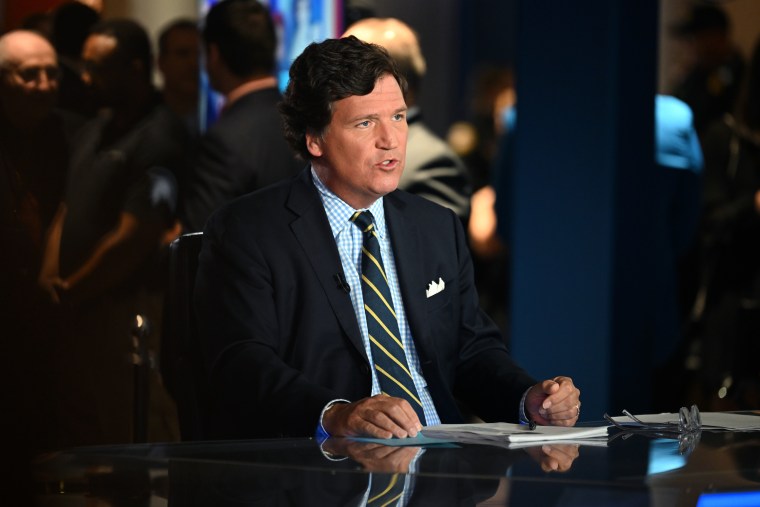 The adviser predicted Trump would appear on Fox or other networks in the near future.  
"Republicans watch Fox," the adviser added. "But they watch other things too." 
Others aren't so sure. Even with the rise of other conservative networks, they have yet to take on the kind of market share that could rival Fox News, an adviser to a GOP 2024 contender explained. 
"You can get away without going on Newsmax and OANN," the adviser said. "I'm not sure that writing off Fox altogether is feasible." 
Indeed, candidates are lining up to appear on the network. DeSantis just announced a major policy position on Ukraine in a written response to a questionnaire from Carlson. Former U.S. Ambassador to the United Nations Nikki Haley, the highest-polling announced Trump challenger, has frequented Fox's airwaves since her mid-February presidential campaign launch. Even lesser-known long shot Vivek Ramaswamy, who also announced a presidential bid last month, has made multiple appearances on the network.
"The best ideas win when no ideas are censored," Ramaswamy said in a statement. "Fox is wrongly demonized by both the left and even many on the right, when in fact they are airing points of view outside of both echo chambers."
Another factor at play is how much Dominion's revelations are filtering through to the conservative base. During recent DeSantis and Trump events in Iowa, nearly a dozen people attending hadn't heard of Carlson's 2021 text messages and knew few, if any, specifics about the Dominion lawsuit.
"I haven't been paying too much attention to the news lately," said Shane Berenger, a job site superintendent for an excavation company, who attended Trump's rally Monday in Davenport. 
Asked whose side he would take in a battle between Fox and the former president, he did not hesitate or elaborate: "Trump." 
Rachel Cadena of Cedar Rapids, who attended the Trump rally, was not aware of the Dominion lawsuit at all. 
"Against Fox?" she asked in surprise. "That particular thing I had not seen."
Told that Carlson had said he hated Trump, she said, "That's hard to believe, but OK."
DeSantis is doing as well as he is in large part because he's received so much favorable coverage from Fox.
— GOP strategist Alex Conant
As he waited to enter the DeSantis event, Howard Peterson likewise was unfamiliar with the lawsuit. He'd "heard about voting machines" during the 2020 election, but nothing recently. 
Terry Sullivan, who managed Rubio's 2016 campaign, wasn't surprised.
"Since they're not reporting anything about this case on Fox, I'm pretty sure Republican primary voters are blissfully unaware," Sullivan said. "If it's not on Fox, they're not seeing it." 
The communications have trickled out in legal filings over recent weeks. After the Jan. 6, 2021, attack on the Capitol, Rupert Murdoch said in emails that his network wanted "to make Trump a nonperson" and was "pivoting as fast as possible." Anchors and executives expressed fear of viewers ditching the network if it did not leave open a window of hope that Trump could overcome his defeat. Leaders at the network also worried that a handful of prominent hosts were airing voter fraud conspiracies uncritically, but did not move quickly to intervene.
Dominion, a voting machine company, sued Fox News for defamation in 2021, accusing the network of airing conspiracy theories it knew were false — including that the company's equipment was used to rig the 2020 election for Joe Biden — that, according to the lawsuit, have caused Dominion irreparable financial harm. Fox News has defended itself and called the allegations baseless, accusing Dominion of trying to "twist" words of its executives and talent.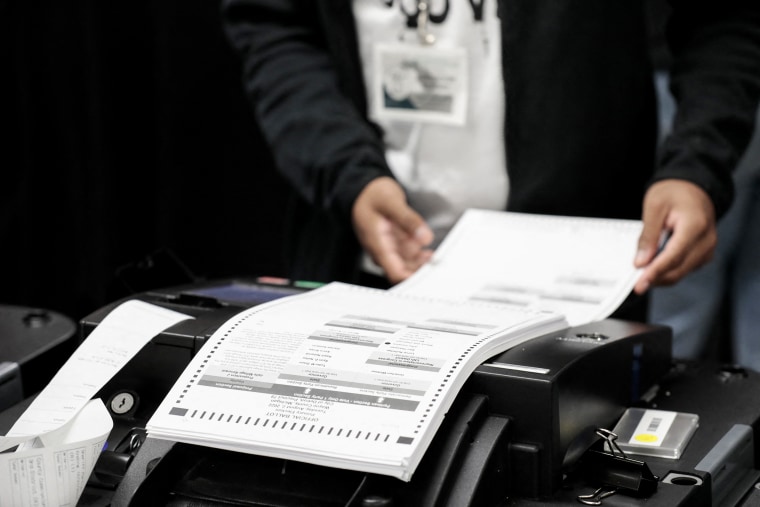 On Tuesday, a judge in Delaware state court will hear arguments on "summary judgment" and decide whether he should rule on the case before it goes to trial. 
For now, campaigns are still focused on getting their candidates on the network and monitoring how their rivals are covered. One campaign acknowledged the network's increasing coziness with DeSantis but said individual hosts had been open to most other candidates.  
"I do think that there are still some hosts that have some lingering affinity for the former president and they're more inclined to ask questions in a manner that are unnecessary," said an adviser to one of the 2024 campaigns. That adviser argued Fox needed the 2024 candidates more so than the other way around, "to the extent that they don't espouse falsehoods about the 2020 election, because that becomes a liability." 
Media Matters, a left-leaning media watchdog, found DeSantis' omnipresence on Fox News wasn't just a perception. In an analysis that looked at mentions of Trump versus DeSantis, the site found references to DeSantis recently outpaced those to Trump for the first time this year. 
"DeSantis is doing as well as he is in large part because he's received so much favorable coverage from Fox," Conant said, adding, "I don't think there's another candidate in the race right now who could call Fox's prime time hosts and be on the same day whenever they want."
Fox News, which did not respond to a request for comment, has not seen an exodus of viewers over the Dominion revelations.
"You need to be able to communicate to your base voter," Paul Bentz, an Arizona GOP pollster, said, "and Fox News still remains one of the best ways to do that."