The New Hampshire secretary of state's office was flooded with hundreds of calls Monday from Donald Trump supporters seeking reassurance that the former president is going to be on the ballot next year after conservative talk show host Charlie Kirk falsely told listeners the state is trying to sideline Trump.
Secretary of State David Scanlan told NBC News that he is "not seeking to remove any names from the presidential primary ballot, and I have not said that I am seeking to remove any names from the presidential primary ballot."
But Scanlan does expect there to be challenges to Trump's qualification to run in the state under the 14th Amendment of the Constitution, which says no person can hold public office who has "engaged in insurrection or rebellion against" the U.S. A Republican former Trump ally-turned-opponent met with Scanlan recently to make his case on the subject.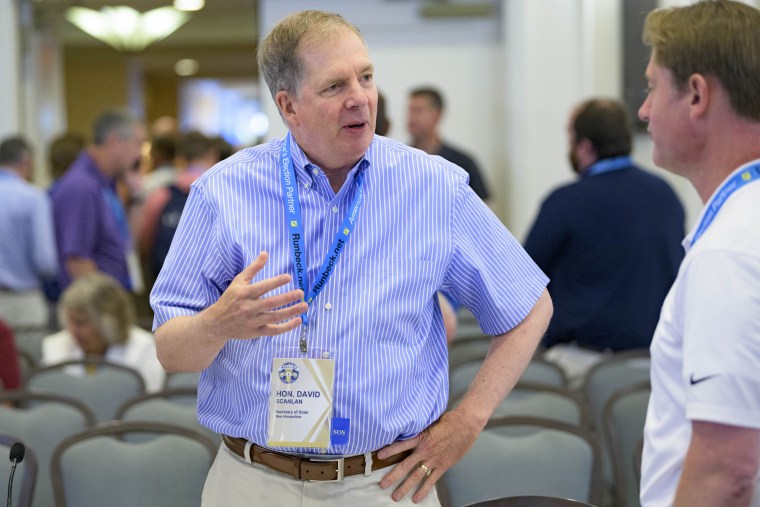 The result: the latest example of Trump supporters' turning an election administration office into a partisan battlefield as they ingest conspiracy theories and vent at a system they've been told is rigged against the former president. 
"I don't care if you live in New Hampshire or not. It should be a nationwide movement of people contacting, because this impacts everybody," Kirk, the activist who sparked the deluge of phone calls, said on his show Monday. "We're gonna break the phone lines and say, 'Who do you think you are for even entertaining this?'" 
Bryant "Corky" Messner, a Republican whom Trump endorsed when he ran for the Senate in New Hampshire in 2020, met with Scanlan on Friday. 
Messner "made a presentation to me about what he is thinking in terms of making a challenge to the former president's qualifications." Scanlan said. "I listened, just as I would listen to anybody that wants to come in with issues related to any candidate's qualifications one way or the other.
"I intend to be prepared by seeking appropriate legal input so that when the time comes to make a decision on those challenges, to qualifications, that I can respond appropriately with the facts," he continued.
Messner said his motivation for bringing it up is "purely as a constitutional conservative," adding that he believes it's in "everybody's interest if this gets to the U.S. Supreme Court as quickly as possible." 
He said Scanlan told him "that without some judicial guidance, that he really didn't feel like he can make a decision regarding the 14th Amendment, Section 3. And I agree with him."
"The Supreme Court may decide that, you know, in fact, Section 3 does not disqualify Donald Trump," Messner said. "And that would be good for [Trump] that the air would be clear then."
Messner added that he would vote for Trump in 2024 if he wins the GOP nomination, because, he said, he is not going to vote for a Democrat.
New Hampshire GOP Chairman Chris Ager said in a statement Monday in response to concerns over Trump's ballot access in New Hampshire: "Efforts to deny New Hampshire Republican primary voters a full slate of options are antithetical to our 'live free or die' spirit. The New Hampshire State Republican Party will fight all efforts to eliminate candidates from our primary ballot. I have confidence in our secretary of state and attorney general to make the right decisions. Let voters decide the nominee, not a weaponized federal justice system using tortured logic."
Ager also appeared on Kirk's show Monday.
"I've talked to the secretary of state," he said. "I've talked to the attorney general. I am very confident that all of the 14 current candidates who apply will be on our ballot." 
Messner is not the first Republican to have brought up the 14th Amendment as a potential obstacle for Trump in 2024, though there are also legal scholars who disagree. 
"Well over a year ago, I said that Donald Trump was morally disqualified from being president, again, as a result of what happened on Jan. 6," former Arkansas Gov. Asa Hutchinson said on the GOP presidential debate stage last week. "More people are understanding the importance of that, including conservative legal scholars, who says he may be disqualified under the 14th Amendment from being president, again, as a result of the insurrection. This is something that could disqualify him, under our rules and under the Constitution.
CORRECTION (Aug. 28, 2023, 9:43 p.m. ET): A previous version of this article misstated when Ager released a statement about Trump's ballot access in New Hampshire. It was Monday, not Friday.