As a president renowned for his soaring oratory, it was perhaps inevitable that Barack Obama would deliver several memorable statements over his eight years in the White House. As his consequential tenure in the White House comes to a close, here are the quotes that best capture his legacy:
1. Nov. 4, 2008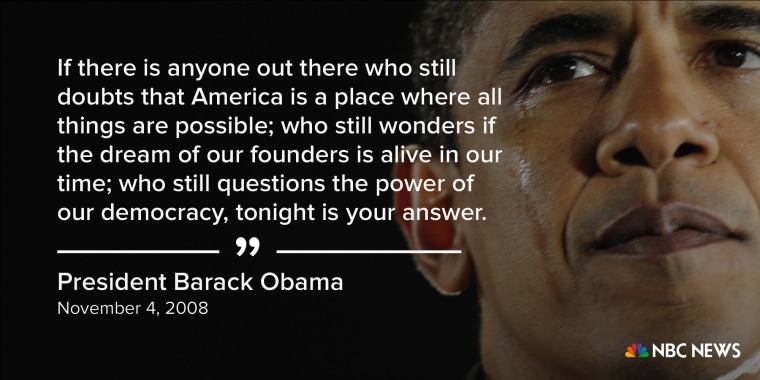 Even Obama's detractors would concede this his election as the first president of color in this nation's history was a game-changing event. And the historic nature of the victory was not lost on Obama when he addressed supporters in Chicago on Election Night in 2008. The president-elect brought many, including the Rev. Jesse Jackson and talk show host Oprah Winfrey, to tears of joy that night.
2. Dec. 10, 2009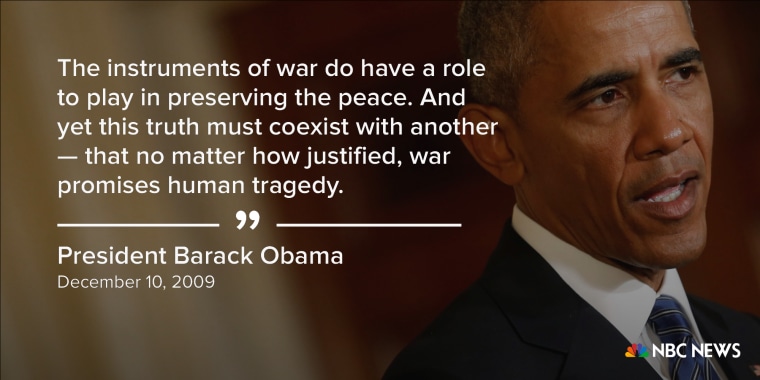 The president's Nobel Peace Prize acceptance speech was almost a case study of the more nuanced approach his administration took to addressing national security and foreign policy. And while the president largely made good on campaign promises to reduce the number of troops abroad while winding down America's engagement in Iraq and Afghanistan, he was unable to fully remove the country from war footing.
3. March 23, 2010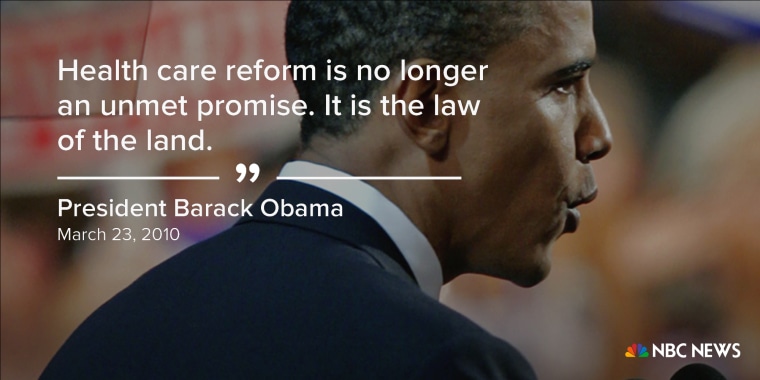 After a long and bitter legislative fight, Obama achieved what several Democratic (and some Republican) presidents had tried and failed to do — the largest expansion of health care coverage for the American people in a generation. As Vice President Biden put it, this was a "big f--king deal," and one of the crowning domestic achievements of Obama's presidency. Although the Supreme Court would uphold the law in 2012, it now appears to be in peril due to Republicans and the incoming president's pledge to repeal it.
4. May 1, 2011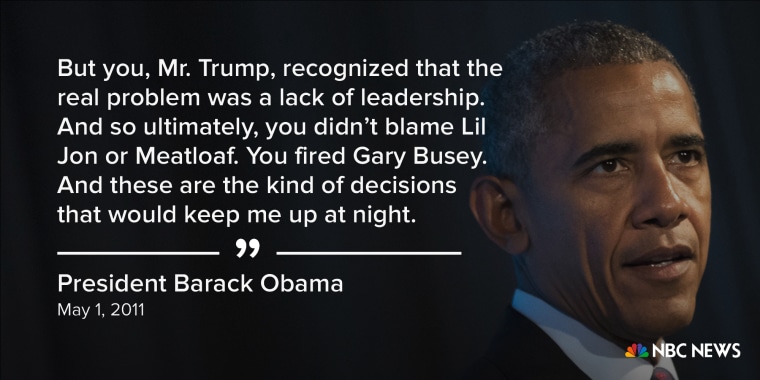 The president's peerless comedic performances at the annual White House Correspondents Dinner has already become the stuff of legend, but this riff on the track record of then-reality star Donald Trump, who had been waging a very public crusade to prove that Obama was not an American citizen, may have been his most biting and significant barb. Obama started off by saying he had recently watched an episode of "Celebrity Apprentice" in which the men's team "did not impress the judges from Omaha Steaks" during a cooking challenge. Some had suggested that a humiliated Trump became inspired to seek the presidency himself that night as an act of revenge. Either way, he appears to have gotten the last laugh.
5. May 2, 2011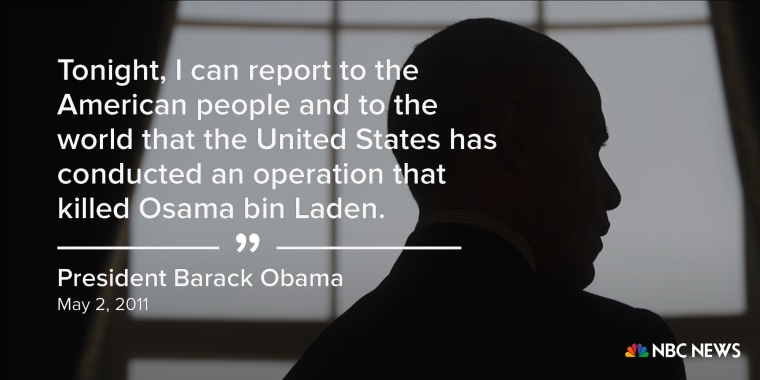 Much of the nation breathed a sigh of relief when the infamous leader of the terrorist organization Al-Qaeda (which was responsible for the attacks of September 11, 2001) was finally brought to justice in an elaborate operation in Abbottabad, Pakistan. Although Obama cautioned that the "war on terror" was far from over, spontaneous celebrations broke out in New York City and the nation's capital, exemplifying how much fear and anger Bin Laden had engendered over the years.
6. March 23, 2012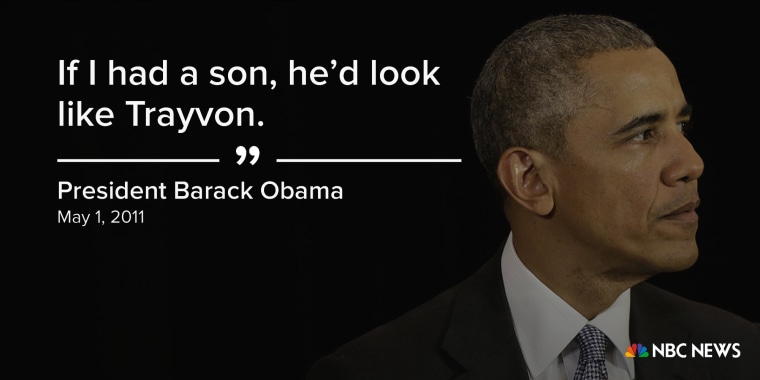 Amid the firestorm over the shooting death of Trayvon Martin, an unarmed black teen, that February (which would inspire the "Black Lives Matter" movement), Obama got personal, by reminding Americans that we all should care about gun violence and that race can be a factor in it. The president caught a lot of flak for this remark (and also for saying he could have been Trayvon 35 years earlier), but his words also sparked a necessary national conversation on race.
7. Aug. 23, 2013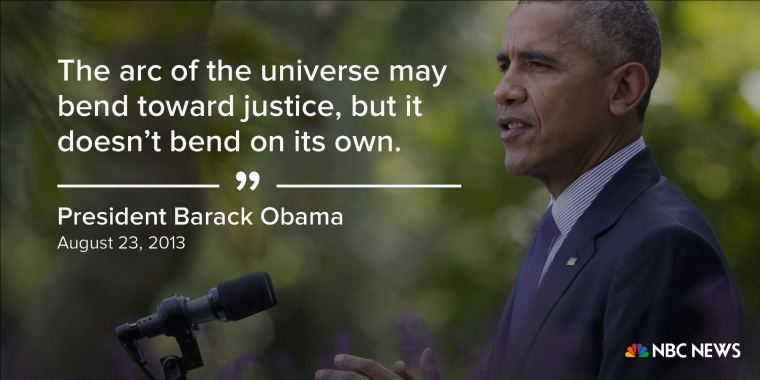 While commemorating the 50th anniversary of the civil rights March on Washington, Obama paid homage to a classic Martin Luther King, Jr. quote, but added his own aside, pointing out that any successful reform movement requires foot soldiers, not just leaders. It was a theme he would return to throughout his presidency.
8. Jan. 20, 2015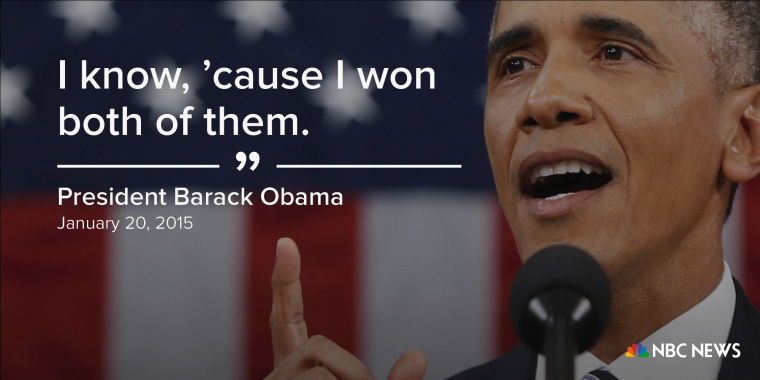 While delivering that year's State of the Union, Obama alluded to the fact that he "has no more campaigns to run," which drew a smattering of mocking applause. Showing a flash of anger, and impeccable timing, Obama then ad libbed this quote. The moment exemplified the more aggressive Obama of his second term.
9. March 7, 2015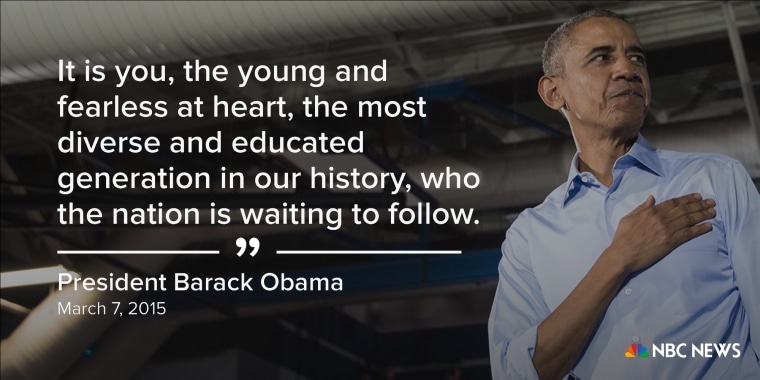 In one of his most acclaimed speeches, Obama marked the 50th anniversary of the legendary voting rights activism in Selma, Alabama, with not just historical perspective, but a call to arms to young activists, who like the protesters of the 1960s would make their voices heard and speak truth to power during his eight years in office, both on social media and on the streets.
10. June 26, 2015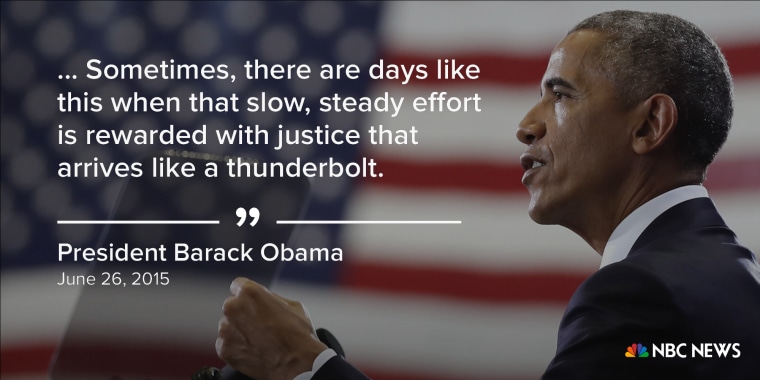 Although Obama himself "evolved" on the issue, no president has been more vocal and committed to the issue of equality for the LGBT community, and his administration's advocacy for marriage equality not only helped shift public opinion, but also led to the Supreme Court's historic decision to strike down anti-gay marriage bans around the country. More than a victory lap, Obama's words were a tribute to the audacity of hope.
11. June 26, 2015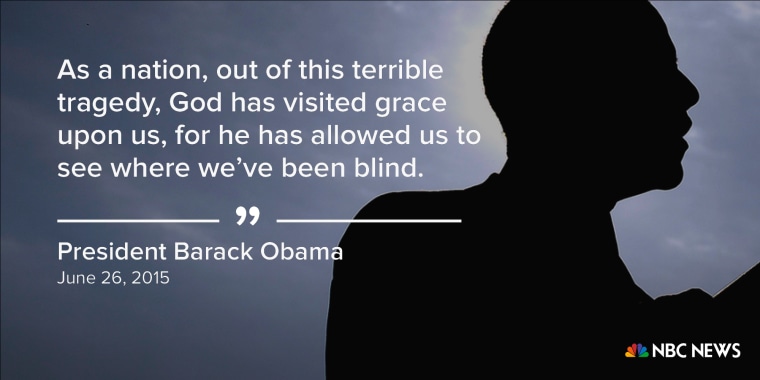 The same day the president celebrated groundbreaking LGBT equality, he was forced to assume the role of consoler-in-chief, delivering a eulogy for the victims of a racially motivated shooting massacre at a historically black church in Charleston, South Carolina. Obama delivered a sermon on faith and resilience, and even broke into song, leading a moving rendition of "Amazing Grace."
12. Jan. 5, 2016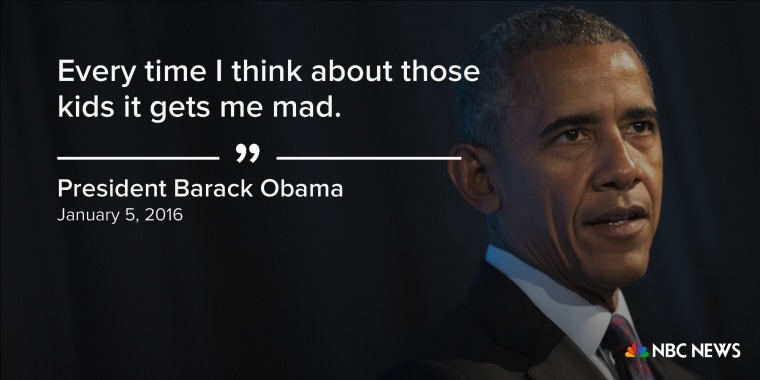 No issue confounded this president — or made him more visibly emotional — than the lack of legislative action on comprehensive gun control. Obama presided over an unprecedented period when it came to mass shootings, including the largest in this nation's history and one in Newtown, Connecticut, which claimed the lives of more than a dozen toddlers. Eventually, Obama took matters into his own hands with executive actions.
13. Jan. 13, 2016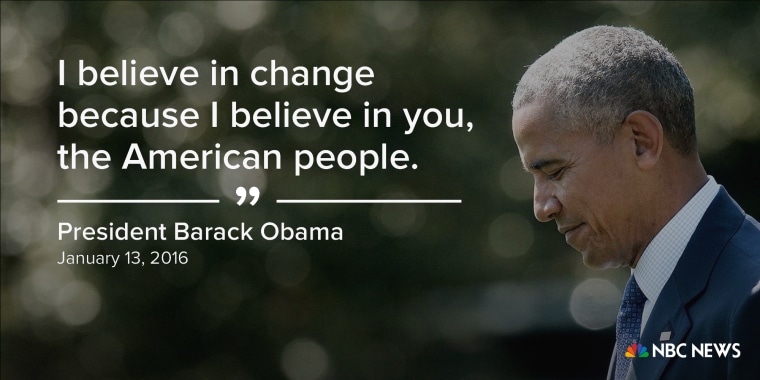 In his final State of the Union address, Obama returned to the themes of unity and hope that made him a national political figure 12 years earlier. While conceding that he was unable to bring about an end to partisan gridlock as president, he doubled down on the premise that most Americans have more in common with each other than they don't.
14. June 14, 2016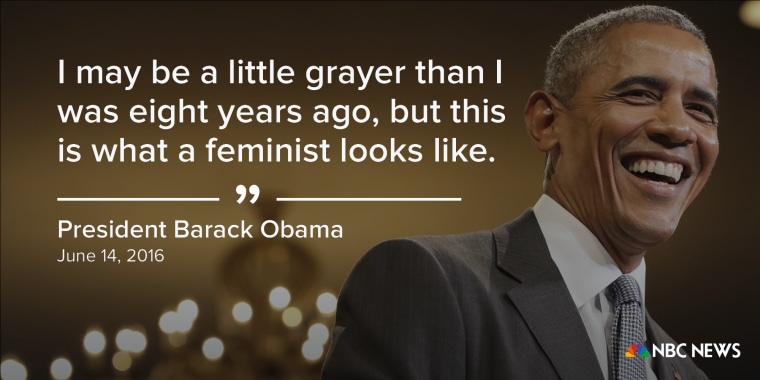 In a preview of some of the themes that would crop over the course of the 2016 campaign, Obama used his platform at the first-ever United State of Women Summit to not only underline his administration's commitment to women and girls, but also his own humbling relationship with his wife and two daughters.
15. July 27, 2016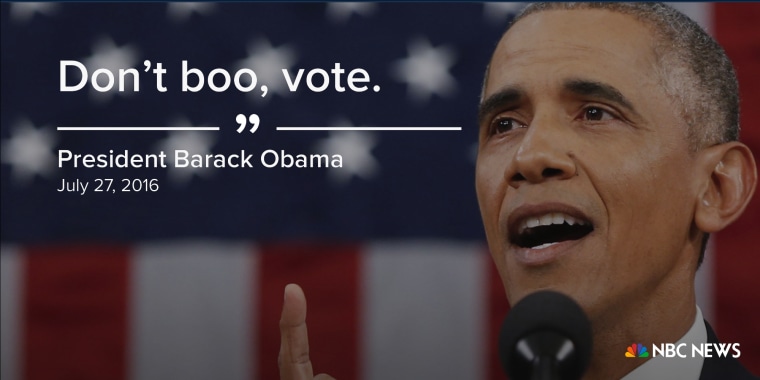 During a full-throated pitch of behalf of Democratic presidential nominee Hillary Clinton, Obama cast Trump as anathema not just to progressive ideals, but conservative ones as well. When attendees grumbled at the very mention of the GOP nominee's name, the president quipped, "Don't boo, vote!" And an unofficial (and ultimately unsuccessful) campaign slogan caught on.