CHICAGO — He may be leaving the White House but he isn't totally going away.
As President Obama gave his farewell address to the nation on Tuesday night, he also began the shift to a third stage of his political career. The once young, idealistic senator-turned-two-term-president will soon become an influential strategist and ally to those worried about the future with Donald Trump at the helm of the most powerful nation on the planet.
Obama nodded to this new role in his speech Tuesday. He did not directly criticize his successor, but used lines like "I reject discrimination against Muslim-Americans" that were clearly aimed at Trump and delighted the audience of more than 20,000 Democrats who crowded into McCormick Place to hear his final address as president.
His path forward is still evolving. Prior to November's election, Obama and his aides had hinted that the outgoing president would limit his future involvement in politics and instead focus on writing a book chronicling his eight years in office, use his foundation to expand his "My Brother's Keeper" program and give speeches and join boards, as other ex-presidents have done.
But now, Obama's chief achievements, such as his climate change policies and the Affordable Care Act, are in danger of being gutted by the Republican Congress, the Democratic Party is in disarray and much of the country — and the world — is uncertain what a Trump presidency will bring.
So Obama is beginning to telegraph a post-presidency different from George W. Bush, who largely receded from politics altogether after his eight years in office. Obama has said that he will press the Democratic Party to organize more effectively, from fielding strong candidates in school board and state legislative elections across the country to making sure the party's candidates campaign in more conservative areas.
Related: President Obama Caps Long Goodbye With Farewell Speech
"I think that if Hillary Clinton had won the election, then I'd just turn over the keys," Obama told the New Yorker recently. "We'd make sure the briefing books were in order and out we go. I think now I have some responsibility to at least offer my counsel to those who will continue to be elected officials about how the DNC can help rebuild, how state parties and progressive organizations can work together."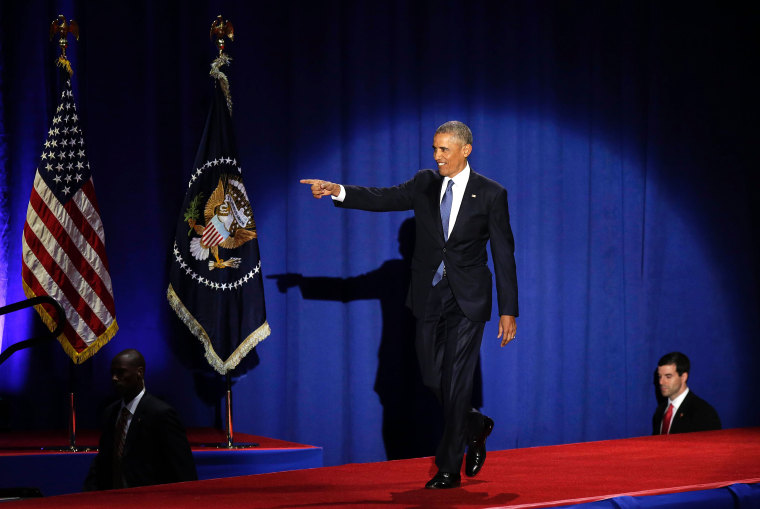 The outgoing president, who will leave office at just 55 years old and in good health, has also promised that if Trump steps over certain lines, he will not be silent.
"I think it's important to give the incoming administration space," he told Comedy Central's Trevor Noah last month.
But he added, "There may be occasions where, even in the first year, if I think core values of ours are being threatened. I mean, I've said this, if I thought a Muslim registry was being set up that violates the Constitution and violates who we are and would make us less safe because it'd make it easier for groups like ISIL to recruit and radicalize homegrown terrorists, I might have to say something about that.
"If I saw Dream Act kids — young people who were brought here as children who are for all intents and purposes Americans — suddenly being rounded up, contrary to who we are as a nation of laws and a nation of immigrants, I might have to say something about."
Some of the president's allies are also preparing for major roles in defending Obama's legacy. The president's close friend and former Attorney General Eric Holder is now representing the State of California as an attorney, looking to defend that state's liberal, Obama-style policies if they come into conflict with Trump's goals.
A group of elected officials in blue states, including former Obama chief of staff and Chicago Mayor Rahm Emanuel, have promised to oppose Trump if he seeks the mass deportation of undocumented people that he proposed during his campaign. And young Democrats who worked as field organizers on Obama's campaigns and lower-level aides in the White House are now exploring their own campaigns for state legislatures and other local offices.
"It's Time for Other People to Step Up"
Taking an active role doesn't mean that the president will remain constantly in the public eye, his aides say.
"The president has had ample opportunity over the last eight years to regularly make speeches and regularly write op-eds on topics that are near and dear to his heart," White House spokesman Josh Earnest told reporters on Friday. "The time for him to do that on a regular basis has passed, and so I would not expect him to do that with much frequency at all as a former president,"
"It's time for other people to step up," Earnest added. "And the president is confident that there are plenty of Democrats with the right values and the right passion and the right skills."
Related: Lester Holt Interviews President Obama Ahead of Final Address
Obama and his wife Michelle will leave office with high approval ratings among all Americans and as perhaps the most unifying figures in a Democratic Party divided between populist and establishment wings. So the president is positioned to play the kind of role that Bill Clinton has over the last year 16 years, weighing in on Democratic Party decisions behind-the-scenes and publicly campaigning for its candidates.
Obama has strong relationships with several of the Democrats poised to become key leaders in the party, from Virginia gubernatorial hopeful Tom Perriello to outgoing Labor Secretary and possible DNC Chair Tom Perez to U.S. senators Cory Booker and Kamala Harris, both of whom could opt to run for president in 2020.
"People are So Depressed. We Need Him."
Johanna Maska, who worked as an Obama aide from 2007-2015 and attended the Chicago event, said his supporters shouldn't expect the outgoing president to lead the movement against Trump.
"I drove 30,000 miles, I worked my ass off to get him elected," Maska said. "The best thing I will ever have done in my life is work to elect Barack Obama."
"But it's not just him. He has inspired a whole sea of people. I"m hopeful all of us in the Obama network work locally," she added.
Maska proudly noted that she is already doing her part, having joined the oversight board at her son's elementary school.
But other Obama supporters say that he needs to play a huge role until the party has another defining figure.
"Let's forget how things are normally done, what ex-presidents usually do. People are so depressed. We need a person to lead. Frankly, we need him and Michelle," said Stefanie Brown, who ran outreach to African-American voters for Obama's 2012 campaign and drove from her home in Cleveland to attend Tuesday's farewell address.
"Nobody else can rally the troops the way he does. He's got to do it. If he's not going to do it himself, he needs to choose some people and say, 'these are the people I'm behind,'" she added.
The Limits of an Ex-President
If Obama speaks out only where Trump takes very aggressive actions, like a Muslim registry, that will limit his influence.
And even if Obama reverses course and wants to take a more public role, he will have little sway in a Washington controlled by Republicans who disagreed with nearly everything he did for eight years.
And in reforming the Democratic Party, Obama's influence should not be overstated. The Bernie Sanders/Elizabeth Warren wing of the party, which at times cast the outgoing president as too cautious and centrist, appears to be on the rise. The Democrats' huge losses in terms of state legislative, gubernatorial and congressional seats during Obama's eight years in office may reduce his credibility in telling party leaders what to do in the future.
Bill Clinton was heavily involved in the Democratic Party post-2000 in part because his wife was a senator and later a presidential candidate. Michelle Obama has been adamant in saying she will not seek elective office.