For President Obama and first lady Michelle Obama, White House state dinners — those lavish banquets that extol diplomatic ties with foreign leaders — have had as many surprises as they have had items on the menu.
From the party crashers who breached security at Obama's first state dinner in 2009 to the free-flowing sake that warmed the mood at last April's with Japanese Prime Minister Shinzo Abe, a number of headline-worthy events have happened at the black-tie galas, which experts say are meticulously planned for months.
"Every state visit is so important in terms of conveying that level of respect for the visiting head of state," Anita McBride, former chief of staff to first lady Laura Bush and head of the First Ladies Initiative at American University, told NBC News. "Everyone wants to make it perfect, from the State Department to the White House staff."
But state dinners, with their exotic foods, opulent dishware, and A-list entertainers, are also seen as crucial gestures to global harmony. McBride described the planning process as being like "a wedding with a global press' eyes on it, following every word by the two leaders."
The Obamas will hold their thirteenth and final state dinner Tuesday night with Italian Prime Minister Matteo Renzi and his wife, Agnese Landini of Italy. The dinner, which will take place in a huge tent decked with chandeliers on the White House South Lawn, will include Italian dishes by celebrity chef Mario Batali and music from Gwen Stefani.
Photos: Obamas' Affection Radiates at Every State Dinner
In honor of the final state visit, here are some memorable Obama state dinners from the past.
The party crashers
The Obamas held their first state dinner in November 2009, hosting Indian Prime Minister Manmohan Singh. With vegetarian food served on a mix of Bush and Clinton administration china — a symbol of bringing unity to politics — the Obamas hoped to make a splash.
Instead, another couple did.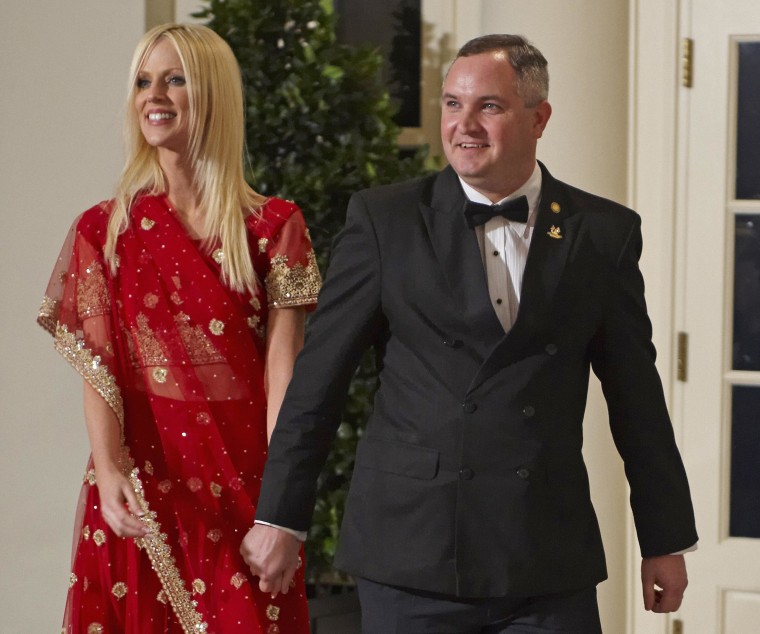 Michaele and Tareq Salahi, Virginia winery owners, went from obscurity to instant fame when they snuck into the state dinner, breaching multiple levels of security so they could meet President Obama and pose for pictures with Vice President Joe Biden. A Washington, D.C., man, Carlos Allen, also managed to sneak in.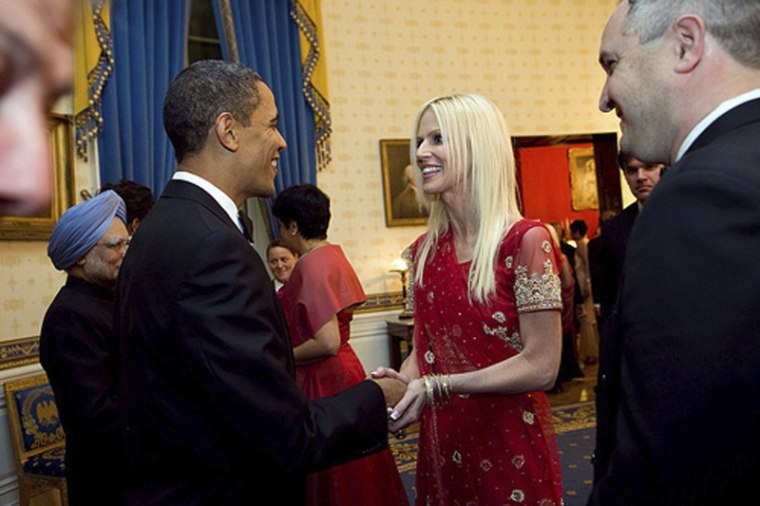 The crash led to a major investigation into Secret Service protection and contributed to then-White House Social Secretary Desiree Rogers' resignation. The Salahis insisted they were invited to the dinner and it was later revealed that the couple was being filmed for "The Real Housewives of D.C." as they got ready to head to the event.
Queen Bey
New security protocols were in place for the second state dinner in May 2010 with President Felipe Calderón of Mexico and his wife, Margarita Zavala, where the highlight was a performance from Beyonce. "Top Chef Masters" winner Rick Bayless picked arugula from White House garden himself, and served it alongside an Oregon Wagyu Beef in Oaxacan black mole. Whoopi Goldberg, Eva Longoria, and George Lopez were among the celebrities there.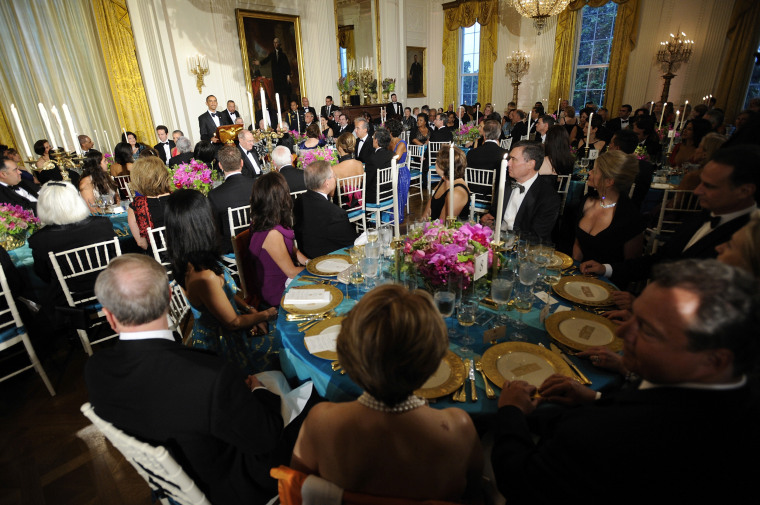 Two invitations to China
China is the only country to have two state dinners during the Obama presidency, one in 2011 and the second in 2015. But the biggest headline out of last September's dinner in honor of Chinese president Xi Jinping and his wife Peng Liyuan wasn't the boost in diplomacy — it was Michelle Obama's choice of evening wear. The first lady wore a floor-length black gown designed by Vera Wang.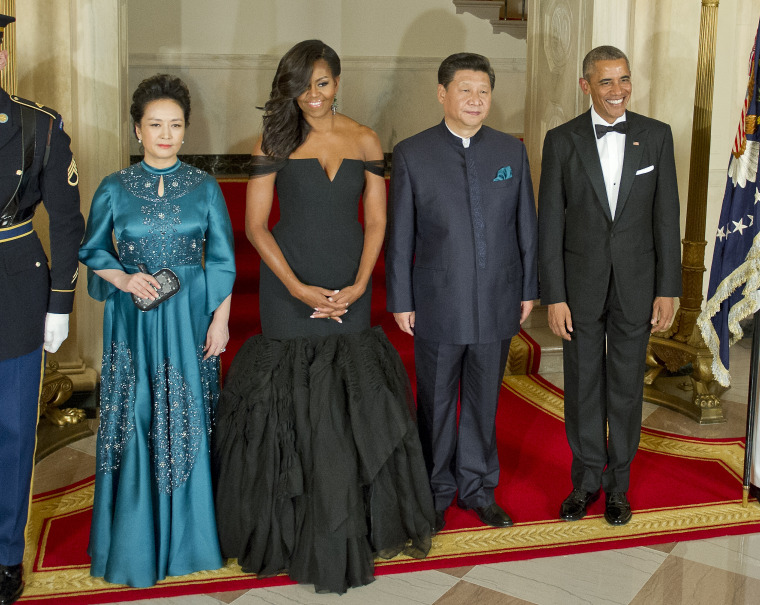 "It is such a privilege, as an American of Chinese heritage, to have dressed first lady Michelle Obama for this state dinner honoring President Xi Jinping and First Lady Peng Liyuan, of the People's Rebublic of China," Wang tweeted afterwards.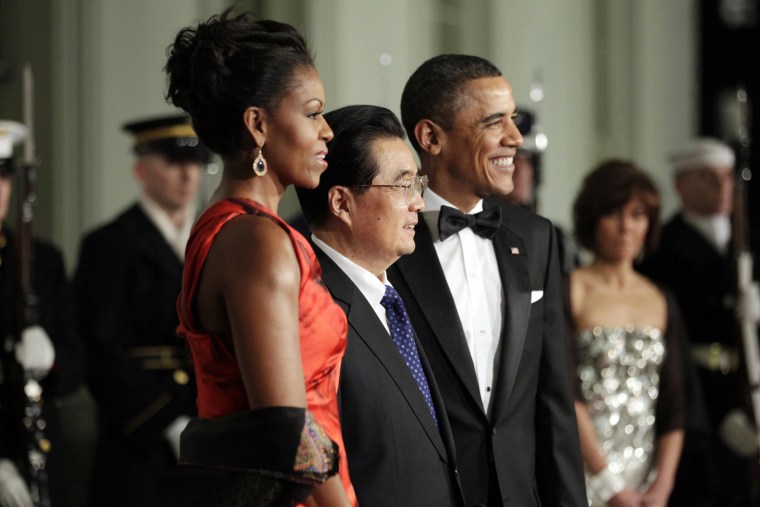 A bromance — and a haiku
Last April, the Obamas hosted Japanese Prime Minister Shinzo Abe in a state dinner replete with lots of sake. President Obama read a haiku to Abe, while Abe quoted the 1976 hit "Ain't No Mountain High Enough" during his toast to the commander-in-chief.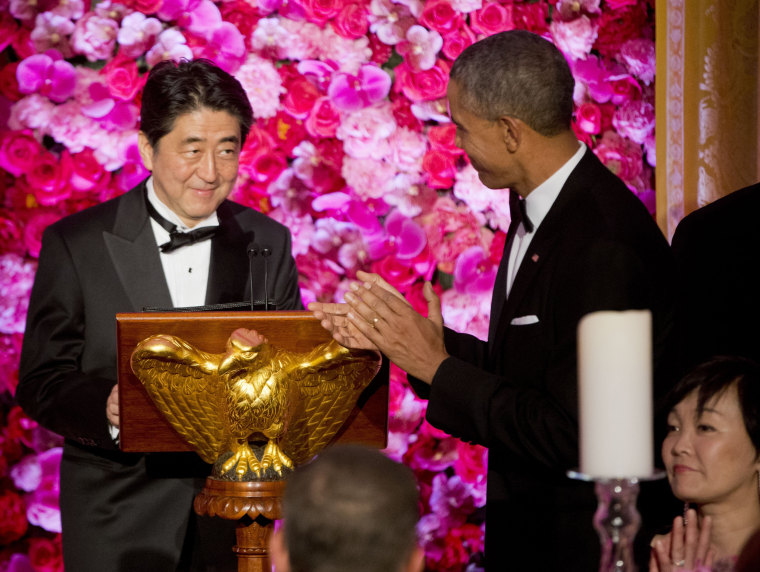 "Ain't no mountain high enough. Ain't no valley low enough. Ain't no river wide enough. To keep me from you," he said through a translator. "That's what the U.S.-Japan alliance is like."
The bromance and imbibing continued throughout the evening, to the point where Obama had to joked with guests, "Please enjoy yourself, but not too much."
The first daughters' first state dinner
Sasha and Malia attended their first state dinner in March, celebrating Canadian Prime Minister Justin Trudeau. The first daughters donned gowns and chatted with Canadian-born actor Ryan Reynolds.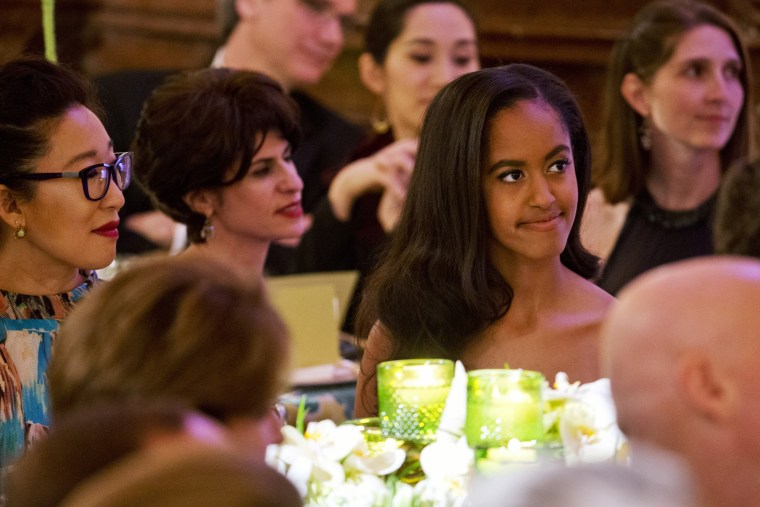 Trudeau praised the girls' strength and grace during the glamorous evening and commended them for handling growing up under the spotlight.
"That will give you extraordinary strength and wisdom beyond your years for the rest of your life," Trudeau said.
Tuesday's state dinner in honor of the Italian prime minister is expected to have the same flair that the Obamas' previous state dinners have had.
"The majority of these dinners have been very, very large events with hundreds of people, not the intimacy of the state dining room where you sit 134 and that's your maximum number" as previous administrations did, McBride, Laura Bush's former chief of staff, said.
And the Obamas' choice of entertainment, which has included Mary J. Blige, Ne-Yo, Demi Lovato, and others, has been more "youthful" than prior administrations', she added.
"Every first couple gets to put their stamp on how they want to entertain," she said. "They certainly have brought in entertainment that they enjoy and that's a reflection of them and that they believe will be pleasing to their visitor."