President Barack Obama hosted his hometown Chicago Blackhawks at the White House on Thursday, feting the hockey players for their 2015 Stanley Cup victory.
During the hoopla, team Chairman Rocky Wirtz presented him with what the president, an avid sports fan, called "the best gift I've ever gotten at the White House" — a parking pass.
"It's not only good for Blackhawk games," Wirtz said, "but for any event at the United Center (the team's home ice) for you and your family."
"This is really cool," Obama responded, tucking the placard into his pocket. "You'd pay for this, wouldn't you? I might sell this on eBay."
Not so fast, Mr. President.
For the most powerful man in the world, accepting just any gift doesn't happen in a pinch, and oftentimes — particularly with the more luxe and lavish loot — the commander in chief isn't keeping it.
That's because a host of federal laws and regulations put stipulations on what happens to the presents for the president.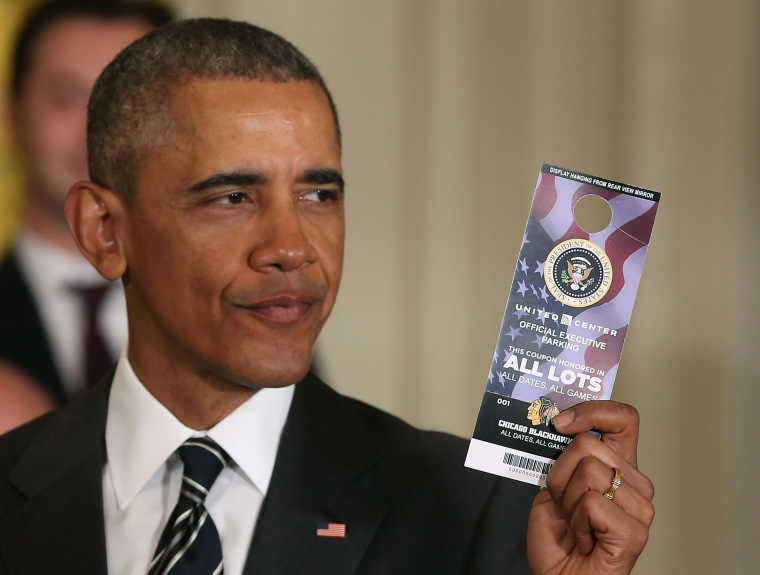 In order to accept a token, there are two issues at play: Who's giving the gift and how much is it worth?
If it's a foreign dignitary, the Constitution bars the president or any federal employee from receiving presents without the consent of Congress.
Congress has generally allowed for accepting gifts of "minimal value" from foreign governments as a sign of courtesy. Refusing them may cause "offense of embarrassment" and ultimately sour relations, according to a Congressional Research Service report prepared in 2012.
Minimal value, which is revised every three years, was pegged at no more than $375 in 2014.
But foreign leaders tend to want to give items that are worth more than that. A lot more.
According to an annual listing of gifts from foreign dignitaries to various federal officials, oil-rich Saudi Arabia has routinely bestowed the most blinged-out, opulent ornaments.
For instance, in 2014, the late Saudi King Abdullah bin Abdulaziz handed over six presents worth more than $1.3 million, according to the most recent data available. That includes a men's gold and silver wristwatch ($18,240), a white gold men's wristwatch ($67,000) and for the first lady, a diamond and pearl jewelry set ($570,000).
The jewelry can't be pocketed by the president or his family unless they're willing to pay for it at fair market value — seen as a way to cast off bribery allegations.
Records show Obama hasn't been buying any of his gifts.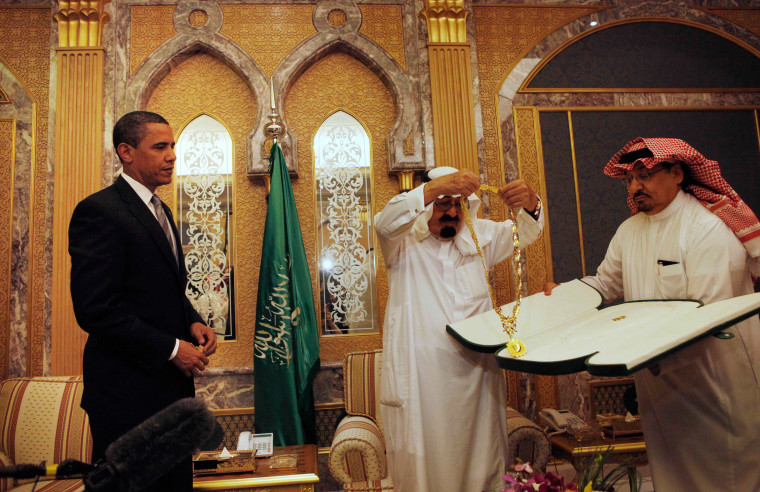 Democratic presidential contender Hillary Clinton, however, did purchase a black pearl necklace valued at almost $1,000, given to her by Myanmar opposition leader Aung San Suu Kyi while she was secretary of state in 2012.
When gifts aren't bought, they're considered property of the United States and are cataloged by the National Archives and Records Administration. From there, many of the pieces are eventually included in a presidential library museum collection.
Some of the items, however, go through the Secret Service before they're passed onto the appropriate government arm.
That was the case with a $615 bottle of cognac from the prime minister of Moldova in 2014.
Secret Service spokesman Robert Hoback said certain gifts, including food items, are routinely evaluated for safety reasons.
"Once that part of the equation has been solved, it's given to (White House) staff," Hoback told NBC News.
Ethics guidelines suggest the gift either be given to charity, shared with the office or destroyed.
One notable keepsake that's permitted, however, is the Nobel Prize, which the Congressional Research Service says is handed out by a private foundation and board, and therefore "not considered to be a gift given by a foreign government."
Obama, who won a Nobel Peace Prize in 2009, decided to donate the $1.4 million monetary prize to 10 charities.
Foreign heads of state aside, the president is generally permitted to accept personal gifts from the American public. But he must disclose the gift in financial disclosure reports when it exceeds a $350 value — meant to show transparency.
Obama said he received no gifts, according to last year's disclosure.
So what about the "official executive" parking pass Obama just received from the Blackhawks?
A team spokesman told NBC News there's no monetary value attached to the pass — and no expiration date.
It seems the president has scored one great gift.