ANCHORAGE, Alaska — President Obama isn't just traveling to places no president has gone before, he's doing things no president has done before when it comes to technology and social media, as he hopes to get his message out on climate change.
The president visited the remote villages of Dillingham and Kotzebue in Alaska for the first time Wednesday, but also posting an online travelogue of his journey and used a GoPro to shoot it himself, selfie style.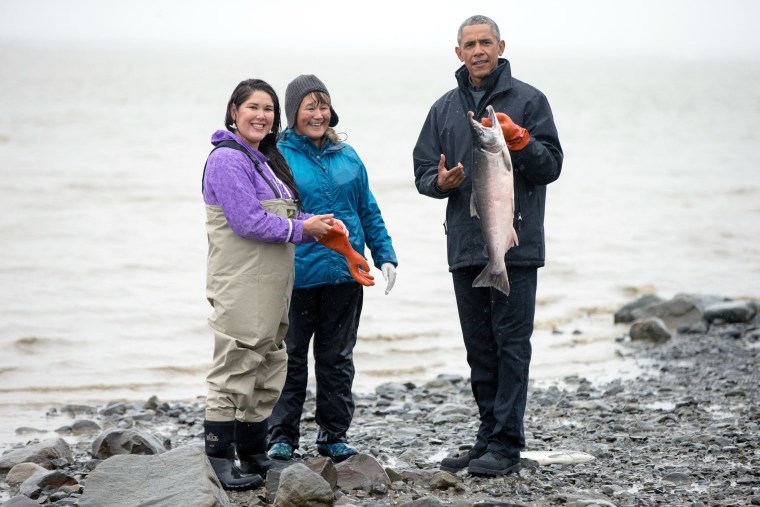 "Hi, everybody, we're at Kenai Fjords National Glacier Park," he says direct to camera, with about 20 people in the background. "Behind me is one of the most visited glaciers in Alaska, and it is spectacular."
The president writes in a post on Medium that he "did his best to do the place justice, when the team handed over the camera."
He's also taken over the White House Instagram feed, posting only photos he takes himself, like a selfie with reality TV star Bear Grylls.
It's President Obama unleashed — relishing his final 15 months in office as a chance to tick off items from his policy to do list and bucket list at the same time.
But using social media, like Twitter and Instragram also give the White House the ability to control exactly what the public sees, and during this trip, it was some of the unscripted moments captured by television cameras that were the most memorable.
Wednesday during a stop at Kanakanak beach in Dillingham, Alaska, the president met two fisherman, pulled on a pair of orange rubber gloves and held up a giant salmon and, right after, there was an accident of sorts.
"Uh oh, something got on my shoes," the president said, "He was spawning a little bit, which generally you don't want fish spawning on your feet, he said he was happy to see me."
Later he asked the Secret Service for a knife to help filet a fish. And then, at a stop at Dillingham Middle School, he got up to join children in a dance, joking that he'd been practicing.
For a president with legacy building on his mind, it was a chance to break out of the constraints of Washington, D.C., and look to the future.