Six years into its inception, Obamacare is really two different health care programs.
One is a massive expansion of Medicaid that is helping millions of low-income people obtain health insurance and care.
The other Obamacare is a system of 50 state-based health insurance markets that is beset with high costs for many consumers, lower-than-expected enrollments and insurance companies fleeing.
The differences explain why people see the Affordable Care Act so differently.
President Obama accurately argues that more than 20 million Americans have gained insurance over the last four years, and the nation's uninsured rate is at its lowest in decades. The health insurance companies wary of the law also correctly note some of its flaws in implementation.
"Obamacare works really well for people who are eligible for Medicaid, and it works really well for people who are under 150 percent of poverty," said Robert Laszewski, a former health insurance executive who has been critical of the health law. "When you start getting to higher incomes, those people are paying really big deductibles."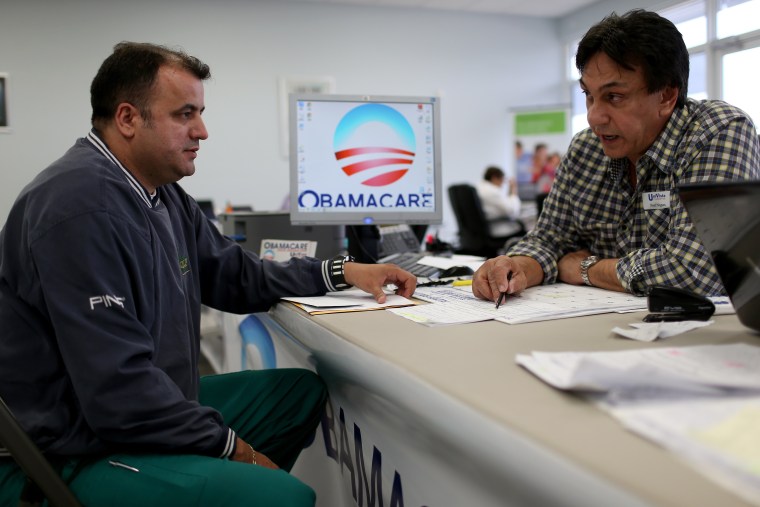 Why the Exchanges Are Struggling
When Obamacare's enrollment started in 2013, President Obama said the program would create a process for buying a health insurance plan, "the same way you'd shop for a plane ticket on Kayak or a TV on Amazon."
People would go online and choose a health insurance plan from a number of different companies competing to offer the best option. The private sector would be the driving force in the implementation of the law, with most people getting plans from an insurance company.
Once the problems of the website were ironed out, Americans were able to purchase insurance online easily.
More than 11 million Americans are currently enrolled in plans through Obamacare's exchanges. Many of these people had illnesses or conditions that made it hard for them to purchase insurance before the law passed because insurance companies were able to charge higher prices based on previous health conditions.
Obamacare bans this practice.
And in some areas, particularly big cities, Americans have many choices. In New York City, 10 different insurance companies offered plans last year.
But the Congressional Budget Office initially estimated that 21 million Americans would be enrolled in the marketplaces by now. Only about 11 million are.
The main reason for that low enrollment, experts say, is price.
Obamacare offers subsidies to reduce the price Americans pay for premiums and limits how much they will pay for insurance, based on their income. But the subsides are on a sliding scale.
A person earning less than $18,000 a year is expected to pay only about 4 percent of her income in health care premiums, while someone earning more than $36,000 a year is expected to contribute up to 9 percent of her income.
Avalere, a health care consulting firm, found in an analysis of 2016 data that about 81 percent of the people in the lowest-income range (with the biggest subsidies) enrolled in Obamacare' exchanges, compared to just 17 percent of those who earned more than $36,000. Obamacare includes a mandate to require people to purchase insurance, but more than 7 million people last year paid the penalty instead of enrolling.
"The focus was on 'let's keep this law under a certain cost," said Linda Blumberg of the Urban Institute. "They didn't put enough money or investment in the subsidies."
The insurance companies say that the people who are enrolling in Obamacare are disproportionately unhealthy, a claim that the Obama administration denies.
And some insurers say this low and unhealthy enrollment is causing them to lose money under Obamacare.
Last week, Aetna, the nation's third-largest insurer, withdrew from offering Obamacare plans in most of the states where it was participating. Over the last year, three of the top five insurance companies (UnitedHealth and Humana made similar decisions) in America have now significantly curtailed their involvement in Obamacare.
Aetna had been trying to merge with Humana, and the Huffington Post broke the news last week that Aetna had suggested it would leave Obamacare's exchanges if the Obama administration tried to stop the merger. The Justice Department last month filed suit to block the Humana-Aetna merger, and some liberals, including Massachusetts Sen. Elizabeth Warren, have said Aetna's decision to leave Obamacare is simply retribution.
Related: Aetna Threatened to Quit Obamacare if U.S. Blocked Humana Merger
But a number of insurers outside of Aetna have said they are sustaining losses of hundreds of millions of dollars in Obamacare.
And whether the insurers are exaggerating their losses or not, the results are the same: consumers will have fewer health care options in future as insurers withdraw.
The Kaiser Family Foundation predicts that more than 600 counties will only offer one insurance option through Obamacare for this fall's enrollment period, up from about 225 counties last year. Avalere expects seven states (Alaska, Alabama, Kansas, North Carolina, Oklahoma, South Carolina and Wyoming) will have just one insurer offering Obamacare plans next year. (In a 2009 address to Congress pushing for the passage of the health care law, the president had specifically noted that "In Alabama, almost 90 percent [of the insurance market) is controlled by just one company."
Pinal County in Arizona, which has about 400,000 people, currently has no insurance company offering plans on the exchanges after Aetna's withdrawal.
The Exchanges Also Have a Partisanship Problem
Obamacare's authors, the Democrats on congressional committees and in the Obama administration, anticipated some of these problems in the early years of the law. So as an alternative to the insurance companies, the Affordable Care Act authorized and helped fund a series of insurance cooperatives, non-profits that would offer health insurance.
And the law included provisions that would provide federal money to the insurers and keep them participating in Obamacare even if they sustained losses in the first few years of the program.
But congressional Republicans, continually opposed to the law, cut much of the funding for one of these provisions to help insurers in 2014, labeling it a "bailout" for insurance companies. Florida Sen. Marco Rubio bragged about his role in gutting this funding during his presidential campaign.
The co-ops, already losing money in the exchanges, couldn't withstand this funding shortfall. According to Kaiser Health News, only 7 of the co-ops remain, compared to 23 in 2014, removing another health care option in the exchanges.
The failure of the co-ops is an illustration of perhaps the biggest challenge for the law's exchanges: Republicans aren't committed to making them work.
Democrats had hoped that they could make changes to the Affordable Care Act after it was enacted, in the way Medicaid and Medicare have gradually been updated.
Instead, congressional Republicans have cut funding to implement parts of Obamacare. They have refused to consider tweaks to the law, such as increasing subsidies to make people more likely to enroll, instead arguing that the law should be repealed in full.
And Republican governors, unlike their Democratic colleagues, have done little to encourage enrollment in Obamacare.
"The law itself is still a symbol for partisan division in the country and the (Affordable Care Act) remains the all-time example of how difficult it is to implement something as big as health care reform without bipartisan support," said Drew Altman, president of the Kaiser Family Foundation.
The Medicaid Success
Before the Affordable Care Act, states and the federal government effectively shared the cost of Medicaid, so states restricted the program, often excluding low-income men in particular while offering insurance to children and women with kids. The ACA essentially said all low-income people (under $33,000 yearly income for a family of four) would be eligible for Medicaid and that the federal government would pay for most (90 percent) of the costs of new enrollees.
With states getting to cover the uninsured at much lower cost, it was expected that Medicaid enrollment would grow substantially. But then the U.S. Supreme Court, in a 2012 ruling, said that states were not required to expand Medicaid and could choose to accept the funds. In 19 states, all of which have a GOP-governor or Republican-controlled state legislature, Medicaid has not been expanded. Many Republicans are wary of putting more Americans into taxpayer-funded insurance, both because of ideological opposition and concerns about costs.
But Medicaid expansion has been far more popular than the writers of the law had guessed, even with this Republican opposition. The program, expected by the Congressional Budget Office to grow by 10 million, has instead seen 15 million more enrollees.
And the Medicaid expansion is working as intended.
A study published in Health Affairs earlier this year showed that the uninsured rate among low-income people in Kentucky, which has greatly expanded its Medicaid program, dropped from 35 percent to 11 percent and that there was a significant reduction in people not getting medical care because of cost.
The law, as a recent New York Times analysis of U.S. Census Data showed, has greatly expanded insurance in particular to blacks, Native Americans, Latinos, immigrants and people in low-wage industries, such as cooks and dishwashers.
Experts say that the difference in enrollment between the exchanges and Medicaid can be explained largely by a simple factor: cost. Medicaid recipients generally pay little or nothing in premiums, co-pays and deductibles.
"If it is free or nearly free, people sign up," said Caroline Pearson of Avalere.
Should the Affordable Care Act Have Included a So-Called "Public Option"?
During the 2008 campaign, Obama, running for the Democratic presidential nomination, rejected liberal calls to support a Medicare-for-all, "single payer" system.
But as part of the more market-centered approach Obama favored, the candidate supported a so-called public option, meaning a government-operated health insurance plan would be part of the choices that consumers could pick from.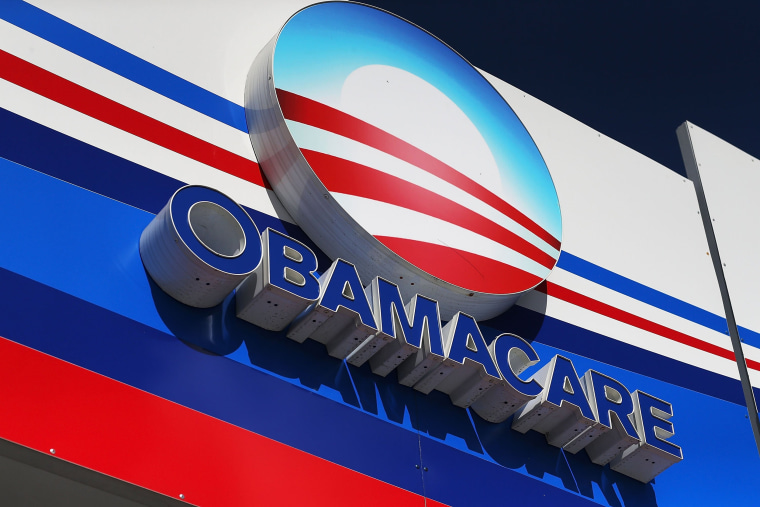 Once in office, Obama and his aides publicly supported the public option.
Some more conservative Democrats in Congress opposed it. Out of pragmatism and an effort to see the broader law passed, the White House gave its blessing and the public option was not included in the final health care bill, despite consternation from liberals.
Now, with insurance companies leaving the marketplaces and the co-ops going out of business, liberals who pushed for the public option then say that they have been vindicated.
As part of her 2016 presidential campaign platform, Hillary Clinton is calling for both a public option and allowing people over 55 to buy into Medicare. Those ideas have almost no support among Republicans and are very unlikely to be enacted unless Democrats win a majority in the House of Representatives and the Senate in this fall's elections.
The new liberal consensus in favor of the public option now includes Obamacare's chief author.
"Based on experience with the ACA, I think Congress should revisit a public plan to compete alongside private insurers in areas of the country where competition is limited," Obama wrote in an article that was published earlier this month in the Journal of the American Medical Association.