WASHINGTON — President Joe Biden on Monday said the U.S. would "bring an end" to the Nord Stream 2 natural gas pipeline if Russia invades Ukraine.
"If Russia invades — that means tanks or troops crossing the border of Ukraine — then there will be no longer a Nord Stream 2. We will bring an end to it." Biden said while standing next to the new chancellor of Germany, Olaf Scholz, at a White House news conference.
When pressed for details on how he would keep that promise given that the pipeline is not under U.S. control, Biden did not elaborate.
"I promise you, we will be able to do it," he told reporters.
Scholz, meanwhile, declined to take a firm stance on the fate of Nord Stream 2, telling reporters that Germany was "acting together" with its allies and promising "very, very harsh" steps against Russia if it invades Ukraine.
The U.S. has warned that the pipeline could make Germany overly reliant on Russia for energy. The Ukrainian government, which will lose out on a substantial amount of revenue due to the new pipeline, has called Nord Stream 2 an "existential threat" to its security.
Scholz has faced scrutiny over the pipeline, which bypasses Ukrainian transit infrastructure to deliver Russian gas directly to Germany. The pipeline has been built but is not yet operational.
Biden also cautioned Monday that Americans in Ukraine who are not U.S. government employees should leave the country.
"I think it would be wise to leave the country," Biden said. "I'd hate to see them get caught in a crossfire."
The United States and its NATO partners have expressed increasing concern that Russian President Vladimir Putin, who has positioned 100,000 troops near the Ukraine border, plans to invade sometime soon.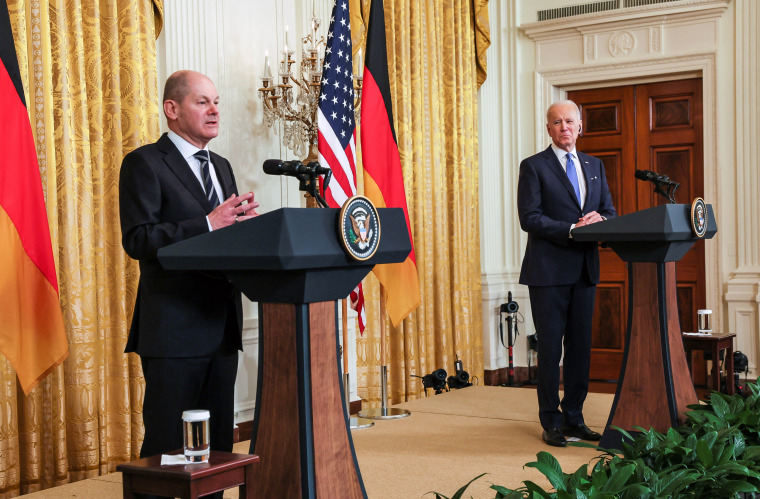 Biden went on to say that while Putin is "in a position now to be able to invade," the U.S. does not know whether he will take that step.
"What he's going to do, I don't know. And I don't think anybody knows but him," Biden said.
Scholz, who took over leadership of his country in December, has faced sharp criticism at home and abroad for not playing a more active role in addressing tensions between Russia and Ukraine. 
Scholz has refused to send arms to Ukraine, instead offering 5,000 helmets, which Kyiv's mayor, Vitali Klitschko, dismissed as "a joke." And Scholz has also declined to specify what type of sanctions he would support if Russia were to invade.
Scholz faced scrutiny over the controversial Nord Stream 2 pipeline, a 745-mile natural gas pipeline that bypasses Ukrainian transit infrastructure to deliver Russian gas directly to Germany.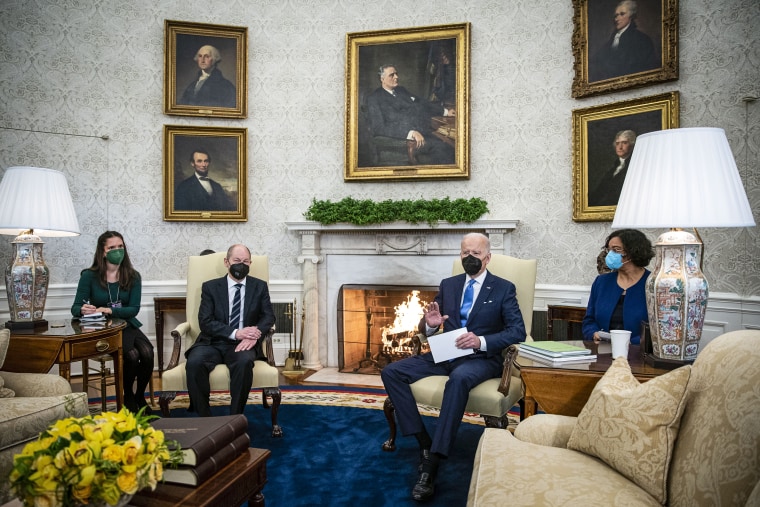 The two leaders were also expected to discuss the coronavirus pandemic, climate change, and economic and security issues, the White House said ahead of Monday's meeting.