WASHINGTON — President Joe Biden spoke Wednesday with the wife of WNBA star Brittney Griner and plans to send a letter directly to Griner, according to a summary of the call obtained by NBC News.
The White House said Biden and Vice President Kamala Harris called Cherelle Griner "to reassure her that he is working to secure Brittney's release as soon as possible." Brittney Griner pleaded in a handwritten letter that was hand-delivered to the president on Monday for his help to get her released from jail in Russia.
Biden also read Cherelle Griner a draft of the letter he is sending to Brittney Griner on Wednesday, the White House said.
"The President offered his support to Cherelle and Brittney's family, and he committed to ensuring they are provided with all possible assistance while his administration pursues every avenue to bring Brittney home," the White House said.
Cherelle Griner said Wednesday on Instagram that she is grateful to Biden and Harris for their time and the commitment they expressed to bringing her wife home.
"While I will remain concerned and outspoken until she is back home, I am hopeful in knowing that the President read my wife's letter and took the time to respond," she said. "I know BG will be able to find comfort in knowing she has not been forgotten."
She asked for prayers for her family and the families of other people who have been wrongfully detained, as the U.S. says Brittney Griner was.
"Let's continue to use our voices to speak the names of all the wrongfully detained Americans and support the Administration as they do what it takes to bring them home today," she said in the post.
Cherelle Griner has spoken by phone in recent weeks and over the weekend with Secretary of State Antony Blinken and national security adviser Jake Sullivan, the White House said. Biden also directed his national security team to remain in regular contact with the family and with the families of other Americans detained around the world, including Paul Whelan, a former security executive who is detained in Russia.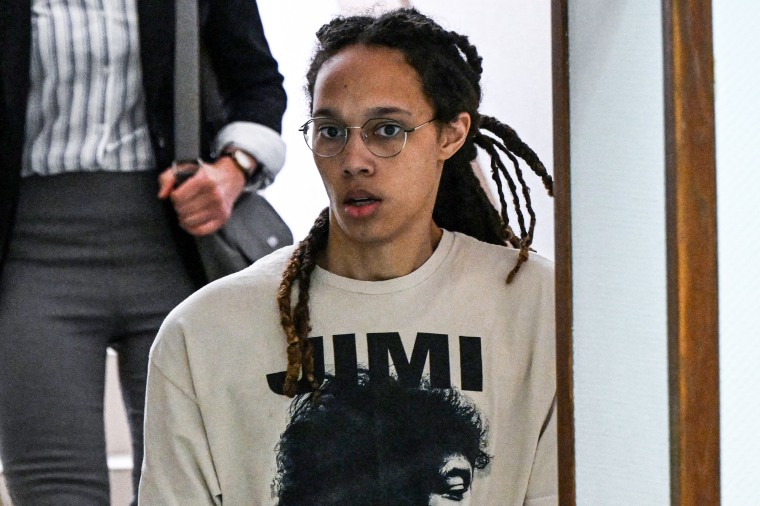 Biden had been under increasing pressure to demonstrate progress toward Griner's release as she faces a trial on drug smuggling charges. She was detained in February after authorities said she was in possession of cannabis-derived vape cartridges. Griner said in her letter to Biden that "I'm terrified I might be here forever."
Cherelle Griner also has been speaking publicly in recent days, and the Rev. Al Sharpton is calling on the Biden administration to help facilitate a visit from him and other religious leaders. (Sharpton is the host of MSNBC's "PoliticsNation.")
A senior administration official said the U.S. doesn't expect a resolution before Griner's trial plays out, which is likely to take weeks. At that point, the official said, the administration expects that Russian President Vladimir Putin may be ready to negotiate a deal.
Vanessa Nygaard, the head coach of the Phoenix Mercury, said in an interview Wednesday on MSNBC that the team desperately wants to get Griner back to the U.S. 
"I mean, it must be hell," she said. "It must be the most terrible thing possible for her to not have access to all the things she normally has access to, but we're talking about a Russian prison. And so it couldn't be a worse condition, I think, and we are just concerned about her and her welfare every day."
Nygaard said the team has been able to communicate with Griner through email and the State Department.
"But it's just so upsetting to know that somebody you care about is put into this terrible situation," she said. "She's wrongfully detained. And you know, we know in America, that we hold freedom very tight and very important to us."
Asked for comment, the National Security Council pointed to spokesperson Adrienne Watson's statement Monday, which said: "President Biden has been clear about the need to see all U.S. nationals who are held hostage or wrongfully detained abroad released, including Brittney Griner. The U.S. government continues to work aggressively — using every available means — to bring her home." 
White House press secretary Karine Jean-Pierre said Tuesday that the administration has been working aggressively on Griner's release behind the scenes. She declined to say whether Biden would accept a prisoner swap as part of a deal for her freedom.