WASHINGTON — The Senate health care bill contains sweeping new restrictions on abortion coverage and defunds Planned Parenthood, setting up a complicated fight that could potentially imperil its passage.
Under the Better Care Reconciliation Act released by Republicans on Thursday, insurance plans that customers can buy on the individual market with tax credits would be banned from covering abortion services, with exceptions for rape, incest and the health of the mother. The House bill contained a similar provision.
The Senate bill also cuts off funding next year to Planned Parenthood, which is already barred from receiving federal money for abortion but is reimbursed by Medicaid for providing other health services.
The ongoing policy standoff contains echoes of Obamacare's passage in 2009 and 2010, which featured a series of negotiations to bring pro-life Democrats on board who were concerned that the bill's new subsidies could be used to fund abortion.
"It was a huge flashpoint which almost killed the bill in the House and Senate in 2010," John McDonough, a public health professor at Harvard who was a Senate aide at the time, told NBC News. "That fight is erupting again."
Pro-choice groups immediately condemned the bill, which would cause private insurers who participate in the health care exchanges to drop abortion coverage en masse.
NARAL Pro-Choice America President Ilyse Hogue decried the legislation as "a savage attack on women's healthcare."
Making matters more complicated, blue states like California and New York currently require insurers to cover abortion. Unless the states changed their laws to comply, the House and Senate bills would potentially block subsidies for all insurance plans on the individual market.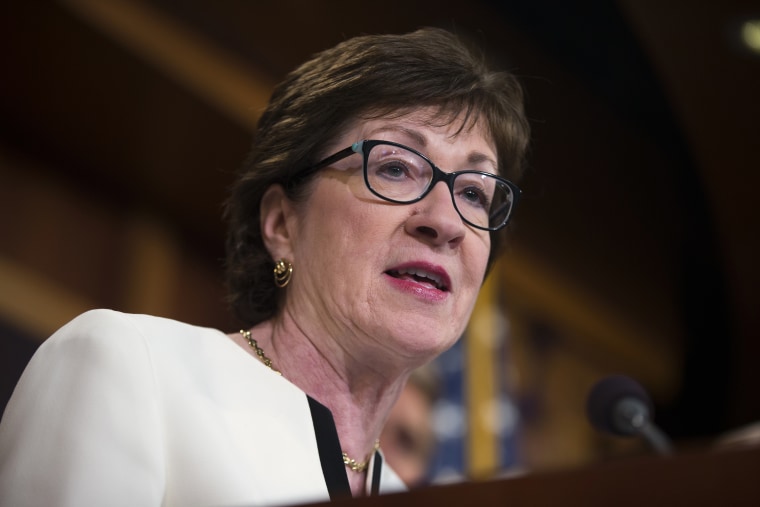 But there's a strong chance the abortion ban on private plans could be stripped by the Senate parliamentarian for failing to meet reconciliation rules, which require that legislative items directly impact the budget.
Key moderate Republicans, including Sens. Susan Collins (R-Maine) and Lisa Murkowski (R-Alaska), have also expressed opposition to the measure targeting Planned Parenthood.
With these challenges in mind, pro-life activists cautiously hailed the proposed legislation on Friday.
"The Senate discussion draft includes these pro-life priorities, but we remain very concerned that either of these priorities could be removed from the bill for procedural or political reasons," Family Research Council President Tony Perkins and Susan B. Anthony List President Marjorie Dannenfelser said in a joint statement.
On Wednesday, 30 members of conservative House Republican Study Committee sent Senate Majority Leader Mitch McConnell (R-Ky.) a set of four demands for any bill that included defunding Planned Parenthood and the restriction on abortion coverage. Leaving out the items "may jeopardize final passage" in the House, they warned.
Under the longstanding Hyde Amendment, federal funding cannot go toward abortion. President Barack Obama eventually worked out a compromise in which only money from premiums could cover abortion through a separate fund, upsetting activists on both sides of the issue, but securing enough key votes to enable the bill's passage.
Beyond the abortion measures, reproductive health is emerging as a rallying cry for Democrats and activists opposed to the bill.
Both the House and Senate bills allow states to waive Obamacare's requirements that insurers cover items like maternity care, which was frequently left out of private plans before Obamacare went into effect. According to the nonpartisan Congressional Budget Office, the House's changes could increase out of pocket costs for pregnancy-related expenses by "thousands of dollars in a given year" as a result.