BIRMINGHAM, Ala. — When Sen. Doug Jones threw out the ceremonial first pitch at a Birmingham Barons baseball game here recently, members of a local LGBTQ choir who had come for the minor-league team's "Gay Pride" night cheered.
And yet, just rows behind them, fans from nearby Shelby County who'd come for the baseball, not knowing of the evening's theme, withheld their applause and quietly sipped their beers.
That kind of sharp divide in this deep-red state underscores both the notable progress achieved by Southern Democrats but also the challenges Jones faces in his home state six months after his shocking victory over Roy Moore in the December special election made him the first Democratic senator to be elected in Alabama in 25 years.
Jones was sworn in on Jan. 3, and, half a year later, the mild-mannered senator has in many ways made good on his campaign promises to bring back "common courtesy and decency" to politics and largely shied away from being an attack dog targeting President Donald Trump.
But Jones has also staked out a portfolio of liberal positions — including supporting abortion rights, LGBTQ equality and gun control — in a state where Trump crushed Hillary Clinton in the 2016 election, 63 percent to 35 percent.
And despite having cast more votes in the Senate in support of the president's agenda than all but three of his Democratic colleagues, Jones has yet to build a solid bridge to the majority-Republican electorate that would help his re-election prospects in two years. (It is unclear who may challenge Jones, although conservative Rep. Bradley Bryne, R-Ala., said last week that he's weighing a run.)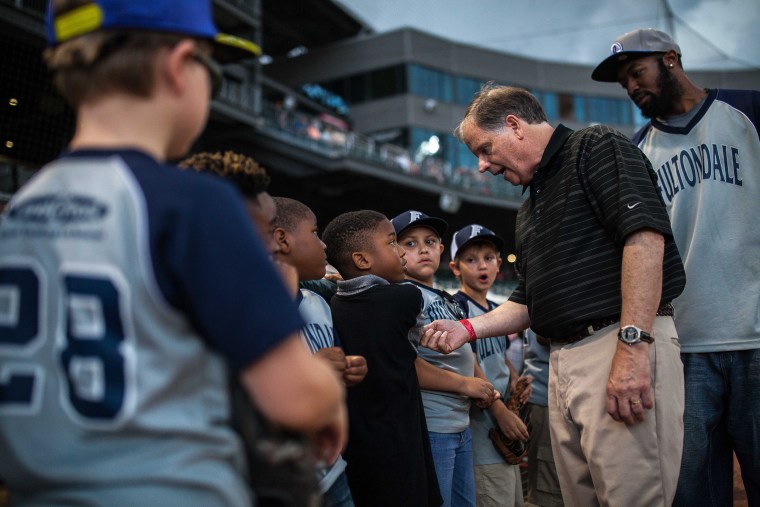 WELL-LIKED IN WASHINGTON
Jones is something of a unique character in the Senate — he isn't in lock step with Democratic leadership, nor does he always follow the lead of red-state Democrats who tend to defect and vote with Republicans.
The freshman senator's approach has so far earned him some bipartisan plaudits.
"I like senators who try to work across party lines," said Sen. Lamar Alexander, R-Tenn., chairman of the Health, Education, Labor and Pensions Committee, on which Jones sits. "He studies the issues. Sometimes, he votes independent of his own party."
Three weeks after he was sworn in, Jones was among six Democrats to break with party leaders to join Republicans in voting for a short-term bill to extend government funding and prevent a shutdown. The bill failed by a single vote, and a shutdown lasted for several days.
Jones said he didn't love the measure but wasn't concerned about pleasing Democratic leaders.
That was one of four crucial votes in which Jones defected from much of his party. He also broke with leadership in January to vote to confirm Alex Azar for secretary of Health and Human Services and again in March to vote for a measure that rolled back some banking regulations instituted by the Dodd-Frank Wall Street reform law. In April, Jones joined five red-state Democrats in voting to confirm Mike Pompeo as secretary of state.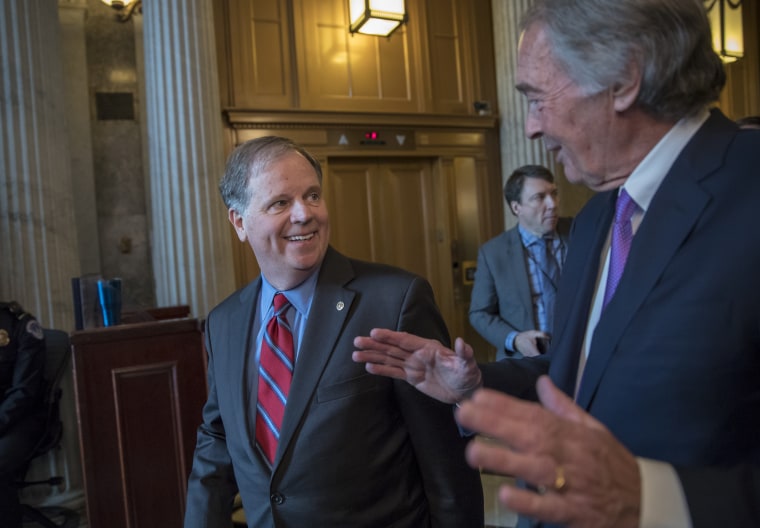 Jones has voted in support of Trump 53 percent of the time in 17 key votes he's taken since joining the Senate, according to FiveThirtyEight.com's vote tracker. That's more than all but three Democratic senators (Joe Manchin of West Virginia, Heidi Heitkamp of North Dakota and Joe Donnelly of Indiana), all of whom are from red states and facing re-election this fall.
"I think he's terrific," Sen. Claire McCaskill, D-Mo., who also faces a tough re-election fight, said in an interview. "It's harder work when you're not interested in voting the party line. You've got to look at every issue from all sides."
"I really have been pleasantly surprised how willing he is to tell Chuck Schumer to go fly a kite," she added, referring to the Senate minority leader.
At other times, however, Jones has taken up liberal positions seen as risky for a Democratic senator from a GOP state.
He aligned himself with most of his Democratic colleagues against Gina Haspel, Trump's pick for CIA director, arguing that her record on enhanced interrogation techniques was unacceptable.
And instead of focusing on a politically safe issue in his maiden Senate floor speech, Jones struck a nerve by calling for a dialogue on gun violence after the mass school shooting in Parkland, Florida.
In addition, during the campaign, Jones made no secret of his desire to protect LGBTQ rights and to support a woman's right to abortion.
It's those kinds of positions that have made him a darling of Alabama's progressive minority — and somewhat of a public enemy among the state's conservative majority.
Jones has introduced four pieces of legislation — none of any huge significance — since he arrived on Capitol Hill, including two agriculture bills, one that would expand access to capital for rural job creators and the last seeking to mandate an annual Medicaid expansion review.
Jones sees his tenure so far as exactly what he told voters it would be.
"In terms of doing what I said I was going to do, and that is reach across the aisle, be an independent voice for Alabama, try to do what I think is the right thing, I'd give myself an A," he told NBC News.
And he doesn't foresee changing his approach any time soon — especially when it comes to whether Democrats should be more aggressive in confronting Trump.
"I think people on the left want you to just attack the president," Jones said. "And he's said things that I didn't agree with, that I don't like, but it doesn't do an awful lot of good to just attack, attack, attack."
WHAT VOTERS SAY BACK HOME
On the whole, Jones, who served as a U.S. attorney in the state during Bill Clinton's second term, is getting generally good reviews at home. According to an April Morning Consult poll, 47 percent of state voters said they approved of the job he was doing, while 25 percent said they disapproved. Twenty-eight percent said they didn't know or had no opinion.
But at the Barons game, conservative Republican voters in attendance spoke up about their disappointment. Many were still lamenting Moore's loss and counting down the days until 2020, when Jones will be up for re-election.
"I'm not for anyone who supports abortion or gay marriage. Jones is a supporter of abortion. It's against God's law," said Kay Tipton, 65, a math teacher from Indian Springs, in nearby Shelby County, where Trump won 73 percent of the vote in 2016.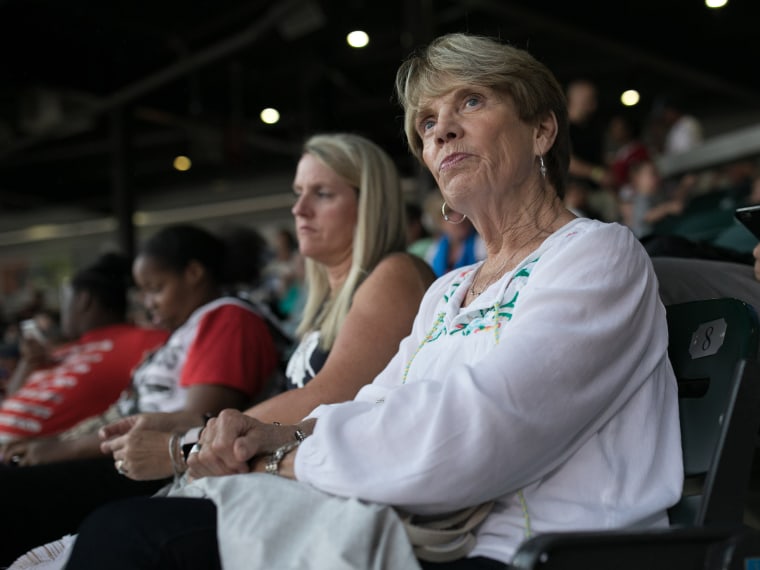 "He'd never have gotten elected if it were not for the slanderous things people said about Roy Moore," she added, referring to allegations of sexual misconduct with underage girls decades ago. "Senator Jones will never get elected again in this state."
Democrats, on the other hand, remain euphoric about Jones' win and largely accepted that he's voted with Trump more often than they might prefer — and that he's largely refrained from broad criticism of the contentious commander in chief. They said they understand that's what it will take to get re-elected.
"On one hand, I would love for him to be more outspoken," said Lara Embry, a clinical psychologist from Birmingham. "But it's a lot easier for senators from blue states to do that. In this state, it's a lot more difficult.
She added, "He gets that he is speaking for the whole state, and I think he's approaching that strategically."
While Jones has not attacked Trump personally, he has repeatedly criticize the president on tariffs in recent weeks and the GOP tax cut plan — even though it was passed before he was sworn in. Jones has also been critical of the separation of migrant families at the border, although he was one of the last Senate Democrats to back Sen. Dianne Feinstein's bill to stop children from being removed from their parents.
Jim Bailey, a gay Birmingham resident who works in education, said: "Consider this: He's not Jeff Sessions. He's not Roy Moore. That, itself, is a huge win."
"Am I disappointed in him being a centrist? Not at all. Consider the alternative," Bailey said.
Alabama Democrats said they were still pinching themselves that they had won a Senate seat and were prepared for Jones to do whatever he needed to keep it.
"He may have voted as a conservative at times, but if he has any chance of getting re-elected, he can't exactly vote like Kamala Harris," said Patrick Evans, a university professor in Birmingham, referring to the Democratic senator from California. "And I'd much rather have Doug Jones re-elected than have Doug Jones voting as a progressive Democrat on every issue."
"There are plenty of people in the Senate calling Trump out on a daily basis," Evans added. "I don't need Doug Jones to do that. I need Doug Jones to get re-elected in Alabama in two years."