WASHINGTON — Staring down a Friday night deadline, House Republicans are hoping to release a $1.3 trillion spending package in time to keep the government funded through September — and prevent a government shutdown — if it's passed and signed into law before the weekend.
But as of Tuesday evening, with time running short, no agreement had been reached on some key sticking points that could slow the bill's progress. Democrats and Republicans hit an impasse Monday on a number of issues: funding the possible border wall and a key New York-New Jersey infrastructure project, extending the Deferred Action for Childhood Arrivals (DACA) program, and reinforcing the background check system for firearm purchases.
GOP leaders told rank-and-file Republicans Tuesday morning that they were hoping to release the legislation by Tuesday night, paving the way for a potential Thursday afternoon floor vote. This comes amid weeks of bipartisan negotiations among appropriators and after President Donald Trump signed a two-year budget deal in February that boosted funding levels for both the military and domestic programs.
Congress has until Friday at 11:59 p.m. ET to pass the spending package ahead of a two-week recess for Easter and Passover. There are currently no House votes scheduled for Friday — but that could change if lawmakers run out of time. Timing in the Senate is less certain: Senate Majority Whip John Cornyn, R-Texas, expressed confidence Tuesday that Congress would avoid a shutdown, but said lawmakers may have to stay in Washington into the weekend to pass the bill.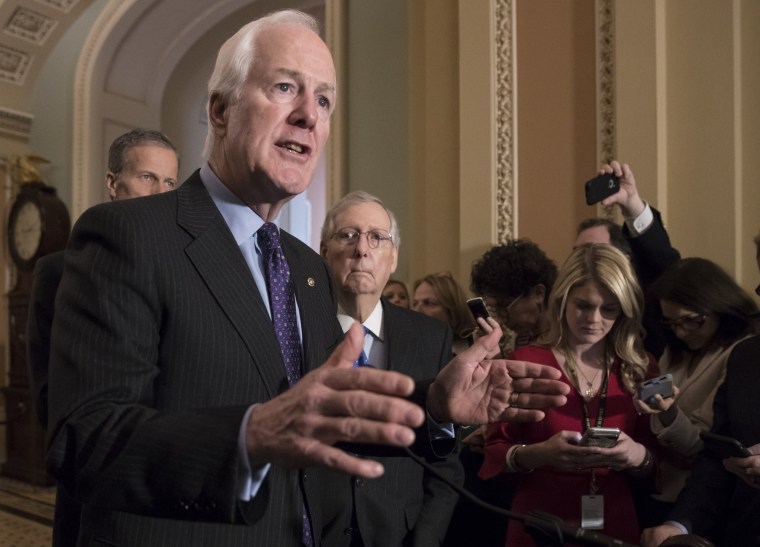 Republicans won't be able to pass the measure alone, at least in the Senate, where 60 votes are required to end debate and advance the bill; they will need Democratic votes. Republicans currently have 51 senators, while Democrats have 49.
THE MAJOR STICKING POINTS
Border wall funding & DACA fix
Funding for the president's proposed border wall is still in flux. (Trump tweeted Monday evening, "The Democrats do not want to help DACA. Would be so easy to make a deal!") The White House had reached out to congressional Democrats on Sunday with a last-minute immigration offer to fund the border wall with $25 billion over three years in exchange for a 2.5 year patch for the 2012 Deferred Action for Childhood Arrivals (DACA) program created by President Barack Obama and ended by the Trump administration last September. The offer, however, was rejected, three sources familiar with their negotiations told NBC News. Democrats have made clear that they wouldn't accept any such funding unless it were paired with a permanent fix for DACA. If border wall is excluded, it would be a major blow to Trump, who could face frustrated voters in November if he isn't able to deliver on his campaign promise. Last week, he visited prototypes for the wall in San Diego.
Gateway Project funding
Trump has quietly threatened a veto of the bill if it contains funding for a key infrastructure project in his home state, known as the Gateway Project — a new rail tunnel connecting New York and New Jersey. Rep. Peter King, R-N.Y., told reporters Tuesday morning that he had briefly spoken with Trump about the $30 billion project last week — at which point, the project's funding was still a "work in progress," said King.
WHAT'S LIKELY TO MAKE IT IN
School Safety funding
A major funding increase for school safety is expected in the spending bill. Two Republican sources familiar with ongoing negotiations said Tuesday that the bill would provide more than $2 billion for school safety, which is far more than the $50 million the House passed in the STOP School Violence Act and more than the $100 million in the Senate version of a similar bill. Democrats argue that the $2 billion figure is Republican spin because that total includes money for programs that already exist. Senate Minority Leader Chuck Schumer's office says that the actual amount may be as much as $250 million on new programs to ensure school safety. The bill does not provide money for arming teachers.
Fix NICS
Since the mass shooting in Parkland, Florida, last month, a bipartisan group of senators has been pushing for a vote on a bill that would aim to improve the accuracy of existing background check systems for firearm purchases. The bill, Fix NICS (for National Instant Criminal Background System) was originally proposed last November by Sens. John Cornyn, R-Texas, Chris Murphy, D-Conn., Richard Blumenthal, D-Conn., and Tim Scott, R-S.C.
On Tuesday morning, Speaker Paul Ryan, R-Wis., said, "I think we should do Fix NICS." The bill has more than 70 co-sponsors in the Senate, and lawmakers are trying to wrap it into the spending bill.
WHAT PROBABLY WON'T MAKE IT IN
Obamacare cost-sharing payments
The bill excludes language to extend Obamacare's cost-sharing reduction payments. The Trump administration said last year that because there were no congressional appropriations for the payments, it would stop making them. Sens. Lamar Alexander, R-Tenn., and Sen. Patty Murray, D-Wash., had been pushing for months for a bipartisan compromise.
Protection for Mueller
The spending bill likely won't contain language protecting special counsel Robert Mueller, who has come under fire in recent days from Trump himself. The president tweeted about him by name over the weekend, again dubbing his investigation a "witch hunt." Democrats have expressed concern for months that Trump could try and fire Mueller. Senators have previously introduced bipartisan bills that would protect Mueller and his probe.
Sexual harassment legislation
Sen. Kirsten Gillibrand, D-N.Y., blasted Republicans Tuesday for stripping language she had proposed from the package that she said "would have finally brought accountability and transparency to Congress's sexual harassment reporting process." A spokesman for Senate Majority Leader Mitch McConnell, R-Ky., however, rejected the idea that the language was stripped from the bill, as he said it was never formally adopted.