WASHINGTON — The battle at the top of the Republican Party entered a new front Wednesday as former President Donald Trump and House Minority Whip Steve Scalise publicly backed Rep. Elise Stefanik to replace Rep. Liz Cheney as chair of the House Republican Conference.
In a Wednesday morning statement, Trump said Cheney "has no business" in GOP leadership, adding Stefanik "is a far superior choice, and she has my COMPLETE and TOTAL Endorsement for GOP Conference Chair."
A Scalise spokeswoman, Lauren Fine, told NBC News: "House Republicans need to be solely focused on taking back the House in 2022 and fighting against Speaker Pelosi and President Biden's radical socialist agenda, and Elise Stefanik is strongly committed to doing that, which is why Whip Scalise has pledged to support her for conference chair."
The statement was first reported by Punchbowl News.
This means the top two House Republican leaders — Scalise of Louisiana and Minority Leader Kevin McCarthy of California — no longer have confidence in Cheney, clearing the way for her removal as the party's third-ranking leader in the House. Cheney, of Wyoming, remains defiant and will not step down from her leadership role, her spokesman said.
In order for Cheney to be removed, a motion would have to be raised before the conference, which will then have to vote. That could happen as early as May 12, when the House is back in session and Republicans are likely to hold their next conference meeting.
"Liz will have more to say in the coming days," Cheney spokesman Jeremy Adler said. "This moment is about much more than a House leadership fight."
In a Washington Post op-ed article published Wednesday afternoon, Cheney argued: "While embracing or ignoring Trump's statements might seem attractive to some for fundraising and political purposes, that approach will do profound long-term damage to our party and our country."
"Trump has never expressed remorse or regret for the attack of Jan. 6 and now suggests that our elections, and our legal and constitutional system, cannot be trusted to do the will of the people," she said. "This is immensely harmful, especially as we now compete on the world stage against Communist China and its claims that democracy is a failed system."
She added that Republicans "need to stand for genuinely conservative principles, and steer away from the dangerous and anti-democratic Trump cult of personality."
"We must be brave enough to defend the basic principles that underpin and protect our freedom and our democratic process," she said. "I am committed to doing that, no matter what the short-term political consequences might be."
Stefanik, 36, of upstate New York, who has served in the House since 2015, has been making calls to fellow GOP members in a bid to replace the embattled Cheney, two Republicans with direct knowledge told NBC News.
"Thank you President Trump for your 100% support for House GOP Conference Chair," Stefanik tweeted Wednesday. "We are unified and focused on FIRING PELOSI & WINNING in 2022!"
Stefanik's prominence within the GOP conference increased during Trump's first impeachment when she vigorously defended him.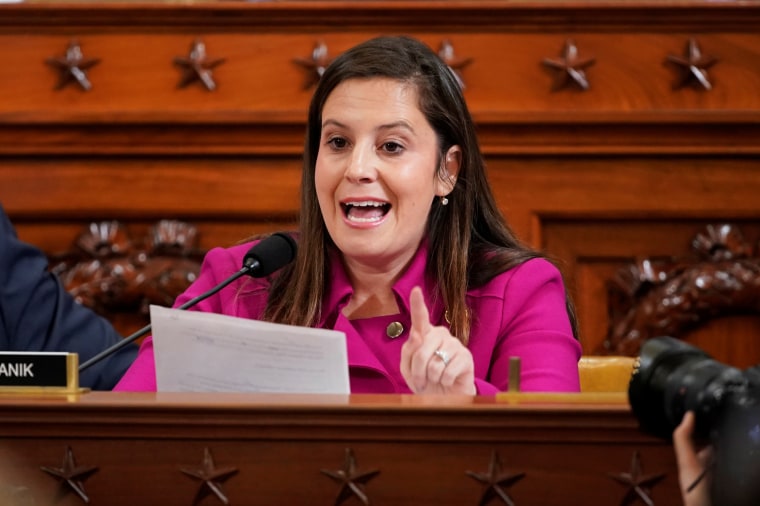 This comes after the feud between McCarthy and Cheney appeared to reach a breaking point beginning Monday. After Trump released another statement spreading falsehoods about his electoral loss last fall, Cheney tweeted in response that anyone claiming the 2020 presidential election was stolen is "poisoning our democratic system."
Cheney also warned Monday that the GOP should not "whitewash" the Jan. 6 Capitol riot, telling a crowd of donors and scholars during an off-the-record interview with former House Speaker Paul Ryan, R-Wis., at the annual American Enterprise Institute retreat, "We can't embrace the notion the election is stolen."
"It's a poison in the bloodstream of our democracy," Cheney said in remarks first reported by CNN. An aide familiar with the comments confirmed the accuracy of them to NBC News. "We can't whitewash what happened on Jan. 6 or perpetuate Trump's big lie. It is a threat to democracy. What he did on Jan. 6 is a line that cannot be crossed."
The commentary led to further questions aimed at House leaders about Cheney's position in their caucus. On Tuesday, McCarthy was heard telling "Fox and Friends" host Steve Doocy off-air ahead of a live interview Tuesday: "I think [Cheney's] got real problems."
"I've had it with her. You know, I've lost confidence," McCarthy said in the recording, which was reported by Axios and has not been obtained by NBC News. "Well, someone just has to bring a motion, but I assume that will probably take place."
Many Republican leaders have said they want to move on from talking about the riot and past last year's presidential election — even as Trump has continued to spread falsehoods about his loss. Cheney has not been among them, refusing to back down from her criticisms of the former president even as other GOP leaders would prefer she stop taking such a vocal stance.
Trump waded into the ongoing feud earlier Wednesday morning, releasing a statement riddled with outlandish claims about the past election and suggesting that if only his vice president, Mike Pence, and then-Senate Majority Leader Mitch McConnell, R-Ky., had "fought" harder, he would still be president.
In his statement, Trump said Cheney "continues to unknowingly and foolishly say that there was no Election Fraud in the 2020 Presidential Election."
Cheney was the highest-ranking Republican to vote to impeach the former president for his role in inciting the Jan. 6 riot and has been at odds with other Republicans over embracing Trump and entertaining his election claims since then. She has repeatedly and forcefully rejected Trump's stolen election lie.
Her position has her at direct odds with McCarthy, who has tried to keep his conference aligned with Trump. While he initially assigned Trump blame for the riot — though he voted hours after the attack to block the counting of some electoral votes for then-President-elect Joe Biden — McCarthy has worked to get back into the former president's good graces, including visiting Trump at his Mar-a-Lago club in Florida.
All of this is taking place as Republicans, with history on their side, hope to flip the House in next year's midterms. Democrats currently own a slim 218-212 House majority over the GOP, and Republicans are confident they can retake the majority without much of a boost.
Speaking to reporters Wednesday, House Majority Leader Steny Hoyer, D-Md., told reporters Cheney's "greatest offense, apparently, is she is principled, and she believes in the truth."
"She is obviously a very conservative Republican from the state of Wyoming, so it's not a question of ideology," he said. "It's a question of cult of personality that if you're not 1,000 percent for Donald Trump somehow you're not a good Republican, you're not worthy of being in the leadership."
Rep. Adam Kinzinger, R-Ill., one of the other House Republicans who voted to impeach Trump, made note that in the aftermath of the riot, both Cheney and McCarthy "condemned the former guy's words."
"@RepLizCheney hasn't changed her tune like @GOPLeader quickly did," he tweeted. "They are trying to remove Liz for telling you the truth, consistently."
Elsewhere, the conservative Wall Street Journal editorial board — which as been supportive of Trump, but not of his election falsehoods — wrote Tuesday that McCarthy "knows" Cheney "is right" in her assessment of Trump's untruths.
"The election wasn't stolen, yet Mr. Trump wants an endorsement of his stolen claim to be a litmus test for every Republican candidate," the editorial board wrote. "He's the one who wants to refight his losing campaign."
"She may be ousted because she is daring to tell the truth to GOP voters — and at personal political risk," the editorial board said, adding, "Purging Liz Cheney for honesty would diminish the party."
Biden, when asked Wednesday about the infighting, said, "I don't understand the Republicans."