WASHINGTON — Rep. Trent Franks, R-Ariz., announced his resignation Thursday evening as the House Ethics Committee announced it was opening an investigation into potential sexual misconduct.
Franks said in a statement that he had discussed his interest in finding a surrogate mother with two women in his office, making them uncomfortable. His wife has struggled with infertility, he said.
The Ethics Committee said that it was convening a subcommittee to determine if Franks "engaged in conduct that constitutes sexual harassment and/or retaliation for opposing sexual harassment."
Though Franks originally said he would step down at the end of January, the lawmaker announced Friday that he was resigning effective today.
"Last night, my wife was admitted to the hospital in Washington, D.C. due to an ongoing ailment. After discussing options with my family, we came to the conclusion that the best thing for our family now would be for me to tender my previous resignation effective today, December 8th, 2017," he said in new statement.
A day earlier, Franks said that he "would be unable to complete a fair House Ethics investigation before distorted and sensationalized versions of this story would put me, my family, my staff, and my noble colleagues in the House of Representatives through hyperbolized public excoriation."
"I have recently learned that the Ethics Committee is reviewing an inquiry regarding my discussion of surrogacy with two previous female subordinates, making each feel uncomfortable," Franks said Thursday. "I deeply regret that my discussion of this option and process in the workplace caused distress."
Franks and his wife used a surrogate for the birth of their twins eight years ago.
"My son and daughter are unspeakable gifts of God that have brought us our greatest earthly happiness in the 37 years we have been married," Franks said in the statement.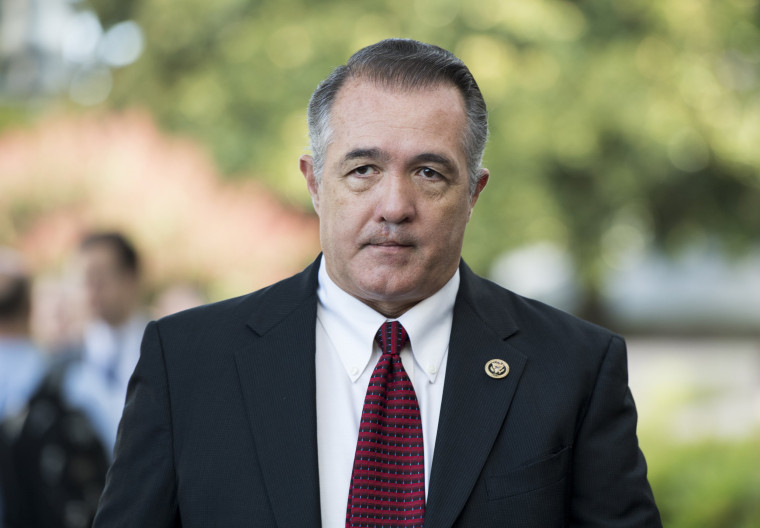 Franks' resignation is the third announced this week as sexual harassment allegations have embroiled Capitol Hill. Sen. Al Franken, D-Minn., announced on the Senate floor Thursday that he will leave office at the end of the year. And Rep. John Conyers, D-Mich., said Tuesday that he was stepping down immediately. Both resigned after being accused of sexual misconduct.
The House Ethics Committee also announced on Thursday that it would escalate investigating Rep. Blake Farenthold, R-Texas, who settled an $84,000 claim with his former communications director, Lauren Greene, in 2015. The settlement came after Greene accused Farenthold of sexual harassment, discriminating against her because of her gender and creating a hostile work environment. The Ethics Committee opened an investigation after the court case was settled in 2015 but the probe slowed because the committee was unable to obtain testimony from witnesses other than Farenthold.
Les Alderman, Greene's attorney, told NBC News that Greene is now willing to appear before the Ethics Committee, which she hopes to do within the next two weeks.
Farenthold said he was confident the matter would be "settled and resolved" after the investigation.
House Speaker Paul Ryan's office said that his office was made aware of in appropriate behavior toward a former staffer against Franks last Wednesday. Ryan's general counsel investigated the matter and in the course of the probe came across a second woman with complaints. Ryan confronted Franks with the allegations and told him he was recommending that the Ethics Committee open an investigation.
After discussions with the speaker, Franks decided to resign.
"The speaker takes seriously his obligation to ensure a safe workplace in the House," the statement from Ryan's office said.
Franks is serving his eighth term in Congress and is a member of the conservative House Freedom Caucus and Republican Study Committee. He is ardently anti-abortion and has spearheaded bills in the House to ban the procedure after 20 weeks, including the Pain Capable Unborn Children Protection Act.
Franks represents a solidly Republican district outside Phoenix that President Donald Trump won by 21 points in 2016. Franks was considering a run for the seat of Arizona Sen. Jeff Flake, who announced in October that he would not seek re-election to the Senate next year.
If Franks leaves office more than six months from the next general election, Doug Ducey, the Republican governor of Arizona, would call for a special election to replace him.