WASHINGTON — The effort on Capitol Hill to protect special counsel Robert Mueller's job was gaining momentum Wednesday, even as GOP leadership pushed back on the need for such a bill.
In the wake of President Donald Trump's comments this week suggesting he had not ruled out firing Mueller, two pairs of senators announced that they had merged bipartisan legislation they had introduced separately last August that seeks to protect the special counsel.
Sens. Lindsey Graham, R-S.C., and Cory Booker, D-N.J., combined their bill with a measure proposed by Sens. Thom Tillis, R-N.C., and Chris Coons, D-Del., to produce the Special Counsel Independence and Integrity Act.
The bill would ensure that only a senior official at the Justice Department would have the authority to fire the special counsel, and that the reason would have to be provided in writing. The measure would give the special counsel 10 days to seek judicial review to determine if the dismissal "was for good cause." It would also try to ensure that documents, materials and staff working on the investigation are preserved.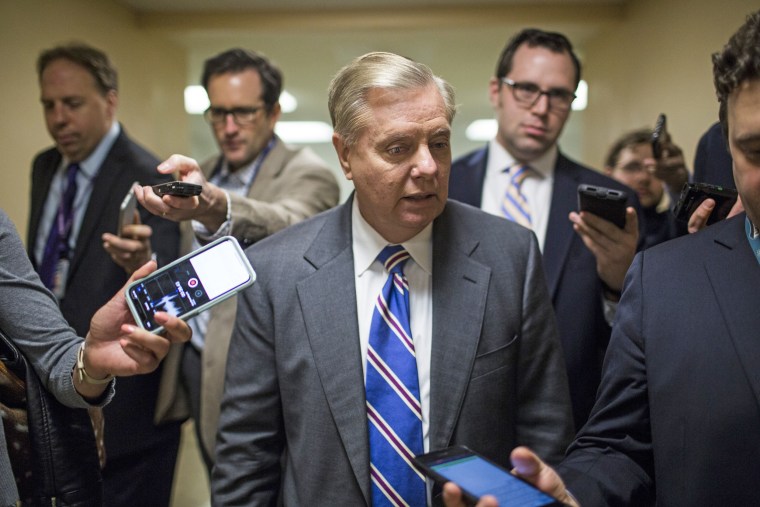 The chairman of the Senate Judiciary Committee, Sen. Chuck Grassley, R-Iowa, wants to include the bipartisan bill that would protect Mueller's job on the agenda Thursday for a scheduled 10 a.m. committee markup, according to a Grassley spokesman. That could happen if every senator on the panel, which includes 11 Republicans and 10 Democrats, agrees to bring up the bill tomorrow. If that doesn't happen, that move could be delayed for a week.
But even if the committee approved the bill and GOP leaders allowed it to come up for a vote in the full Senate, the likelihood that it would draw the support of 60 senators — the number needed to end debate and advance to a final vote — remained slim Wednesday afternoon.
Republicans have 51 members in the upper chamber while Democrats have 49.
Under the Justice Department regulations that set up the office of special counsel, Mueller can be fired only by Deputy Attorney General Rod Rosenstein, who is overseeing the special counsel's investigation.
Normally, according to NBC News Justice correspondent Pete Williams, this power rests with the attorney general, but Jeff Sessions has recused himself from the Russia investigation, so it falls to Rosenstein.
The regulations say a special counsel can be fired "for misconduct, dereliction of duty, incapacity, conflict of interest, or for other good cause, including violation of departmental policies."
White House Press Secretary Sarah Huckabee Sanders said Tuesday afternoon that Trump "certainly believes he has the power" to fire Mueller.
But there's no clear answer as to whether the president has that power, and there is apparently no formal opinion from the Justice Department concluding that the president has that authority.
There's also a potential constitutional issue — namely that a president, as chief executive, has the authority to fire any employee in the executive branch. According to this argument, such a constitutional power would override any statute or regulation.
Staff on the Senate Judiciary Committee said Tuesday that they were planning to review the merged bill to look for constitutional issues and would decide whether it should move forward in the committee. Grassley had asked the two pairs of senators to combine their bills, a spokesman for the committee told NBC News on Tuesday.
Discussions about merging the legislation had been underway for months, Graham and Coons said Tuesday.
Grassley said on Fox Business Network on Tuesday that he had "confidence" in the special counsel and that "it would be suicide for the president to fire Mueller." And Graham warned that getting rid of Mueller or Rosenstein "would be the beginning of the end of his presidency."
Meanwhile, GOP leaders continued to dismiss the possibility that Trump would dismiss Mueller and said legislation to protect the special counsel was unnecessary.
At a news conference Wednesday announcing his decision to retire at the end of the year, Speaker Paul Ryan, R-Wis., again expressed support for the special counsel, and said he didn't think Trump would fire Mueller, based on his conversations with people within the administration. "I've been talking to people in the White House about it," he said.
On Tuesday, Senate Majority Leader Mitch McConnell, R-Ky., reiterated that he did not think he had "seen clear indication yet that we have to pass something to keep [Mueller] from being removed, because I don't think that's going to happen."