Several senior Trump administration officials resigned Thursday after rioting and bloodshed by violent Trump supporters at the Capitol on Wednesday left four people dead and drew calls from members of Congress for an investigation into security measures around the complex.
Transportation Secretary Elaine Chao was the first of Trump's Cabinet secretaries to announce she was resigning, and Education Secretary Betsy DeVos followed hours later.
A police officer died Thursday night from injuries suffered during the pro-Trump mob's breach of the Capitol.
Congress confirmed President-elect Joe Biden's election victory early Thursday morning — more than 14 hours after the tally began — after members were whisked away just after the proceedings had started when a mob of Trump supporters overran the building. Biden is scheduled to be inaugurated as the 46th president on Jan. 20.
This live coverage has ended. Continue reading news from Jan. 8, 2021 about the backlash over the riots.
Read the highlights:
— 'Deeply troubled' by Capitol riot, Transportation Secretary Chao resigns.
— What happened after Trump told supporters to swarm the Capitol.
— Law enforcement officials across U.S. shocked by police failure to stop rioters.
— Trump loyalists push evidence-free claims that antifa activists fueled mob.
— How an ordinary Congress vote devolved into disarray.
Facebook bans Trump from platform until after inauguration
Facebook is extending its ban on President Trump's account until at least after the inauguration, CEO Mark Zuckerberg said in a statement on Thursday.
"The shocking events of the last 24 hours clearly demonstrate that President Donald Trump intends to use his remaining time in office to undermine the peaceful and lawful transition of power to his elected successor, Joe Biden," Zuckerberg wrote in a post on Facebook. "His decision to use his platform to condone rather than condemn the actions of his supporters at the Capitol building has rightly disturbed people in the US and around the world."
"We believe the risks of allowing the President to continue to use our service during this period are simply too great," he added. "Therefore, we are extending the block we have placed on his Facebook and Instagram accounts indefinitely and for at least the next two weeks until the peaceful transition of power is complete."
Major social media platforms, including Facebook, Twitter and YouTube, took action after Trump released a video on Wednesday night in which he continued to claim he won the election and told supporters who stormed the Capitol that, "We love you."
D.C. police reporting 68 arrests last night
The Metropolitan Police Department reported 68 arrests from last night's attack on the Capitol. 
Possession of an illegal firearm, curfew violations and unlawful entry into Capitol grounds are among the varied arrests. Only one of the people arrested is a Washington resident. 
The full list includes:
Five arrests for possession of an illegal firearm (One on U.S. Capitol Grounds)
Two arrests for illegal possession of other weapons (metal knuckles & blackjack-like weapon)  
25 arrests for curfew violations and unlawful entry on the Capitol Grounds 
36 arrests for curfew violations, including:
8 arrests for curfew violations on U.S. Capitol Grounds 
28 arrests for curfew violations throughout the city
The department has not released the identities of the people arrested.
Barr says Trump conduct 'betrayal' of presidency
Former Attorney General William Barr says President Donald Trump's conduct as a violent mob of his supporters stormed the U.S. Capitol was a "betrayal of his office and supporters."
In a statement to The Associated Press, Barr said Thursday that "orchestrating a mob to pressure Congress is inexcusable."
Barr was one of Trump's most loyal and ardent defenders in the Cabinet.
His comments come a day after angry and armed protesters broke into the U.S. Capitol, forcing Congress members to halt the ongoing vote to certify President-elect Joe Biden's election and then flee from the House and Senate chambers.
Barr resigned last month amid lingering tension over the president's baseless claims of election fraud and the investigation into Biden's son.
After violence at the Capitol, Trump to award Medal of Freedom to three golfers
A day after riots on Capitol Hill that were egged on by Trump, the president is spending Thursday holding an event to award the Medal of Freedom to three golfers. 
A White House official said the award is being given to Annika Sorenstam, Gary Player and Babe Didrikson Zaharias, who died in 1956. 
The White House schedule for Trump released late Wednesday only said, "President Trump will work from early in the morning until late in the evening. He will make many calls and have many meetings."
Acting DHS chief Chad Wolf calls on Trump to condemn violence at the Capitol
Acting Homeland Security Secretary Chad Wolf on Thursday identified Trump's supporters as the ones perpetrating the violence at the Capitol on Wednesday and called on the president to condemn it.  
"What transpired yesterday was tragic and sickening. While I have consistently condemned political violence on both sides of the aisle, specifically violence directed at law enforcement, we now see some supporters of the president using violence as a means to achieve political ends. This is unacceptable. These violent actions are unconscionable, and I implore the president and all elected officials to strongly condemn the violence that took place yesterday," Wolf said in a statement. 
Wolf, who's currently on a weeklong trip to the Middle East, said, "Every American is guaranteed the right to peacefully protest, but once those protests become violent, we should enforce our laws and bring those responsible to justice — regardless of political motivations."
He continued, "I will remain in my position until the end of the administration to ensure the department's focus remains on the serious threats facing our country and an orderly transition to President-elect Biden's DHS team."
AFRICOM: 'American people expect, and need, us to stay steady'
Michigan Capitol reopens after police investigate bomb threat
The Michigan State Capitol in Lansing was temporarily closed Thursday morning for more than two hours while police said they were investigating a bomb threat.
A male caller made the threat at around 6:40 a.m., prompting Michigan State Police and its bomb squad to secure the scene, law enforcement said. By 9 a.m., officers determined the scene was safe and reopened the building to lawmakers and staff.
The Capitol was already closed to the public because no legislative sessions were scheduled for the day.
A Michigan State Police spokesman said the threat remains under investigation and "every effort will be made to identify the person who made this threat and prosecute them to the fullest extent the law will allow."
National Guard will be in D.C. through Biden's inauguration
The National Guard in Washington will be placed on a 30-day mobilization, ensuring they will be on the ground through the presidential inauguration and beyond, according to two defense officials. 
The troops will remain unarmed for the time being and wearing riot gear.
One defense official said that there will be about 200 of the troops on the streets this morning and that number may increase throughout the day. Those troops will be at traffic control check points and providing support to Capitol police, including helping them to reinforce the perimeter around the building.
Army Secretary Ryan McCarthy said by the weekend, there will be 6,200 members of the National Guard in the area with help from Virginia, Maryland, Pennsylvania, Delaware, New Jersey and New York.  
'I can't stay': Mick Mulvaney resigns as Trump's envoy to Northern Ireland
President Donald Trump's former acting chief of staff and current special envoy to Northern Ireland Mick Mulvaney on Thursday said he has resigned from his post after pro-Trump rioters stormed the Capitol.
"I called [Secretary of State] Mike Pompeo last night to let him know I would be resigning from that. I just can't do it. I can't stay," Mulvaney said in an interview with CNBC.
"It's a nothing thing, it doesn't affect the outcome, it doesn't affect the transition, but it's what I've got, and it's a position I really enjoy doing, but you can't do it," he added.
Mulvaney said he has spoken with other friends in the administration and expected others to leave in the next day or two.
Bullet holes and shattered glass: Some of the damage inside the Capitol
GOP Rep. Miller invokes Hitler Tuesday at Capitol, stands by comments
Newly elected Rep. Mary Miller, R-Ill., drew condemnation from fellow Republicans and others after saying Adolf Hitler "was right on one thing" during remarks at a rally outside the Capitol on Tuesday.
"If we win a few elections, we're still going to be losing unless we win the hearts and minds of our children," Miller said. "This is the battle. Hitler was right on one thing. He said, 'Whoever has the youth has the future.'" 
The state's GOP chairman, Tim Schneider, reacted by calling Miller's remark "wrong and disgusting" and urged her to apologize, according to NBC's Chicago affiliate WMAQ. 
Gov. J.B. Pritzker said Miller's remarks were "unfathomable and disgusting," according to WMAQ. "Hitler got nothing right. This reprehensible rhetoric has no place in our politics."
Illinois Republican Rep. Adam Kinzinger, meanwhile, tweeted, "I outright condemn this garbage."
Miller responded to criticism with a tweeted statement characterizing her remarks as "a denunciation of evil dictators' efforts to re-educate young people."
Lawmakers say they plan to investigate how law enforcement handled mob storming Capitol
Lawmakers are vowing an investigation into how law enforcement handled Wednesday's violent breach at the Capitol, questioning whether a lack of preparedness allowed a mob to occupy and vandalize the building.
U.S. Capitol Police, who are charged with protecting Congress, turned to other law enforcement for help with the mob that overwhelmed the complex and sent lawmakers into hiding. Both law enforcement and Trump supporters deployed chemical irritants during the hourslong occupation of the complex before it was cleared Wednesday evening.
Four people died, one of them a woman who was shot and killed inside the Capitol. Three other people died after suffering "medical emergencies" related to the breach, said Robert Contee, chief of the city's Metropolitan Police Department. Police said 52 people were arrested as of Wednesday night, including 26 on the Capitol grounds. Fourteen police officers were injured, Contee said.
Rep. Zoe Lofgren, D-Calif., chairwoman of the House Administration Committee, said the breach "raises grave security concerns,″ adding that her committee will work with House and Senate leaders to review the police response — and its preparedness.
ANALYSIS: A shadow over democracy, the White House and the Republican Party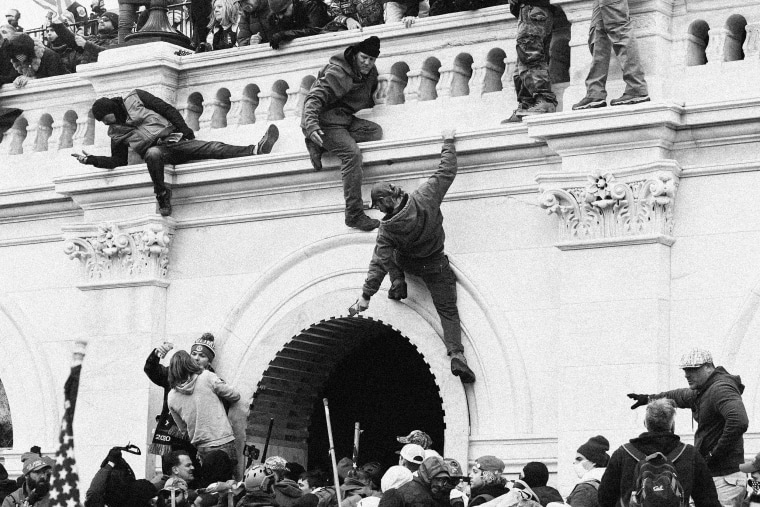 WASHINGTON — Before Wednesday, there was no precedent for a president's inciting citizens to storm the Capitol. And it had been more than 150 years, dating to the Civil War, since a large group of lawmakers gave comfort to an insurrection.
But all that changed after President Donald Trump invited his die-hards to Washington, filled their heads with lies — that he had been cheated out of the election and that Vice President Mike Pence could overturn the result unilaterally — and pointed a mob of them in the direction of Congress.
What ensued was one of the ugliest days for democracy in memory.
'Let us in!': What happened after Trump told his supporters to swarm the Capitol
When rioters descended on the Capitol on Wednesday, they were following directions from President Donald Trump.
"We're going to have to fight much harder," Trump told supporters at a rally near the White House before the assault, adding: "We are going to walk down to the Capitol, and we're going to cheer on our brave senators, congressmen and women, and we are probably not going to be cheering so much for some of them. Because you will never take back our country with weakness."
Many in the massive crowd, soaked in the falsehoods and conspiracy theories about the election that Trump has been spewing for months, didn't even wait for the president to finish speaking. They began a march on the Capitol, where they would break through police barricades, rip through the chambers of Congress and vandalize the core symbol of the federal government.
Inside the Trump riots: How an ordinary Congress vote devolved into disarray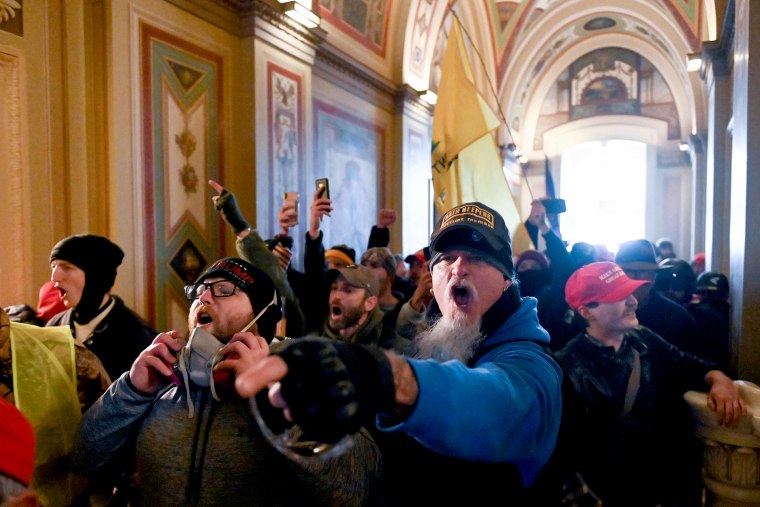 The sound started softly, cheers and chants from supporters of President Donald Trump that could be heard from inside the U.S. Capitol, not unusual when large-scale protests are staged on the grounds.
But the noise continued to grow louder, and the chants of protesters outside turned into the shouts of a mob inside, the soundtrack to the most troubling day I've witnessed on Capitol Hill.
Nearly 100 lawmakers call for Trump's removal through impeachment or 25th Amendment
Nearly 100 Democratic members of Congress have backed calls for or Trump's removal from office in the next several days either through the impeachment process, the 25th Amendment or another way after the violence that rocked the Capitol on Wednesday. 
The calls come as multiple sources familiar with the matter said there have been informal discussions about invoking the 25th Amendment among staff-level officials within the Trump administration.
Trump spent Wednesday inciting and praising a mob that stormed the Capitol, so much so that he has been locked out of Twitter and Facebook for at least 12 hours.
Liz Cheney says Trump incited the mob that stormed the Capitol
House Republican Conference Chairwoman Liz Cheney of Wyoming emphasized Wednesday how consequential it was for the president to refuse to concede the presidential election. 
"[T]o have for the first time in the history of the nation a president who refuses to leave office and concede after he's left — after he's lost the vote in the Electoral College, you know, is something completely unprecedented and, and very serious and can't be tolerated," she told reporters at the Capitol. 
Reacting to the events at the Capitol, Cheney said, "For the president to incite a violent mob is just something that is, you know, it's beyond sort of the politics of are you moving on or not moving on."