WASHINGTON — Frequent extended deployments, delayed maintenance, gaps in training and nearly a decade of budget constraints and uncertainly have strained the U.S. Navy, eroding readiness in a Pacific fleet that is responsible for monitoring Chinese aggression and protecting America against North Korea's nuclear threat, Navy leaders and members of Congress said Tuesday.
The Navy's top officer, however, said he can't yet draw a direct link between those problems and a series of ship collisions and accidents this year that resulted in the deaths of 17 sailors. Adm. John Richardson, chief of naval operations, said that Navy commanders are ultimately responsible for insuring their forces are combat ready and operating safely and effectively.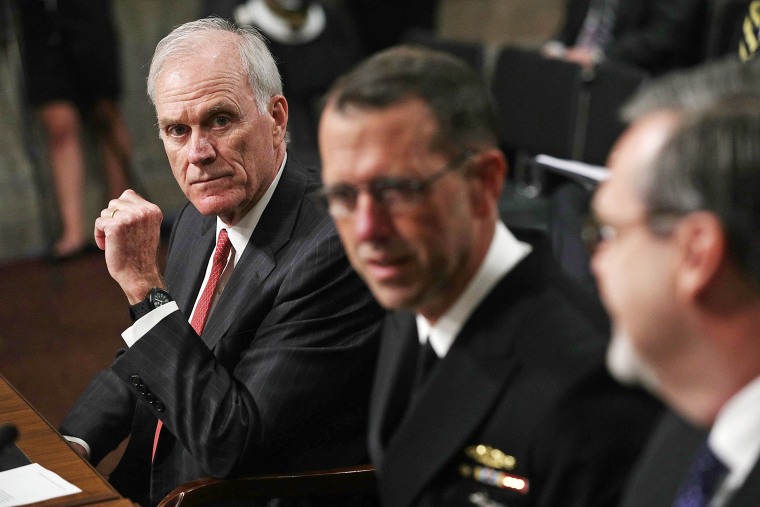 The Senate Armed Services hearing broadly condemned the deadly accidents as preventable, in a crowded room that included family members of a number of the sailors killed in two of the collisions.
"It is simply unacceptable for U.S. Navy ships to run aground or collide with other ships — and to have four such incidents in the span of seven months is truly alarming," said Sen. John McCain, chairman of the committee. He said that some fixes could be done immediately, without long studies or review.
Sailors "should not be working 100 hours a week," McCain said. "That's common sense that doesn't require a study." He told Richardson to make immediate changes to reduce the strain.
McCain added that, with three of the ships involved in the collisions now out of service for months, "there are serious questions about our maritime readiness to fight in response to North Korean, Chinese, and Russian aggression."
Related: More Navy Leaders Ousted After Deadly Collisions in 7th Fleet
Members of the Senate Armed Services committee were quick to pin some responsibility for the accidents on Congress, which has relied on stopgap spending measures for the past eight years, forcing the services to shift money from modernization and training accounts in order to fund current missions.
They said they believe that reductions in training time have contributed to the accidents.
Congress has to provide adequate funding to take care of service members, said Sen. Mike Rounds, R-S.D.
Navy Secretary Richard Spencer noted that over time Congress has added training and other requirements to the force, likening it to piling more and more rocks into a rucksack.
"No one is taking a rock out and the rucksack is getting pretty damn heavy," he said.
John Pendleton, an expert on defense readiness issues with the Government Accountability Office, said ships based in Japan have failed to keep up with required warfare certifications and reductions in ship crew sizes has led to longer working hours, including the 100-hour weeks. And he said he is skeptical the Navy will be able to make needed gains in readiness until aggressive deployment schedules and other demands on the force are decreased.
The high tempo in ship operations in the Pacific has forced Navy crews to squeeze in training where possible, and led to some sailors working 100-hour weeks, leaving them little time to rest, officials said.
Richardson told the panel that the Navy has taken a series of steps to review safety standards, ship certifications and readiness of the force. The increased scrutiny includes ensuring that sailors are well qualified to stand watch and that commanders address "fatigue concerns" and make sure their forces get enough sleep.
"We will fix this. I own this problem," he said, adding his promise that "we will be better in the end."
The USS John S. McCain and an oil tanker collided in Southeast Asia last month, leaving 10 U.S. sailors dead and five injured. And seven sailors died in June when the USS Fitzgerald and a container ship collided in waters off Japan. The USS John S. McCain is named after the committee chairman's father and grandfather, but the Arizona Republican also served in the Navy.
Already the Navy has fired six senior officers, including the commander of America's Japan-based 7th Fleet, citing a loss of confidence in their ability to command.