BEIJING — California Gov. Jerry Brown accused Congress of "going back to some medieval period" as he brought his offensive against climate change to China on Wednesday.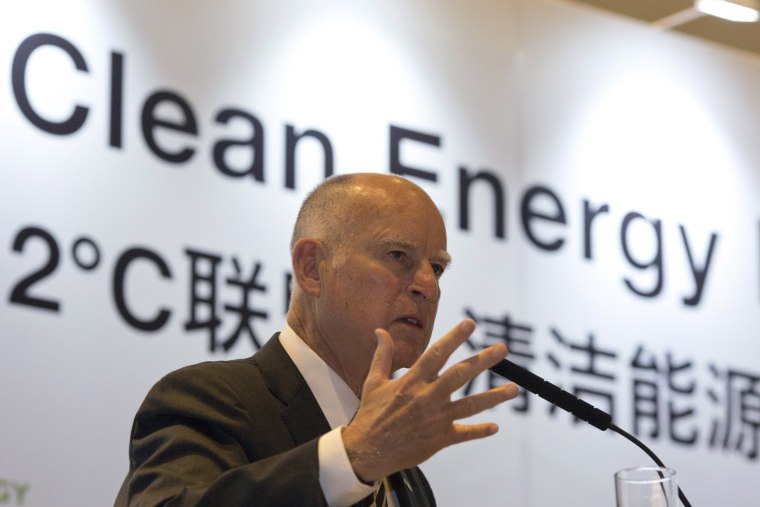 The Democrat's visit came just days after President Donald Trump announced America's withdrawal from the Paris climate accord. China warned Trump on Friday that the move was a major error.
Chinese President Xi Jinping met with Brown at the Great Hall of the People, a privilege typically reserved for world leaders.
Energy Secretary Rick Perry was also in the capital to attend the Clean Energy Ministerial, a global forum of environment and energy ministers focused on renewable energies. However, officials confirmed Perry did not meet with China's president.
Speaking to NBC News on Wednesday, Brown described Congress "as a crowd that doesn't believe in science, doesn't believe in birth control."
He added: "That is really going back to some medieval period. It's really hard to believe."
Brown also accused Washington of "willful blindness" when it comes to global warming.
Even before Trump pulled out of the Paris deal, the California governor had urged states and cities to act independently of Washington.
The day of Trump's announcement, the United States Climate Alliance was launched as a counter-movement of states that pledged to meet or exceed the targets for reducing emissions set by the Paris agreement.
California is one of 12 states on board, along with 200 U.S. cities and countries including Denmark and Canada.
NBC News reported on Monday that America's top diplomat in China resigned over Trump's decision to withdraw from the Paris agreement.
Brown's meeting with Xi was heavy on symbolism, and was widely covered by Chinese media.
China and California also announced a climate agreement.