WASHINGTON — U.S. Capitol Police will be taking security precautions in case there are demonstrations over an indictment of former President Donald Trump, the Senate sergeant at arms said Monday in a notice to senators' offices.
"While law enforcement is not tracking any specific, credible threats against the Capitol or state offices, there is potential for demonstration activity," the sergeant at arms said in an email to Senate staff members. Capitol Police are "working with law enforcement partners, so you may observe a greater law enforcement presence on Capitol Hill."
Trump indicated Saturday that he would be arrested Tuesday, citing "illegal leaks" in the New York County district attorney's hush money probe, and called for his supporters to protest.
The DA's office in Manhattan has not indicated that Trump will be indicted, and several sources familiar with the matter say not to expect any developments Tuesday. The next scheduled grand jury date is Wednesday, the sources said.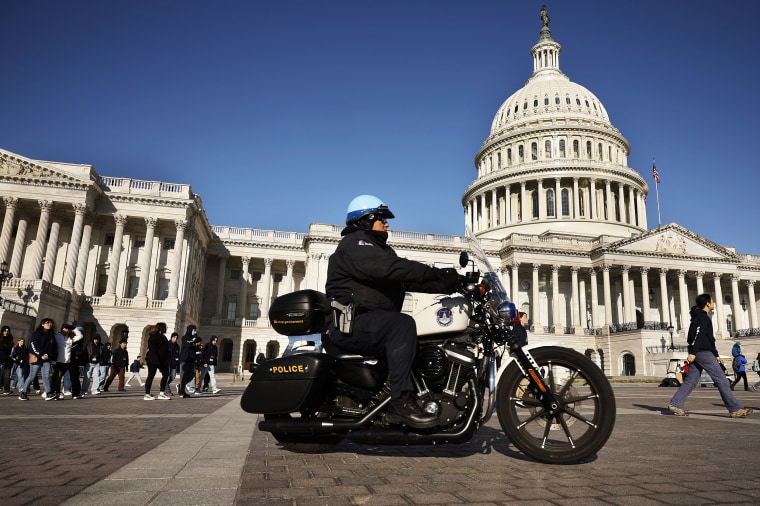 The grand jury is investigating a hush money payment to adult film actor Stormy Daniels during the 2016 presidential campaign. A potential indictment could focus on falsified business records, NBC News and others have reported.
Trump lawyer Joe Tacopina has said that Trump's actions were "not a crime" and that Trump was following the advice of his then-lawyer Michael Cohen when he signed off on the payments.
The sergeant at arms said Monday that bike racks would be deployed along some streets around the Capitol that but they "will remain open to allow for pedestrian transit unless conditions change."
The notice added that authorities on the Senate side of the Capitol "are monitoring the situation and are prepared to share important information with the Senate community as the situation warrants."
In New York, the police department, the Secret Service and the FBI continue to meet to discuss security. Except for a modest march scheduled for Tuesday from Trump Tower to the Manhattan DA's office — and a small caravan of pro-Trump vehicles going from Long Island to lower Manhattan — security officials are not aware of any developments that might change the dynamic in New York City or beyond relating to the hush money probe through at least Wednesday.