After a series of revisions, the House Republican health care bill would still leave 24 million more people without insurance while saving less money than before, according to the nonpartisan Congressional Budget Office.
While the previous bill would have reduced deficit spending by $337 billion over the next decade, the newer one would reduce it by only $150 billion.
Republican leaders tweaked the bill after the initial CBO report, which found it would insure 14 million fewer people in the first year than under Obamacare, with the number rising to 24 million by 2026, and increase premiums for older customers while decreasing them for younger ones.
Despite the change in cost in the new version, the CBO found its impact on coverage and premiums would be roughly identical.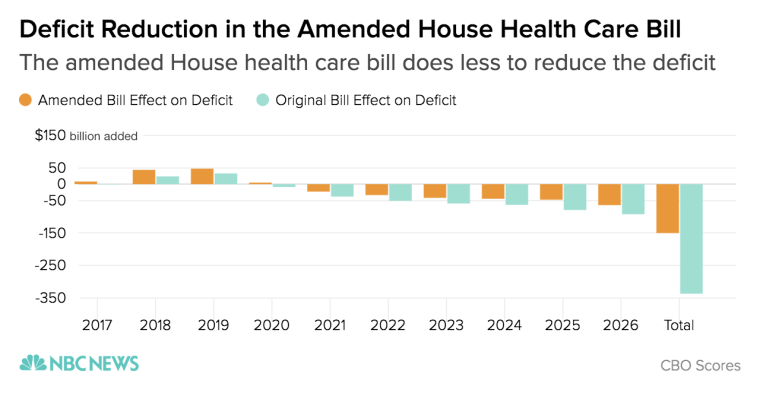 The new bill, which is backed by President Donald Trump and House Speaker Paul Ryan, included changes to Medicaid that would grow spending slightly faster in some areas while giving states the option of accepting funding as a block grant and imposing work requirements on some enrollees. The initial bill would have cut Medicaid spending by $880 billion over the next decade, the revisions would reduce those savings by $41 billion.
Other revisions sped up when certain elements of the bill took effect, like freezing Obamacare's Medicaid expansion en route to eliminating it and undoing the taxes that helped pay for expanded coverage.
The CBO score is likely out of date already, though. Republicans are struggling to reach an agreement on a final bill and some of the changes under discussion would be far reaching, including a possible deal to eliminate the essential health benefits that insurers are required to cover.
While the latest CBO forecast may seem like a small shift, the current talks could make it more significant. Republicans need their bill to reduce the deficit to overcome what's known as the "Byrd Rule," otherwise their changes will sunset in 10 years.
Some health experts believe dropping essential health benefits could cause more people to use the bill's tax credits to buy no-frills insurance plans, which would drive up the total cost of the bill. There's also discussion of increasing the size of tax credits to bring in moderate members. With just $150 billion to spare under the latest version of the bill, the math might become even more difficult in the final stretch.