WASHINGTON — The Senate Republican health care bill would insure 22 million fewer people after a decade than current law, according to an analysis Monday by the non-partisan Congressional Budget Office. Fifteen million more people would be uninsured next year alone.
The GOP bill, titled the Better Care Reconciliation Act, would save $321 billion in the same period by spending $1 trillion less on health care and using the savings to repeal the Affordable Care Act's taxes, which primarily benefit wealthy individuals and medical companies.
In addition to increasing the number of uninsured Americans, the plan also would raise deductibles by large amounts and reduce Medicaid spending by 26 percent by 2026 versus current law.
On the other hand, it would achieve traditional conservative goals of spending less on social services, lowering tax rates on high earners and businesses, and reducing regulations on what kind of plans insurers must provide and on how much they're allowed to profit off consumers.
Here's a look at what the CBO says the bill would do if passed.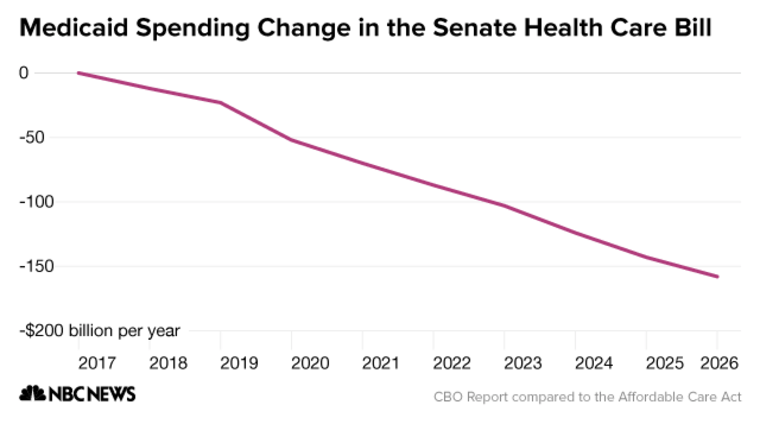 Medicaid
The Senate bill transforms Medicaid by capping the amount of money states receive per person and growing spending at a slower rate than current law. It also ends Obamacare's expansion of Medicaid to people with incomes below 138 percent of the federal poverty line, around $16,500 for individuals, over a period of several years.
Taken together, these changes would reduce spending by $772 billion on Medicaid over the next decade. But the cuts would get deeper over time, since the Senate grows Medicaid at a slower pace than the House health care bill starting in 2025.
The CBO report predicted states would respond to these cuts in a variety of ways: They could reduce payments to providers, who could become more reluctant to take on patients. They could lower benefits for Medicaid recipients like nursing home residents and people with disabilities. Or they could change the eligibility for benefits to enroll fewer people.
Of the 15 million people who would no longer be on Medicaid as a result of the law, the CBO forecast most would not purchase private coverage, since the Senate bill would encourage them to purchase plans whose premiums and deductibles are too high to be attractive options.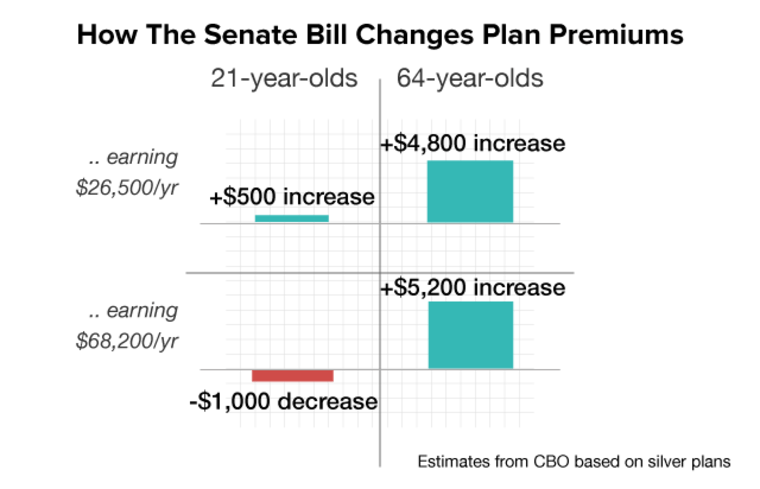 Premiums and deductibles
Without factoring in subsidies to buy insurance, the bill would initially cause premiums to spike, but eventually leave them 20 percent lower in 2026.
This comes with a tradeoff, however: The reduction is mainly because insurance will cover fewer out-of-pocket costs and treatments. It also doesn't factor in the subsidies people receive to purchase insurance and pay out-of-pocket costs, which would be substantially changed.
The Senate bill uses a similar structure as Obamacare to help people buy insurance based on their income. But the benefits are less generous overall and aimed at purchasing less comprehensive insurance with higher deductibles. The bill also ends subsidies that reduce deductibles for low-income customers.
The bill provides subsidies based on income for people to purchase insurance that cover 58 percent of medical costs on average versus about 70 percent under current law. The CBO notes that deductibles would go up to about $6,000 for individuals versus about $3,600 if the changes were applied to comparable plans today.
The bill also allows states to waive Obamacare's requirements that insurers cover "essential health benefits," a set of 10 broad areas like hospitalization or prescription drugs. According to the CBO, this would raise out-of-pocket costs for people whose plans don't cover certain treatments and would impose annual and lifetime limits on their coverage that were banned under Obamacare.
But the changes wouldn't be equal for everyone, and the CBO notes that the bill would make health insurance less affordable for older and low-income customers between the ages 50 and 64. Insurers would be allowed to charge older customers five times as much as younger people for insurance, versus three times as high under current law. These older customers would also would have to pay a larger share of their income on their premiums compared to current law.
According to the CBO, a 64-year-old making $26,500 under current law would pay $1,700 in premiums for a plan that covered an average of 87% of their medical expenses in 2026 once subsidies are factored in. But under the Senate bill, that same 64-year old would pay $6,500 for a plan that covered only 70 percent of their expenses.
The Senate bill also cuts off subsidies to people making 350 percent of the federal poverty level, about $42,000 for an individual, versus people making 400 percent of the federal poverty level under Obamacare, about $48,000 today.
That makes the spike in premiums the highest for older people who fall outside the new income limit: A 64-year old making $56,800 in 2026 would pay $4,400 for a plan that covered 60% of their costs under Obamacare. Under the Senate bill, they would pay $16,000 for a similar plan that covered 58% of costs.
By contrast, the dropoff would be somewhat more muted for middle-aged customers and might even produce savings for some younger ones. A 40-year-old making $26,500 would pay $1,700 for a plan that covers 87% of their expenses under Obamacare and $3,000 for a plan that covered 70% of their expenses. On average, 21-year-old or 40-year-old making too much to qualify for subsidies would pay slightly less for plans than under current law.
Some very low-income customers would benefit from the bill, though, because it closes a gap in states that didn't expand Medicaid that left some people making too much money to qualify for the program and too little to qualify for subsidies.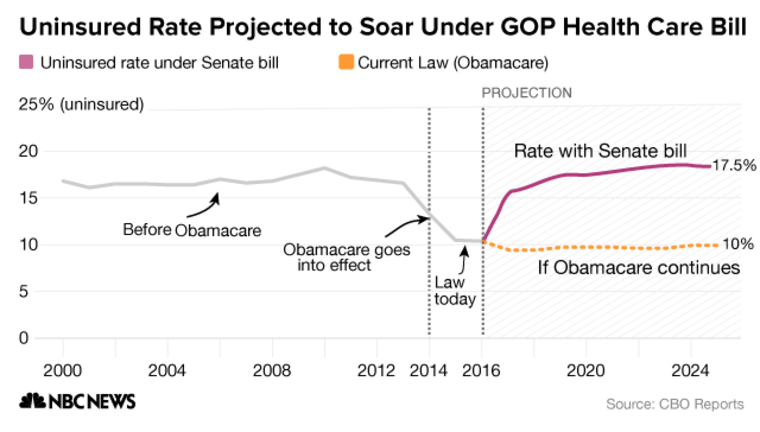 Market stability
Republican supporters of the Senate bill have argued its changes are necessary to steady the individual insurance market, where premiums shot up last year and insurers are jittery about participating next year amid uncertainty about what the health care law will be.
But the CBO described the market in somewhat similar terms under the Senate bill and current law. In both cases, the market would be largely stable but in certain sparsely populated areas with high medical costs, insurers would either decline to participate or they would raise premiums to high levels.
In fact, there are ways CBO predicts the Senate bill might make this situation more likely. Because fewer people would be signing up for health care overall, it could make the market too small to be viable for insurers. States might also substantially waive Obamacare's essential health benefits in order to entice them back into rural areas lacking plans, but that these changes could make comprehensive plans "extremely expensive" for people who need certain treatment.
Taxes
The Senate bill eliminates a variety of taxes and fees used to pay for Obamacare, including a surtax on income and investment gains from families making over $250,000 a year, taxes on medical companies, and penalties for going without insurance. Overall it would reduces the amount of money the federal government brings in by $701 billion over ten years.
How it compares to the House bill
The biggest difference concerns the private subsidies.The House's bill provided a fixed amount based on age that applied to higher incomes, but the amount didn't change if people lived in an area where insurance premiums were too high for them to afford coverage.
The Senate bill's subsidies scale up to meet the cost of insurance, which means they spend more on lower-income customers, but less on higher-income customers and less in total. The Senate bill reduces spending on private subsidies by $402 billion over a decade versus $276 billion in the House bill.
The Senate bill's cuts to Medicaid are deeper in the long term, but slightly more gradual in the short term. The CBO only estimates savings over a 10-year window, however, which means the most severe cuts don't show up in the main score.
Overall, though, the effect on the number of uninsured is similar. The House bill would insure 23 million fewer people than current law, the Senate bill insures 22 million fewer.
The House bill cut deficits by $119 billion over the next decade, which the Senate has to match to meet budget rules. By cutting deficits by $321 billion instead, Senate Majority Leader Mitch McConnell has some room to spend more in a final version, perhaps on deals to bring moderates on board with slightly more generous aid for health care.