Millions of families are at risk of losing child care after this weekend when emergency funding allocated to providers during the coronavirus pandemic expires. Congress faces a Saturday deadline to act before the $24 billion Child Care Stabilization Program ends, putting thousands of day care centers, preschools and other child care centers in jeopardy.
At the forefront of the fight to extend the funding are lawmakers who themselves rely on child care to be able to do their jobs: moms and dads of babies and toddlers. With the government also barreling toward a shutdown this week, some of them are sounding the alarm that time to take action is running out.
"It's frustrating, because when we talk about addressing something like this ... we can't even do the bare minimum of our job by funding our government," said Rep. Brittany Pettersen, D-Colo., who has a 3-year-old son, Davis. "It doesn't feel hopeful that we're going to actually, with the current Republican leadership, rise to the occasion to address these urgent needs."
Seventy thousand child care programs are projected to close as a result of the funding loss, and at least 3.2 million young kids could lose their child care, according to an analysis from the Century Foundation, a progressive think tank.
The impact will snowball, the report says, costing families an estimated $9 billion every year in lost earnings. And with more people pushed out of the labor market because of struggles to find or afford child care, the economic ramifications could be huge.
At the center of the lawmakers' efforts to stave off the crisis is the Child Care Stabilization Act to extend the critical funding. It has the backing of at least 111 House members and 37 senators. But all are Democrats (or caucus with Democrats), and with Republicans in control of the House, it faces a slim chance of passing this year.
"Child care stabilization funding was a lifeline for providers and the families that rely on them," said Julie Kashen, a senior fellow and the director for women's economic justice at the Century Foundation. Without reliable child care, families will be forced to make "tough choices, reduce hours, shift hours," she said. "That impact will be felt mostly by moms."
Among those pushing the bill is one of the most prominent new voices for child care funding, Rep. Jimmy Gomez, D-Calif., who co-founded the Congressional Dads Caucus after he took his infant son on the House floor during some of the many rounds of votes to confirm Republican Kevin McCarthy of California as House speaker in January.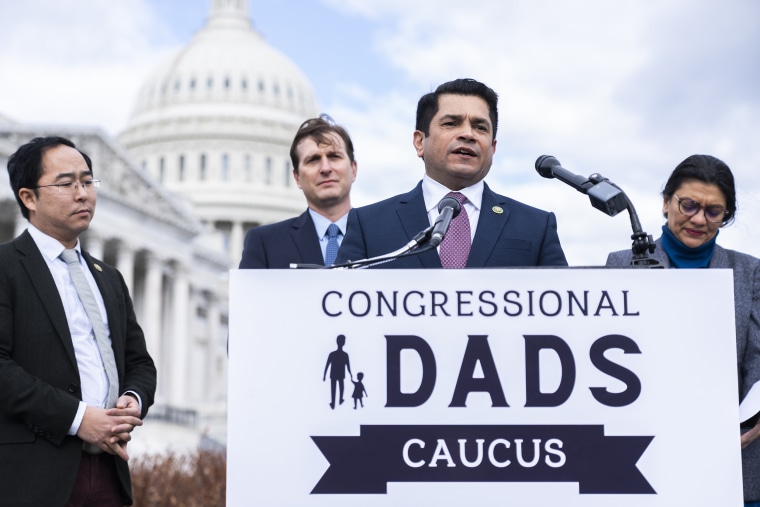 Losing the funding would "exacerbate a child care crisis that's already going on in our country," Gomez said. He said he has tried to stress to his colleagues across the aisle, "This is not about giving a handout; this is about economic competitiveness and keeping our economy going."
Both the Dads Caucus and the Democratic Women's Caucus sent letters this month urging House leaders to take action by passing the Child Care Stabilization Act to extend the emergency funding, as well as by providing more funding for block grants and working to find more long-term funding.
"Even with Child Care Stabilization Grants, child care is already too expensive and hard to find," a Dads Caucus member, Rep. Joaquin Castro, D-Texas, said in an emailed statement. "The last thing our country's child care system needs is a new funding crisis. The looming child care cliff will be disastrous for working families — and for the broader economy that relies on them. Congress needs to come together in a bipartisan way to fund the affordable child care our constituents need."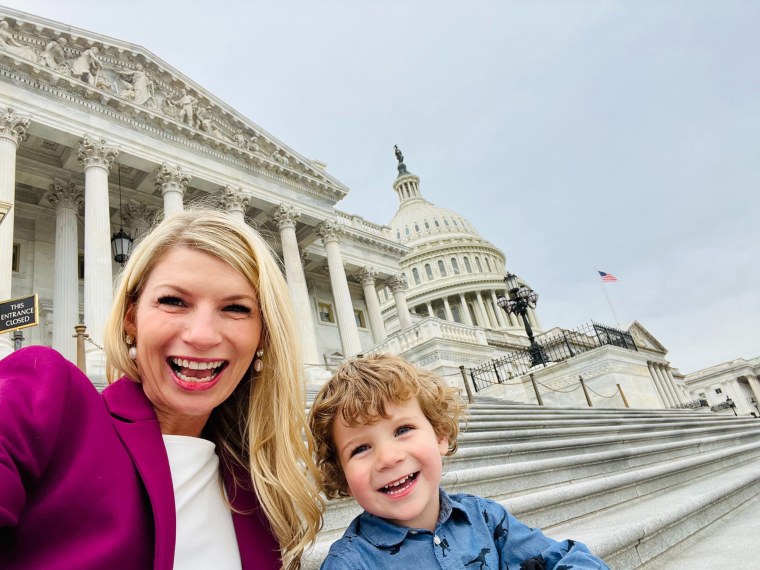 Pettersen said she is also looking at other ways to address the steep costs of infant and toddler care, like providing grant funding to turn buildings that are not being used into day care centers or even offering low-interest loans to parents to help pay for care, similar to the ones students might take out to attend college. She is also trying to get the business community to be more vocal advocates for solving the child care crisis by connecting it to the problem of women dropping out of the workforce.
"The minute that this funding ends on Saturday, you're going to see all these gains in the labor market start to dissipate," said Reshma Saujani, the founder and CEO of Moms First, an advocacy group. "It's not just women with children or parents with children [in day care]. Everybody's going to feel this. Teachers, nurses, retail workers, they have children, too."
It's not just Democrats who are concerned with the state of child care. Rep. Patrick McHenry, R-N.C., who has three children, including a toddler in day care, said it is a "highly necessary thing" to find comprehensive ways to improve the child care system.
"I think we have to have further remedies for child care across the country, from neonatal care all the way through getting into pre-K or a kindergarten program," McHenry said, adding that although he disagrees with the Biden administration's approach, "I'm game to work in a bipartisan way for long-term solutions specifically."
Gomez said being a new dad has helped him connect with other parents, including more conservative ones, on child care and other issues. He said that his Republican colleagues have been receptive to the problem but that "they're in a place as a conference where the ones who care about [it] can't even get the attention of the rest of the conference to do anything."