WASHINGTON — Gina Haspel's path to confirmation as the nation's next CIA director is shaping up to be a rocky and uncertain one in the Senate, with Democrats publicly sounding the alarm about her background as a career CIA employee and Republicans doing so privately.
Haspel, 61, would be the first woman to lead the intelligence agency and the first director who worked in the field as a case officer since William Colby in 1973.
Much of what she has done during her 33-year career is classified. The most controversial part of her tenure came after the 9/11 attacks, when she was put in charge of a secret CIA prison in Thailand at which two al Qaeda detainees were subjected to brutal interrogation techniques that President Barack Obama and many others called torture.
She has never held a political appointment and has never testified publicly before the Senate. The lack of information available to the public has drawn the ire of some lawmakers who have questions about some of the most contentious years at the agency.
The Senate Intelligence Committee scheduled a hearing to consider her nomination for May 9, prompting protest from two members on the committee who have been requesting information pertaining to Haspel's career be declassified.
"The American people expect and deserve to understand the backgrounds of their government's leaders, and without further declassification, I don't believe the Senate Intelligence Committee or the Senate as a whole can properly fulfill its constitutional obligation to 'advise and consent' on her nomination," said Sen. Martin Heinrich, D-N.M., in a statement.
Haspel's hearings will come in the wake of the rocky nomination of the current CIA director, Mike Pompeo, to become secretary of state. Pompeo's confirmation votes are expected next week.
Some members of the Intelligence Committee are not satisfied with Haspel's response to questions from Sen. John McCain, R-Ariz., the one-time prisoner of war who has opposed policies and nominees that supported harsh interrogations.
McCain has asked Haspel 13 questions to clarify her role in administering "enhanced interrogations" to detainees. Aides say there is a classified version of Haspel's response and an unclassified version, neither of which have been released.
Haspel has begun meeting with senators individually ahead of her hearing, but Democrats say that the lack of transparency regarding her experience is problematic. While members of the Intelligence Committee have access to classified information, they are unable to talk about it and the public can't see it.
"There have been too many problems too soon," said a Democratic Senate aide who is not authorized to speak publicly.
Democrats have launched a campaign to try and persuade the CIA to declassify some of the information about her career. "She's a career CIA officer, there is zero chance in hell you're going to be able to declassify her entire work history. But the torture stuff shouldn't be a heavy lift," said another Democratic aide to a Senate Intelligence Committee who asked not to be named in order to speak frankly.
Sen. Rand Paul, R-Ky., has already announced his opposition, and with the narrow Republican majority, 51-49, Haspel can't afford to lose more Republicans — or she'll have to gain the support of Democrats who are more opposed to Trump's nominees as the administration ages and controversy continues with Trump's cabinet picks and as special counsel Robert Mueller's investigation drags on.
While Paul and McCain are the only two GOP senators to make their concerns public, others have privately expressed reservations about her nominations.
One senior administration official acknowledged that there is concern about Haspel being able to pass through the Senate, but the official blamed Democrats, calling their concern based on "pure politics."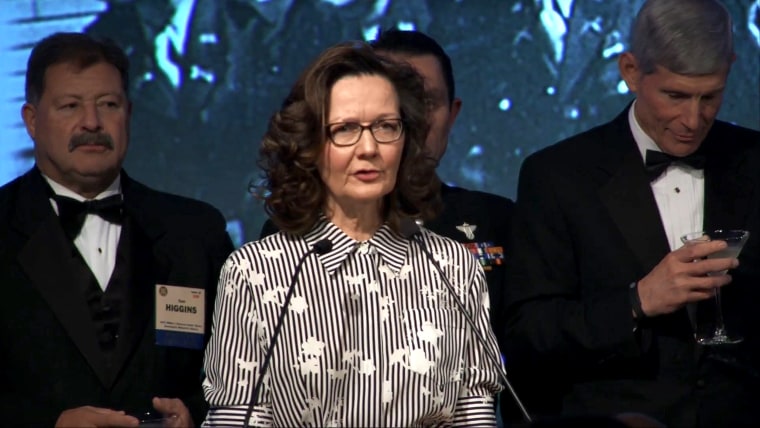 Haspel's nomination has revived a debate from the Bush administration era where anti-war groups multiplied and Democrats ran on anti-war and anti-torture platforms.
Now, a coalition of groups are pressuring senators to oppose her. A group of 50 elected officials and community leaders in Virginia wrote a letter urging their senators, Mark Warner, ranking member of the Intelligence Committee, and Tim Kaine, to oppose her nomination. And 40 progressive, faith and libertarian groups signed a letter to every senator expressing similar opposition to Haspel.
"No matter what Ms. Haspel says during a hearing, any vote related to her nomination (whether in committee or on the Senate floor) will be seen as a referendum on torture — by the public, by U.S. allies and enemies, and perhaps most alarmingly by the president, who has openly advocated for torture," the letter states.
Marc Short, White House director of legislative affairs, says Haspel is prepared for a potentially contentious confirmation hearing. "I think she understands the political dynamics, but I think when you've been a station chief in places across the world, this isn't what makes you nervous."
Current and former CIA officials say Haspel arrived to take the helm at the prison after its most famous detainee, Abu Zubeydah, was waterboarded in a manner so horrific, according to a Senate report, that it reduced some CIA personnel to tears.
She was present for the interrogation of Abd al-Rahim al-Nashiri, who was suspected of involvement in the bombing of the USS Cole destroyer in 2000, which killed 17 sailors.
According to a 2014 Senate report, Nashiri was waterboarded, subjected to sleep deprivation and confined inside a coffin for days — three of the techniques approved by Justice Department lawyers.
He was also subjected to unapproved techniques, including a mock execution by an interrogator who racked the slide of a pistol as if preparing to fire and then revved a power drill next to his head, the report said.
There is much that has not been made public about Haspel's exact role, and some senators are pushing to declassify documents that would shed light on it.
Another point of controversy is her role in the destruction of the videotapes of the Thailand interrogations. That came later, in 2005, when she was working at CIA headquarters as the chief of staff to the director of operations, Jose Rodriguez.
Rodriguez, who played a key role in the interrogation program, wrote in his 2002 memoir that he instructed Haspel, his chief of staff, to grant permission to CIA officials over diplomatic cables to destroy the tapes.
"My chief of staff drafted a cable approving the action that we had been trying to accomplish for so long," he wrote. "The cable left nothing to chance. It even told them how to get rid of the tapes. They were to use an industrial-strength shredder to do the deed."
He added: "I was not depriving anyone of information about what was done or what was said, I was just getting rid of some ugly visuals that could put the lives of my people at risk. I took a deep breath of weary satisfaction and hit Send."
Senate investigators disagreed, believing the decision amounted to a cover-up of important evidence.
In a statement, CIA spokesman Ryan Trapani said Haspel "did not appear in the videotapes, nor did she make the decision to destroy them. That decision was made by Jose Rodriguez, who has publicly taken responsibility for his decision. She did make sure CIA lawyers were consulted. She also made sure the affected officers, whose security was at risk from al-Qaeda, were consulted."
Trapani added that Haspel "provided the draft cable to Rodriquez with the understanding that he would use the draft cable to raise the issue with" then-CIA Director Porter Goss.
But Rodriguez did not do that.
"Rodriguez told her that he had not talked to Goss and he had sent the cable out based on his understanding of his authority," Trapani said.
He added: "Over the years, this issue has been thoroughly investigated. The Justice Department conducted a two-year investigation into this matter and declined to bring any charges. Then-CIA Deputy Director Michael Morell also examined this issue and found no fault with Haspel's actions."
Morell did, however, issue Rodriguez an official reprimand after he retired.
In 2013, Haspel was passed over as director of the National Clandestine Service, after serving as acting director for two months, when lawmakers — most notably Sen. Dianne Feinstein, D-Calif. — expressed concerns over her ties to the controversial interrogation program and the tapes destruction.
Haspel is expected to address the matter in detail at her confirmation hearing, but with much of the information still classified, probably the in-depth answers will come in a closed session.