FBI Director James Comey met with key Senate lawmakers Thursday, where he discussed matters relating to the alleged wire-tapping of Trump Tower, a congressional source familiar with the ongoing investigation into Russian meddling in the 2016 election told NBC News.
Comey met with Sens. Mitch McConnell, Chuck Schumer, Richard Burr and Mark Warner, followed by a meeting with Speaker Paul Ryan and Minority Leader Nancy Pelosi, along with Reps. Adam Schiff and Devin Nunes.
Comey declined to answer a question as he went into the House meeting about whether there was ever a legal wiretap at Trump Tower.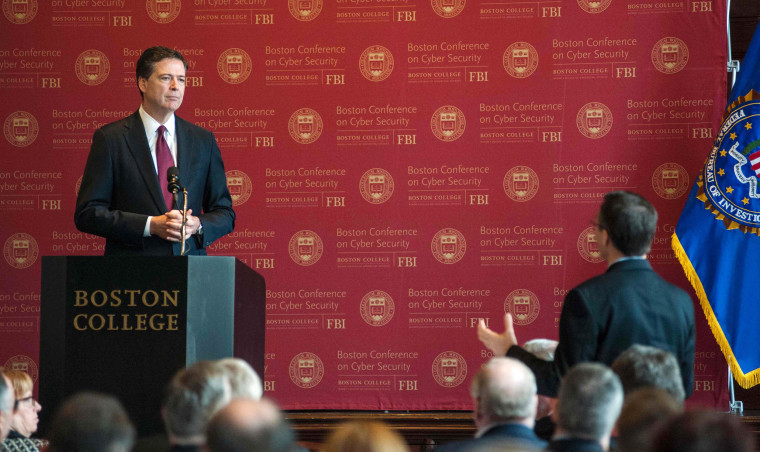 The FBI boss declined to answer a question after the Senate meeting about whether there was ever a legal wiretap at Trump Tower.
Comey has been tight-lipped with lawmakers about investigations he's pursuing — to the point that their frustration has spilled out into the open. Sen. Lindsey Graham, R-S.C., has threatened to subpoena any information about wiretaps the FBI might have done in Trump Tower.
Last weekend, President Donald Trump accused former President Barack Obama of wiretapping in Trump Tower during the presidential election. Neither Trump nor White House have offered any evidence to back up the charge.
Obama and then-Director of National Intelligence James Clapper responded that it never happened.
White House Press Secretary Sean Spicer has repeatedly dodged questions about the president's tweets claiming the alleged surveillance and he has instead called on House and Senate committees to look into the matter.
Trump has not asked Comey about the alleged wiretaps, Spicer told reporters Tuesday.
"I think there is clearly a role that Congress can play in its oversight capabilities, they made it very clear that they have the staff, the resources, the process, I think that's the appropriate place for this," Spicer added.