The full version of this story was originally published by The Center for Public Integrity, a nonprofit, nonpartisan investigative news organization in Washington, D.C.
In August, a nonprofit group dedicated to archiving the official and personal papers of Sen. Orrin G. Hatch, R-Utah, gathered donors for golf at an "authentic yet refined" luxury mountain resort boasting "the largest spa in Utah."
The fundraising event was also an opportunity to spend two days with Hatch himself — the powerful chairman of the U.S. Senate Finance Committee.
Companies and trade associations that spent much of 2017 seeking to influence landmark tax legislation, which Hatch took a leading role in shaping, were hit up for the soiree. Among them: drugmaker Merck & Co., which, like almost every other big company last year, was lobbying for favorable tax provisions. Among other contributors writing checks to the Orrin G. Hatch Foundation in four and five-figure amounts last August: the Pharmaceutical Research and Manufacturers of America and Visa, Inc.
Top donors reportedly gave $100,000 or more.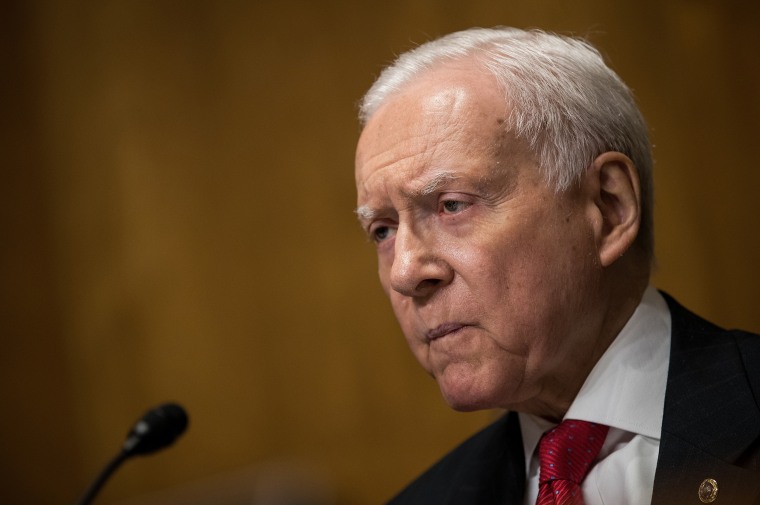 By law, corporations and organizations that lobby the federal government must disclose certain charitable contributions to nonprofits, including ones such as the Orrin G. Hatch Foundation that are intimately tied to lawmakers. They also must disclose spending to "honor" lawmakers and high-level executive branch officials if the spending meets certain criteria.
But a Center for Public Integrity analysis found more than 20 companies and trade associations that have failed to disclose payments made to nonprofit groups aligned with government officials or aimed at honoring lawmakers they may want to influence. In every instance, other companies disclosed payments linked to the same events, though varying circumstances and exceptions to federal rules allow some omissions.
Nevertheless, so far, two companies and trade associations acknowledged not properly disclosing their payments and are amending their disclosures in response to inquiries from the Center for Public Integrity.
Click Here to Read the Full Version of This Story
The federal disclosure laws have loopholes, and enforcement of the so-called lobbying contribution requirement is close to nonexistent.
And while it's difficult to determine the precise reasons, organizations are not disclosing as many instances of such spending as they used to.
Lobbying forces seeking to influence public officials have indeed reported hundreds of millions of dollars in such "honorary contributions" in the decade since this disclosure law, prompted by ethics scandals in the mid-2000s, took effect.
But the number of "honorary contributions" disclosed in the reports is roughly a third of what it was a decade ago, when the disclosure requirement first kicked in, even though the number of lobbying registrants filing the reports has remained relatively constant. Only 308 filings disclosed any such honorary contributions in 2017, the lowest number since the requirement came into force.
Out of more than 600 organizations disclosing honorary contributions in 2008, the first year the requirement was in force, more than 200 never did so again.
"When there is no peril, there is no law," said Meredith McGehee, executive director of Issue One, a nonpartisan nonprofit that advocates for government ethics and accountability.
'You are absolutely right'— but ...
Merck's 2017 disclosures didn't initially include, for example, a $20,000 contribution to the Orrin G. Hatch Foundation or a $5,000 gift to a scholarship fund named for Rep. Jim Clyburn, a long-serving South Carolina Democrat.
"We are amending our lobby disclosures to reflect those charitable donations as well, and our compliance department is working to add procedures to ensure that all donations in the future are noted on all applicable disclosures," said John Cummins, a spokesman for Merck & Co.
Siemens Corp. also amended its disclosure, to show expenses associated with an event hosted at the company's Pennsylvania Avenue offices in Washington, D.C. At the event, the nonprofit Jefferson Islands Club honored Interior Secretary Ryan Zinke, a member of President Donald Trump's Cabinet, with the Jefferson Islands Club Citizen of the Year award.
The Jefferson Islands Club is an invitation-only group that owns a private, 50-acre island in Maryland — an island boasting a clubhouse, skeet shooting range, private trails and kayaks. The retreat is meant to provide "suitable surroundings and comforts where members may assemble, discuss and promote Jeffersonian philosophies," according to the club's website, which also says Rep. Steny Hoyer, a Maryland Democrat, is the latest in a long line of members of Congress to serve as honorary chairman.
A Siemens Corp. executive is on the Jefferson Islands Club board, according to Brie Sachse, a Siemens spokeswoman.
"Siemens takes its public disclosure obligations seriously," Sachse said. "Siemens generally does not sponsor events that fall into this reporting requirement. While the contribution level alone did not trigger the reporting requirement, due to the board position of our executive, the contribution should have been reported, and the report has been amended accordingly."
In other cases, companies and trade associations said they did not disclose sponsoring events involving covered public officials because lawyers determined the circumstances fall within exceptions laid out by the House and Senate disclosure guidance.
Those decisions are sometimes complex and dependent on the amount spent compared to the total cost of the event, and it's common for companies to make diverging decisions about whether to disclose.
In November, the Independent Women's Forum, a nonprofit whose mission is to "improve the lives of Americans by increasing the number of women who value free markets and personal liberty," honored Kellyanne Conway, a senior adviser to the president, as "a woman of valor" who is "truly a tremendous role model for women and girls."
The event carried a long list of sponsors, in different tiers, including the American Chemistry Council, the Motion Picture Association of America, and the Distilled Spirits Council. The only one that included its spending in federal disclosure reports was Google.
When asked by the Center for Public Integrity, the American Beverage Association initially said it would amend its reports to disclose sponsorship of the Independent Women's Forum gala honoring Conway.
"They looked into it and determined you are absolutely right. It did need to be disclosed," said William Dermody, a spokesman for the American Beverage Association. Dermody said the association was internally reviewing such spending to ensure it had no additional amendments before filing the new report.
More than a week later, Dermody emailed to reverse his stance, saying the trade association's legal team "has been looking into that further and has informed me that no disclosure is required under the law for that kind of expense in our circumstances."
"Sorry for the confusion," he added.
More than a dozen companies did not respond to inquiries about how they disclosed participation in various events, or declined comment regarding their disclosures, including Novartis, the American Petroleum Institute and the American Chemistry Council.
Click Here to Read the Rest of This Story
The Center for Public Integrity is a nonprofit, nonpartisan investigative news organization in Washington, D.C.